Summers are all about beaches and relaxation, aren't they? Even if that's not our reality we can always create that look in or around our homes to give us a little bit of the beach so it doesn't feel so far away. Today I'm sharing over a dozen projects in this Roundup that should inspire you to get a little creative. It's really pretty easy to add creative coastal decor to your home, sometimes we just need to think outside the box. Here's a little sneak peek but keep reading and scrolling to see all 13 of these beautiful projects.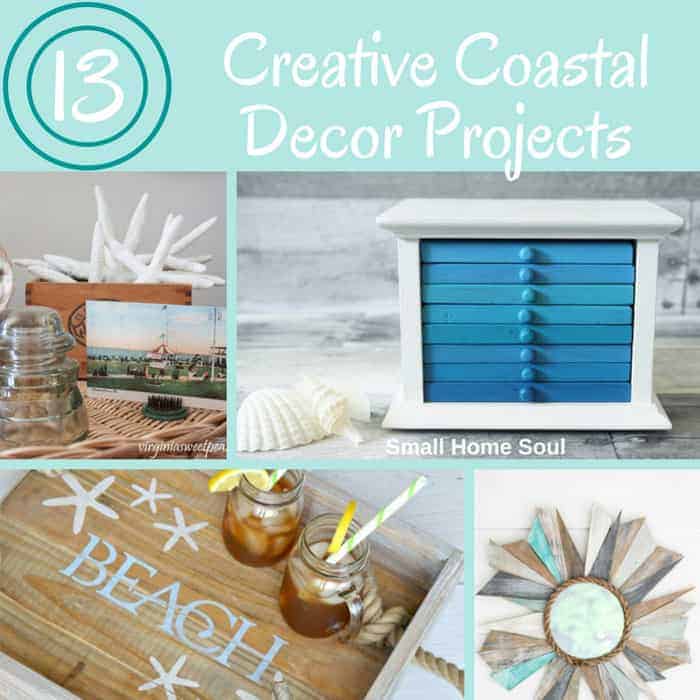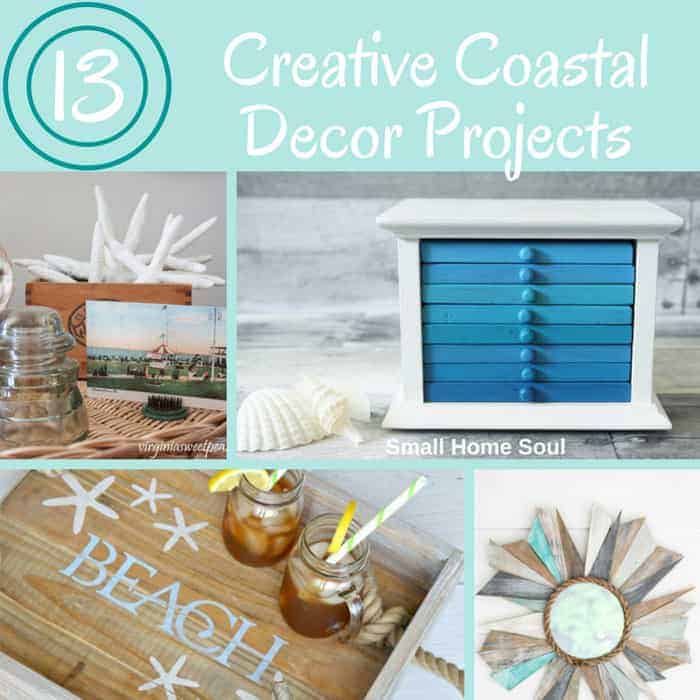 The links to the original blog websites can be found under the pictures. Be sure to visit them and pin their projects to your favorite Pinterest Board. You can also pin this entire roundup to your favorite Coastal Decor Board.
This post contains links to products, if you purchase something after clicking on my link I may earn
a small commission (at no extra cost to you).
1. First in the roundup is this cute tray by H2OBungalow. She made this entire tray from start to finish (see the tutorial)! Even if you purchase or repurpose a tray you can still give it that beachy vibe with rope handles and a cute stencil. I love working with rope, I've done a few projects with it and it's so versatile.
Coastal Rope Handled Crab Serving Tray
2. Virginia Sweet Pea has a knack for gathering beachy items together into such beautiful vignettes. I love how she used the little flower frog to display photos or post cards of fun times at the pier. My favorite are the starfish standing at attention in that cute wooden box.
Decorating for Summer with Vintage Beach Decor
3. Can you guess what Dazzle While Frazzled used to create this beautiful sunset and oceanscape? I think you'll be shocked, and so many options to customize the colors anyway you want.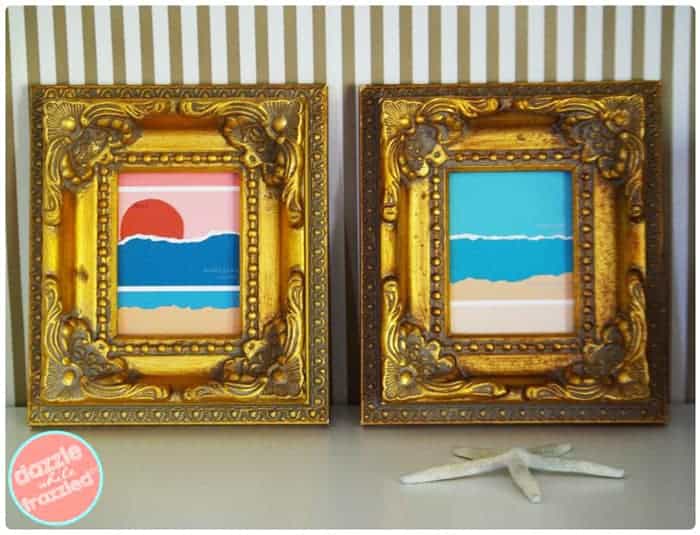 DIY Easy Paint Chip Beach Art
4. Ok, I can't very well do a creative coastal decor roundup and not include my own project 🙂 When I started out painting this old coaster set I didn't have in mind to make it coastal but once I started with the blues it sort of took a like of it's own. I still really love it, now I need to be inspired to make more creative coastal decor for my home.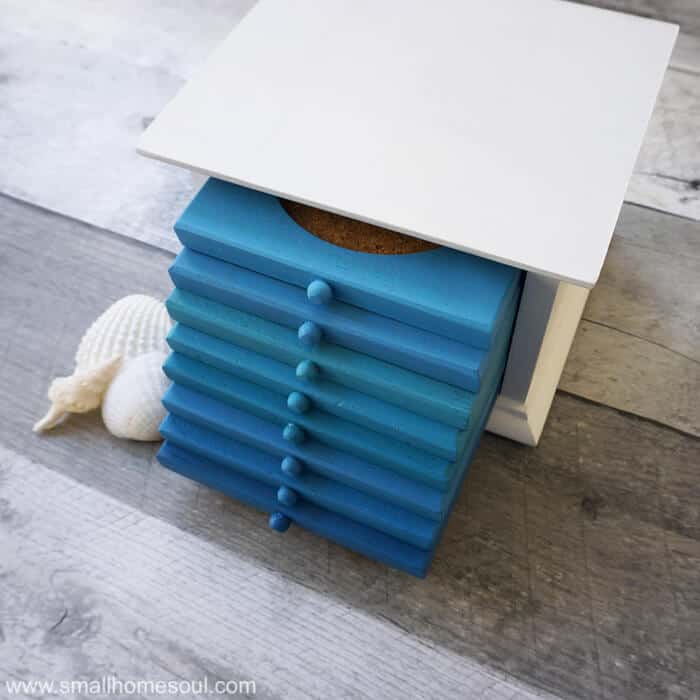 Coastal Drink Coaster Makeover – Outdated 70's to Beachy Chic
5. How perfect is it that Debra at Shoppe No. 5 is #5? I haven't tried Salt Wash yet because it scares me. But Debra dove right in (hahaha a beach pun) to turn an old coffee table into a coastal piece perfect for any beach cabin.
Fab Furniture Flippin Contest Coastal Inspirations
6. Oh my gosh, this blanket ladder by Sustain My Craft Habit!!! This is another project that's been on my list but. I love that it's not the typical farmhouse ladder, her spin on it is perfect. And her use of drift wood (she specializes in drift wood crafts) is so unexpected.
DIY Blanket Ladder with Driftwood
7. I'm a nut for succulents and Up to Date Interiors paired them with a little drift wood and seashells to make a perfectly beautiful door hanging. Crazy cute!!

Seashell Door Hanging
8. Simple Nature Decor took a bounty of oyster shells (you can't get more beachy or coastal than that) and turned them into beautiful as candle holders. You could customize them anyway you want by tucking tiny shells or colorful rocks in and around the candles and crevices or even using color sand to hold the candles.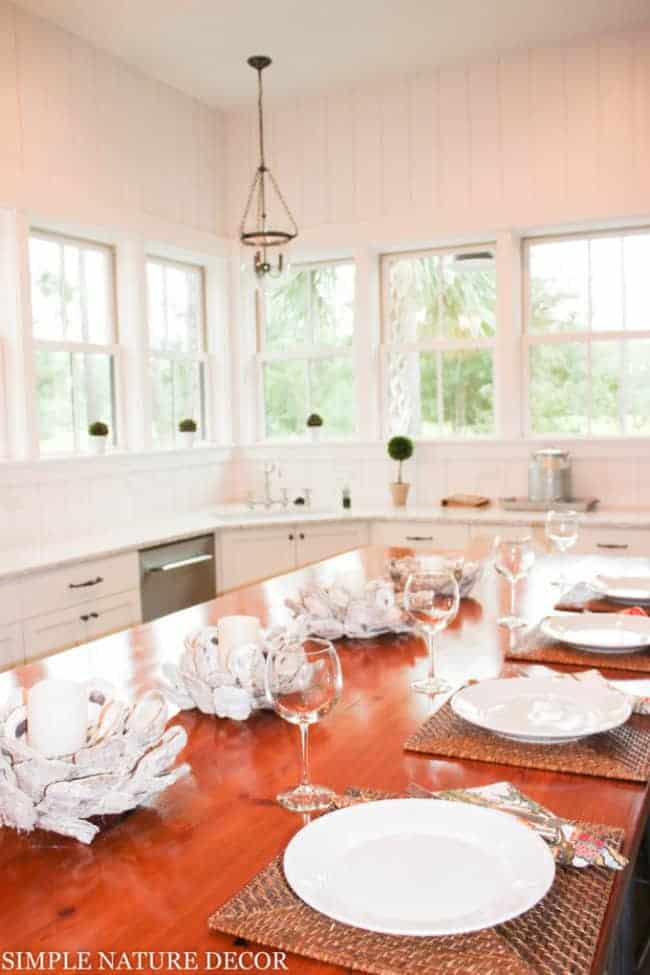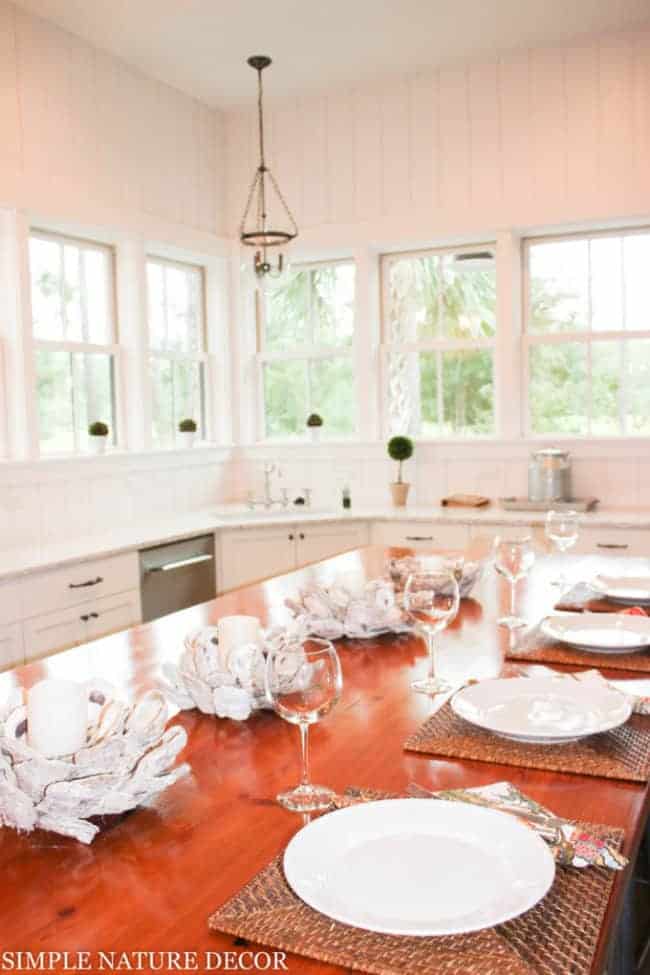 Oyster Shell Candle Holder
9. Now this is art I could display in my home. I've was goofing around with shells recently but I never thought to turn them into colorful little butterflies. Petal + Ply turned her vacation memories into artwork when she grouped them together like a little specimen display.
Seashell Specimen Art
10. Green With Decor is in love with green and I've never seen anyone do green as beautifully as she does. The cute little green bottle in this vignette makes me imagine discovering a note in a bottle on a beautiful beach somewhere. And ooh, I see rope. Adding a little around the neck of a vase really gives a boring vase a coastal feel.
The coastal rustic living room reveal
11. Artsy Chicks Rule proves that you can even add a little creative coastal decor to your laundry room. If you have enough space just tuck your favorite beachy picture in with some beautiful old mason jars filled with vacation memories. Then when you're folding laundry you have something lovely to look at and bring back great memories.
Coastal Farmhouse Laundry
12. Oh my my you have got to see the before and after of Sand Dollar Lane's coastal kitchen makeover. They added so many beautiful coastal details it's hard to pick a favorite. I really love all the pops of blue!
Coastal Farmhouse Kitchen Remodel
13. And last but surely not the least you'll be amazed when you learn what Lovely Etc used to make her Beachy Sunburst Mirror. I love the variety of shapes and colors. And more rope 🙂
DIY Beachy Sunburst Mirror
More Coastal Vibe Projects: Rope Basket – Painted Sea Grass Rug
And if you want to add some creative coastal decor to your home but you're not ready to DIY anything, I've got you covered. Here are a few items you can get on Amazon that are perfect to get you started.


LOVE IT?! PIN IT!!
I don't have too much coastal-type decor but like I mentioned above I have some really cool projects I've made with rope that are very transitional, like the Rope Wrapped garbage can that became a Planter Basket, And really popular is the rope wrapped Hanging Light I made, also from a garbage basket 😀 Oh, oh, and I painted a few rugs in coastal colors too!
I hope you enjoyed this roundup of great coastal and beachy ideas for your home.
Until next time,
Toni