Halloween is only a few days away and here I am just now sharing a project. Sorry you guys, but if you're a Last Minute Crafter like I am you'll appreciate this DIY Light Up Pumpkin. It goes together so quickly, you can literally make this in an hour.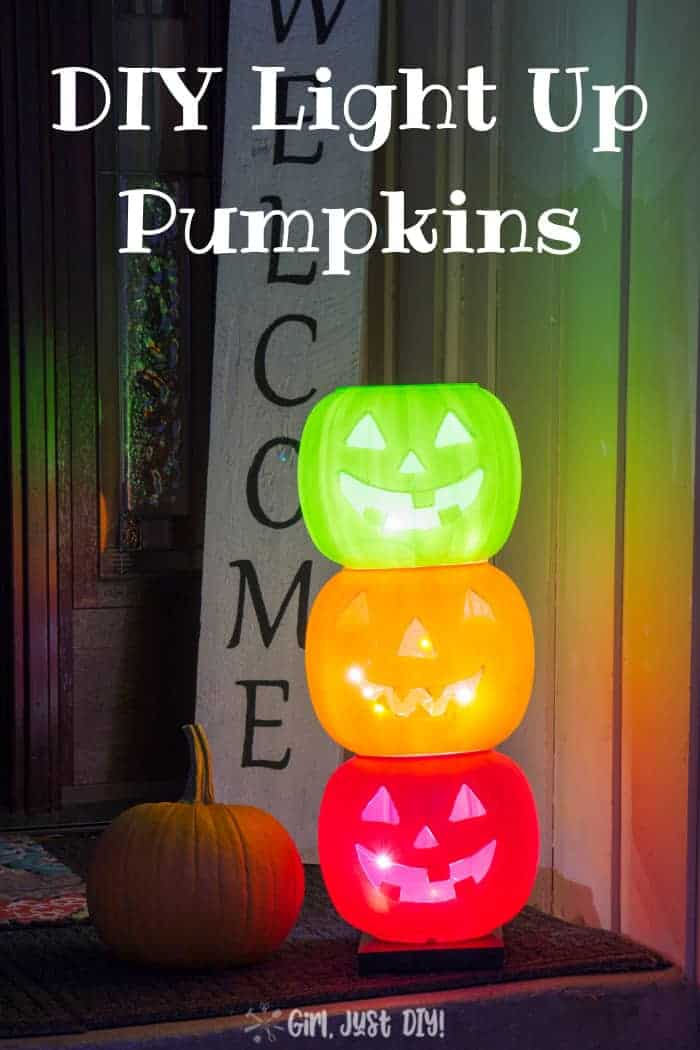 Last year my last minute craft for Halloween was a Super Easy Bandana Wreath. But my other favorite pumpkin I've made is what just happened on this awesome Fall Wreath.
I'll run you through the process to make one of these Light Up Pumpkins yourself if you're a few days from Halloween and searching for an easy project to take on.
The steps I list might be a little different than the photos because sometimes you figure out after you've made something how to make it more efficiently.
This post contains links to products, if you purchase something after clicking on my link I may earn a small commission (at no extra cost to you).
Supplies for DIY Light Up Pumpkins
Getting Started
Paint your 1x6x10″ board with the black craft paint. You could leave it natural if you like but I wanted mine to disappear on the porch.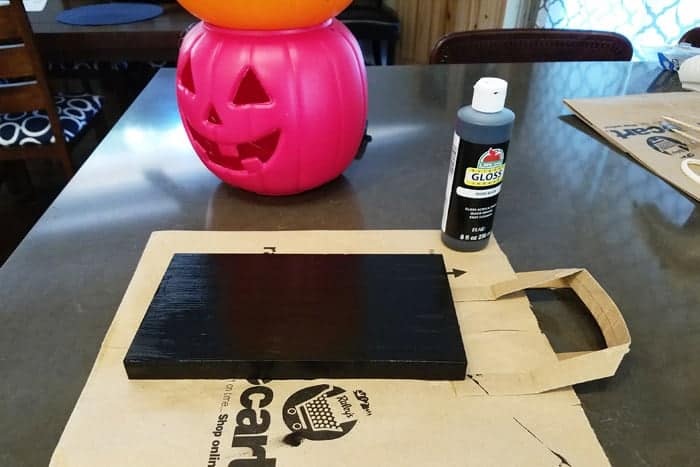 While that's drying we're going to do a little surgery on the plastic pumpkins 🙂
Using a

craft knife

carefully cut the indented eyes, nose and mouth from the plastic pumpkins. Be very careful, this is not a craft for children. Be careful where you place your fingers inside the plastic pumpkin so you don't accidentally cut yourself with the craft knife.
Make all the straight cuts first.
When you're ready to cut the corners, tilt the knife and work it into the corner.
You're not looking for perfection. But if you want you can shave any rough edges. Personally I think they look good a little rough, and at night no one will see them.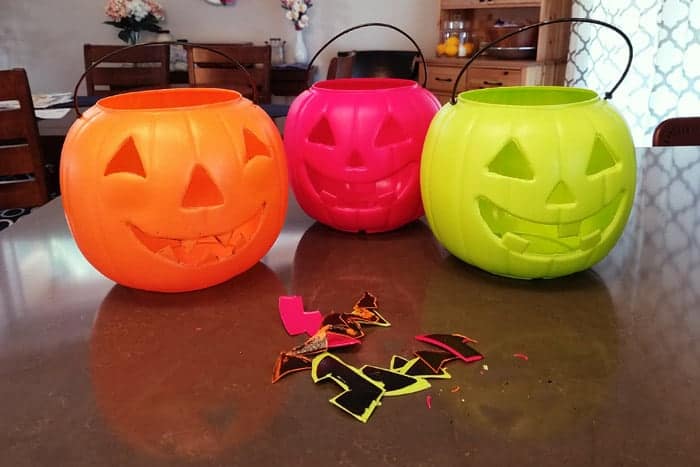 To make these plastic pumpkins into light up pumpkins we need to make a tiny hole of the lights.
Turn the plastic pumpkins over and make a small hole at the bottom on the back of each one with sharp scissors or similar.
As sometimes happens I didn't get pictures of a few steps. The pumpkins will be stacked, like a pumpkin topiary, and since they are very light I used hot glue to keep them together.
Cut off the handles of the plastic pumpkins
Set the bottom pumpkin on a solid surface and apply some hot glue to a few spots on the edge.
Working quickly line up the face of the middle pumpkin with the bottom one and nest together. A dry run is a good idea.
Repeat this process for the third/top pumpkin.
Run a bead of hot glue along the back where the pumpkins meet for extra adhesion. Smooth with a craft stick if desired.
Add Lights to your DIY Stacked Pumpkins
I used a 12ft 36 LED Daylight kit for my lighted pumpkins. You can use whatever type of lights you like. This is how I installed mine. Since the pumpkins will be stacked we'll be working from the bottom up. you have to lea
Leave a few inches of wire near the battery pack and insert approximately 10 lights into the bottom pumpkin. I found the halfway point, gently folded the wire in half and insert into the hole.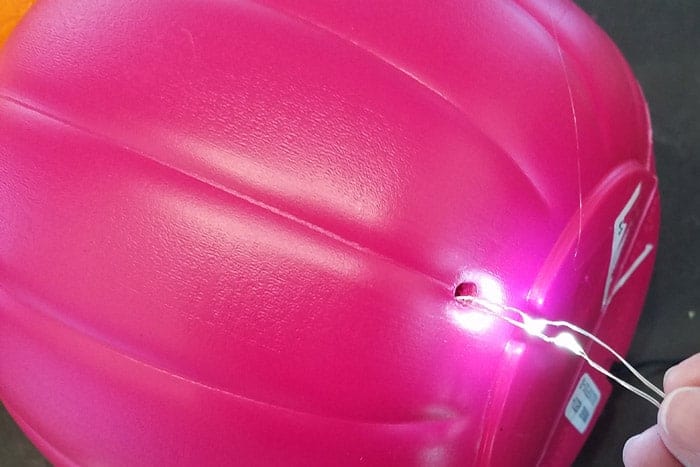 If you like you can put some

hot glue

in the hole to secure the light cord.
Run the remaining wire up to the next plastic pumpkin (secure with a little dab of hot glue along the ridge in the back of the pumpkin).
Insert approximately 10 LED lights into the middle pumpkin.
Follow the bullets above to secure the lights into the middle and top pumpkin.
Stand up your stacked pumpkins. If any of the lights are sticking out of the mouth tuck them back inside.
Secure the stacked pumpkins to the 1×6 board with a heavy amount of hot glue. This will help it hold up to a windy day. (I painted my pine board with some black craft paint so it disappears at night)
Attach the battery pack to the pine board with a screw behind the bottom pumpkin.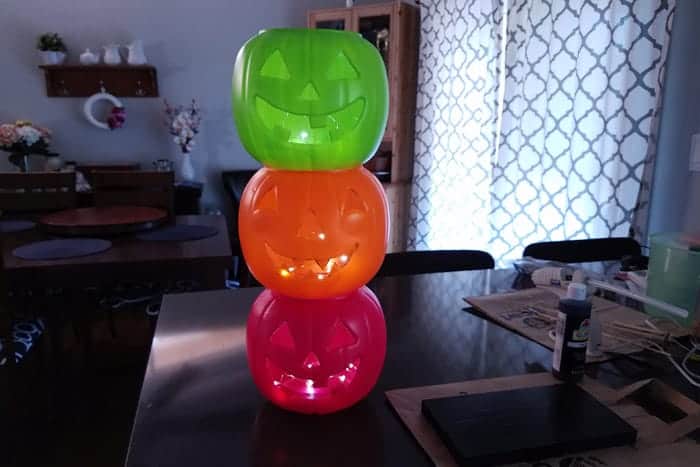 There, you've just made DIY Light Up Pumpkins and it's ready for your porch. Your neighborhood kids will love this colorful Halloween decoration.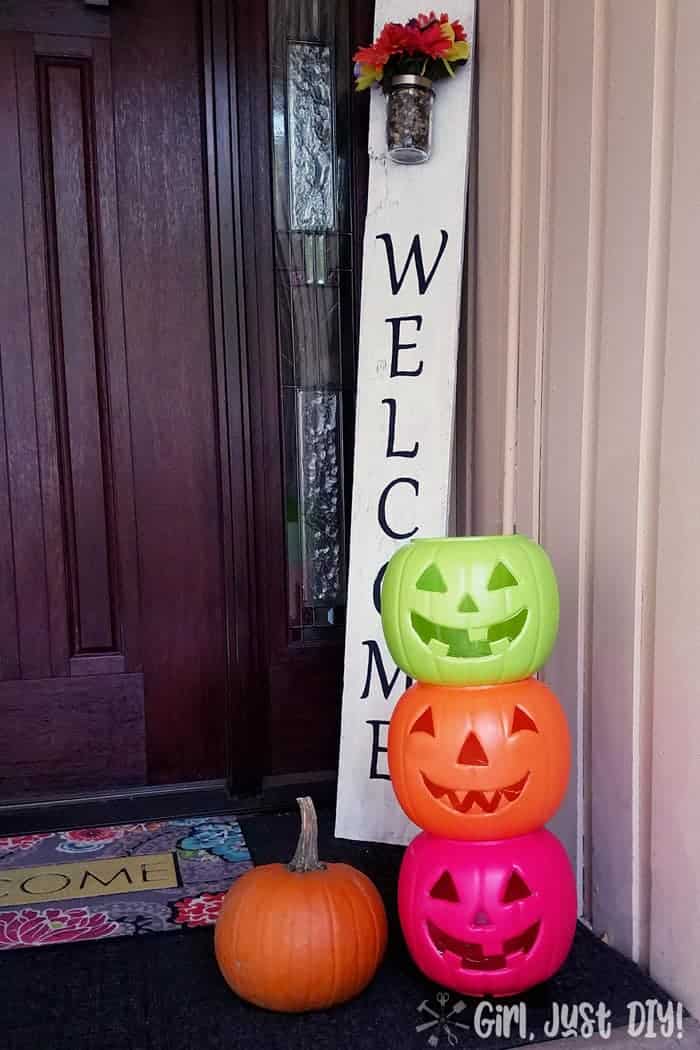 The black paint from the eyes really flaked off the orange pumpkin. I should have cleaned it off better, apparently 😉 But doesn't it look great all lit up?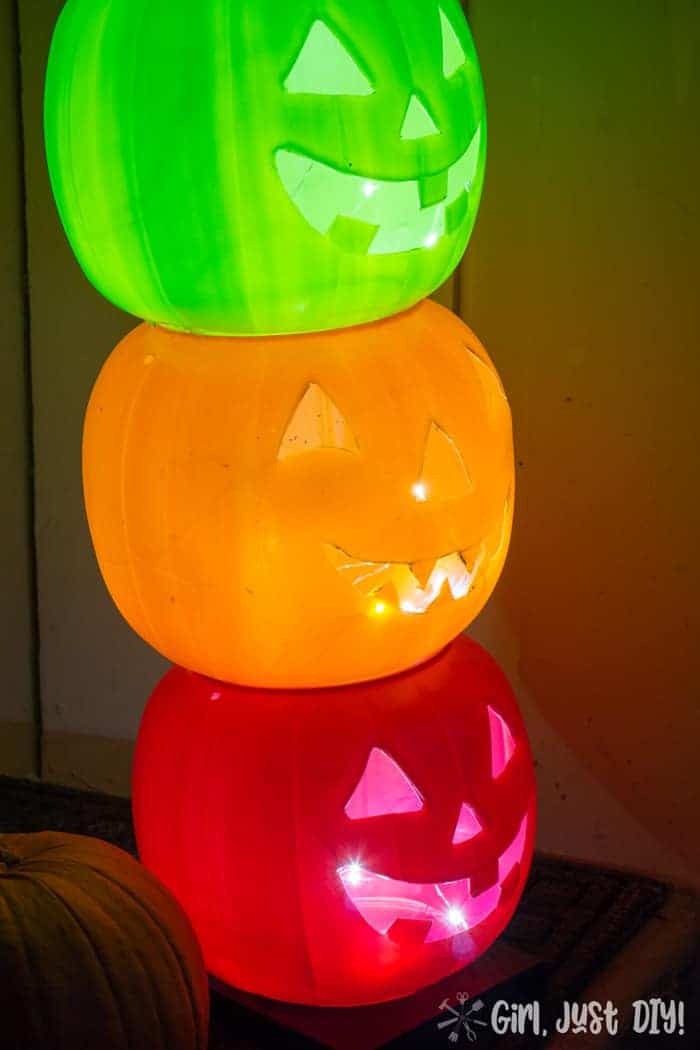 These cute Light Up Pumpkins really cast some cool shadows on the porch at night time.
Will you make or buy your light up pumpkins this year?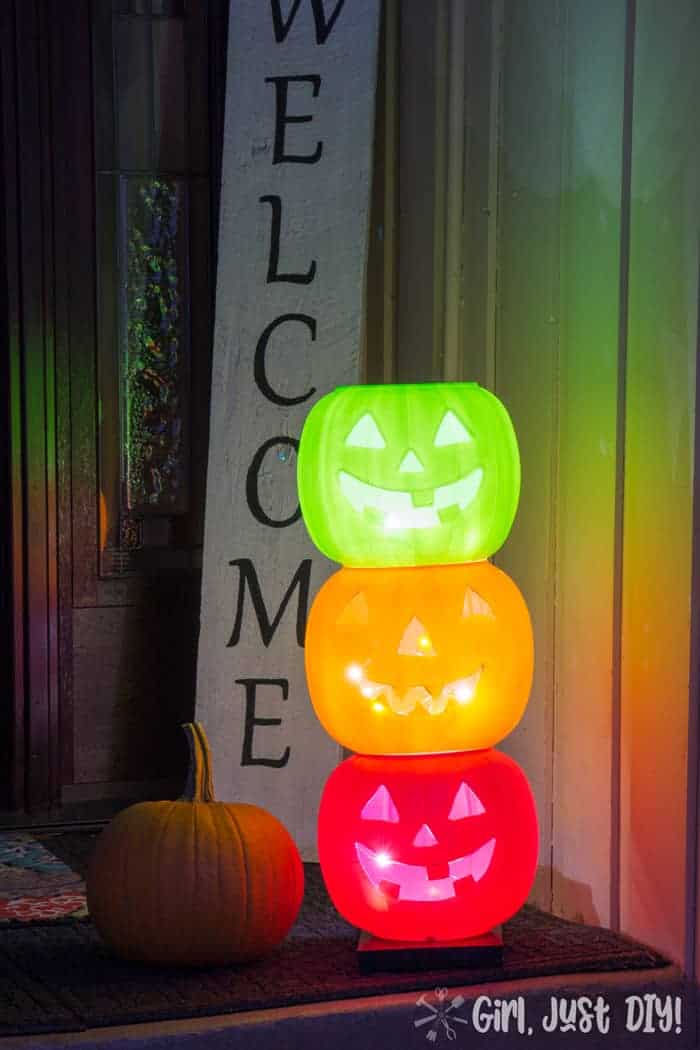 Pin it for Later!!