If you don't like to give out candy to kids on Halloween I have the perfects solution with these Non-Candy Halloween Treats that every kid will love. And, they're made with Dollar Store stuff so that makes it even better.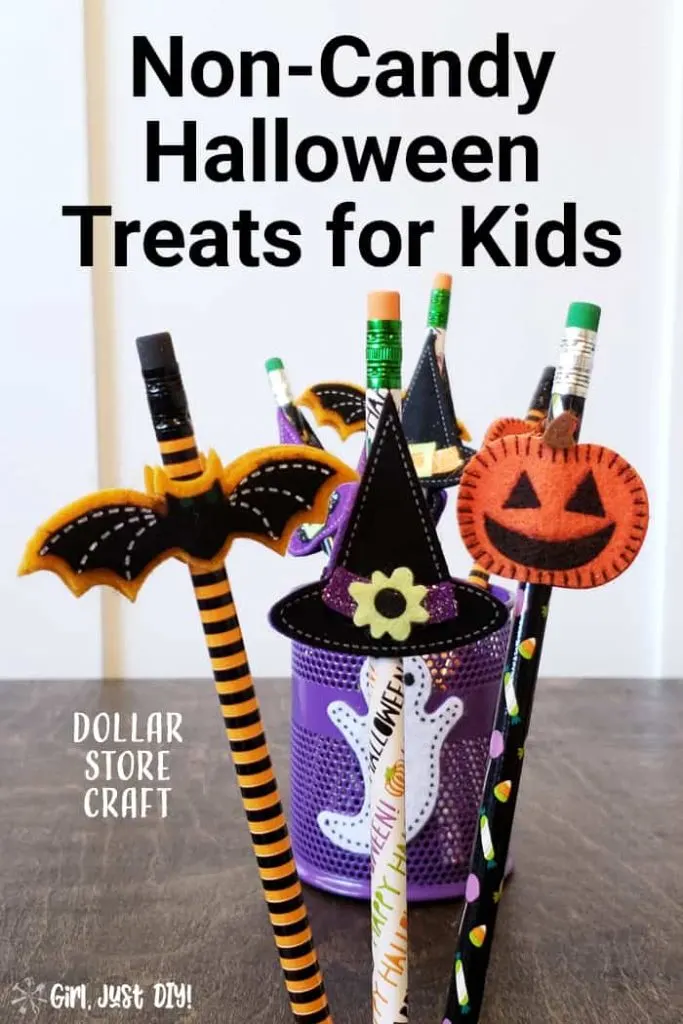 If you're worried about giving out a bunch of candy this Halloween then you'll love this project. It's cheap, easy and fast. You don't normally get all three of those things together.
This is perfect timing because for our Dollar Store Challenge this month was Halloween. Half the supplies I bought at the Dollar Store, the other half I got at the Target Dollar Spot (samesies as far as I'm concerned).
Let me show you how easy it is. If you have kids get them involved too and let them make some as Halloween gifts for their classmates. Or if you're throwing a costume party these will be perfect to put in the Halloween goodie bag.
This page contains links to products, if you purchase something after clicking on my link I may earn a small commission (at no extra cost to you). You can read about affiliate links here.
Non-Candy Halloween Treat Supplies
Yep, that's all you need! I got my supplies at the Dollar Store. If you can't find them at the Dollar Store there are some online options I linked to above, as well as felt to make your own designs.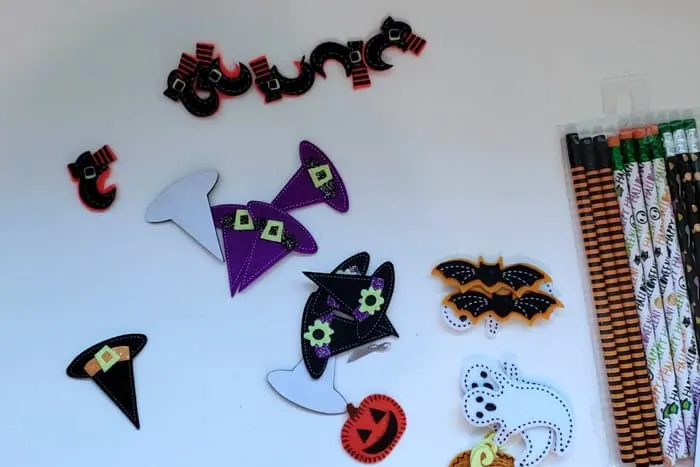 Assembling your Non-Candy Halloween Treats
Step 1: Peel off the sticker back
Separate your stickers by type. This will only work if you have multiples of the same stickers. I really wanted to make the witches shoes work but it wasn't possible.
Peel the paper backing off the sticker.
Step 2: Applying the sticker
Center the sticker and press onto the Halloween pencil. Make sure it's straight.
More Fun Halloween Projects
Halloween Bandana Wreath – Stacked Light Up Pumpkins
Easy Pumpkin Wreath
Peel the second sticker and place on the back side of the pencil. Be sure to line them up.
Press the edges together evenly.
Keep going until you have made all your non-candy Halloween Treats. If you can color coordinate the pencil with your stickers.
If you can't find stickers that will work you can always cut your own. I linked to the supplies above. That would be a creative Halloween craft to keep the kiddos busy on the weekend. Use the glue stick to stick them to the pencils.
Aren't these so cute? I love them and can't wait for Halloween to hand them out. My husband might think the kids won't want them because he's all about the candy (hehe me too actually).
But sometimes it's nice to mix it up. I can't wait to give these to the kids in the neighborhood.
I really like this little jack-o-lantern, he looks so happy.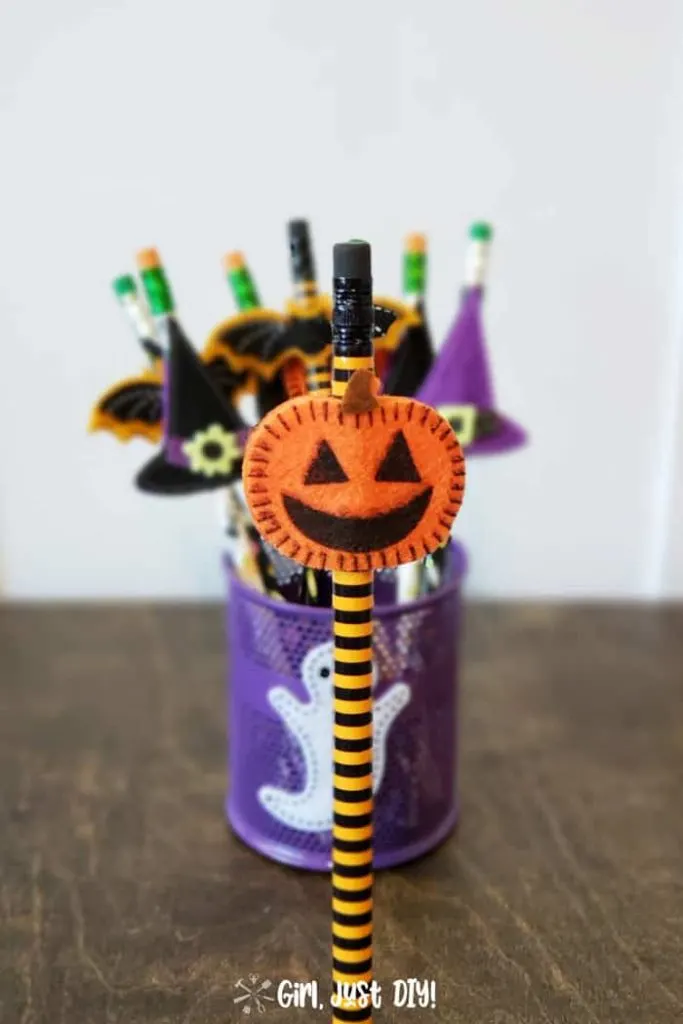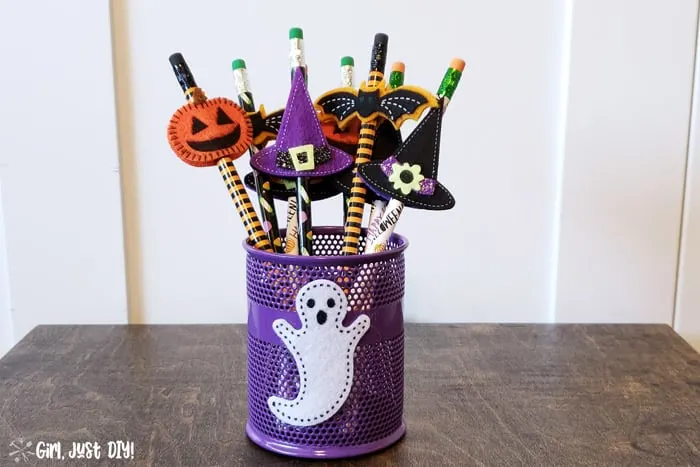 So do you like these as a non-candy Halloween treat for kids, for handing out as gifts for classmates, or in a party goodie bag? Or all 3? Or maybe just for yourself 🙂
The purple pencil cup is from the Dollar Store also. They were for back to school but if you like purple as much as I do then you can find all kinds of metal Purple Pencil Cups online.
This trio of witches hats will be a hit.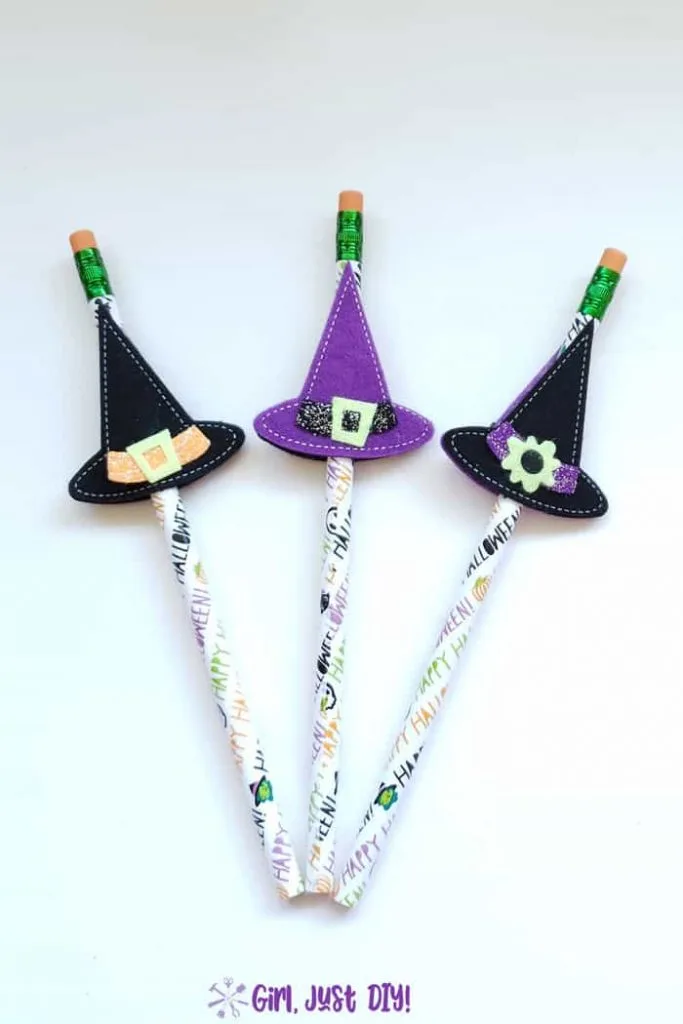 LOVE IT!! PIN IT!!
Here are even more creative Dollar Store Halloween projects by my friends and co-hosts for this month's Dollar Store blog hop:
Because we all love crafting, we'll be back the 3rd Friday of the month with a themed Dollar Store blog hop.
Click the links below to see the other amazing Dollar Store Halloween DIY's!
Michelle from Our Crafty Mom – Rae Dunn Inspired Dollar Store Chalkboard Pumpkins
Beverly from Across The Boulevard – Halloween Skeleton Candy Tray Using Dollar Store Items
Michelle from Michelle James Designs – Dollar Store Pumpkin Tea Lights
Heather from Daily DIY Life – Dollar Tree Skeleton
Shirley from Intelligent Domestications – Silly Spider Web Halloween Wreath
Toni from Girl, Just DIY – Non-Candy Halloween Treats for Kids