Great news, especially for you cooler weather lovers. We're on the down slope of summer heading into fall. So today I've teamed up with some blogging friends to bring you inexpensive decor ideas like my Dollar Store Fall Flower Bucket.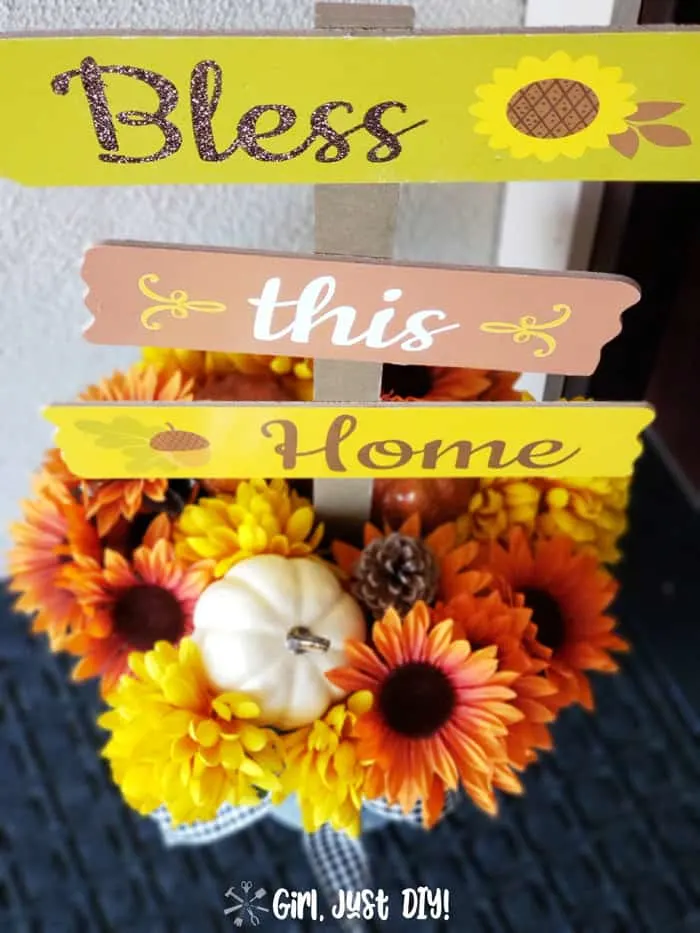 Don't forget to read all the way to the bottom to see what fun Fall stuff my friends created.
This cute little project takes no time at all to put together. I got most of my supplies at my local Dollar Store but you could source them anywhere you like.
This page contains links to products, if you purchase something after clicking on my link I may earn a small commission (at no extra cost to you). You can read about affiliate links here.
Supplies for a Fall Flower Bucket

I already had a galvanized bucket that I wanted to use but my garden stake was a bit too short. Since I'd never worked with mortar before I wasn't sure how well it would hold or if it would sink. So I extended it. I'll show you how in a second.
More Dollar Store Stuff
Dollar Store Backsplash – Dollar Store Wreath Update
If you don't want to use mortar you can also use florist foam or the green Styrofoam blocks. You'll need glue your garden stake between the two halves.
I used mortar in mine so here we go.
How to make your Dollar Store Fall Flower Bucket DIY
Step 1: Lengthen your garden stake.
If necessary lengthen your garden stake with a few wood shims glued onto or around the stake. I used a short piece across the bottom in between the two for side-to-side support.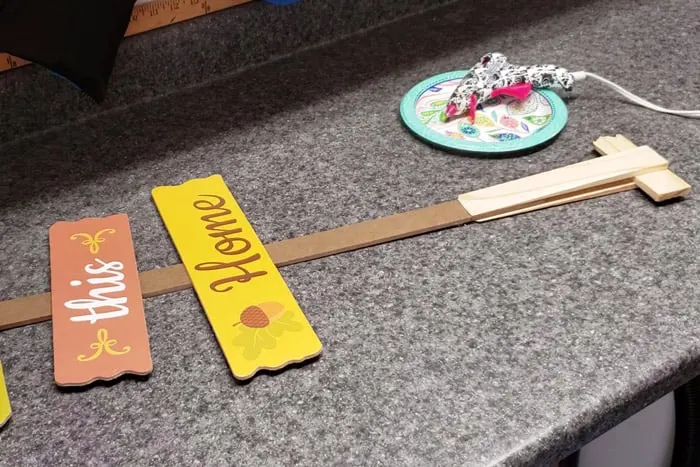 Step 2: Fill your bucket with dry mortar mix.
Put on gloves (mortar is very drying to the skin) and your dust mask and using a paper cup fill your bucket at least half way with mortar mix.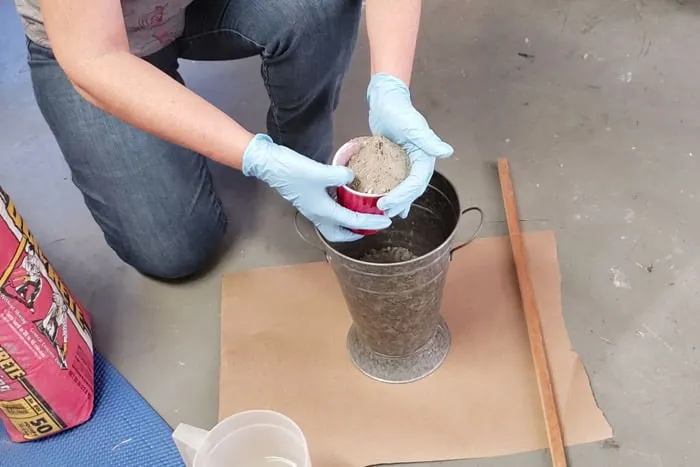 Step 3: Add some water.
Read the directions on the label to see what the ratio is. Generally it's a full bag to 1/2 gallon of water. I just added a little and started stirring, adding more as I thought it needed it. Don't make it too soupy.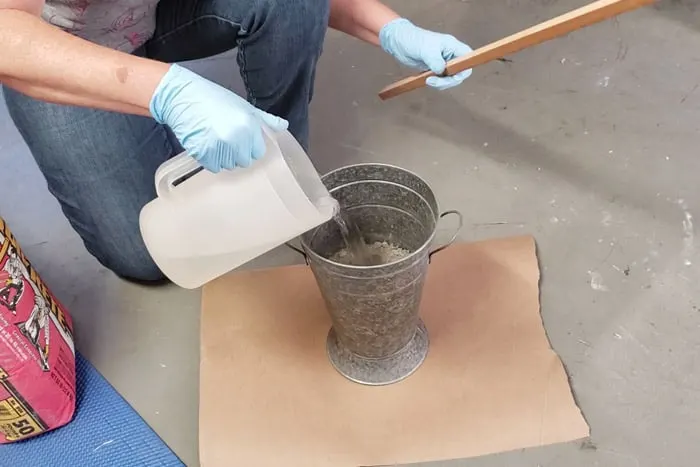 Step 4: Get to mixing.
This is going to take some muscle so start stirring and digging into the bottom of the bucket with your hand shovel to really get it mixed. Since this part won't show it doesn't have to be perfect. We only need it to hold a few things.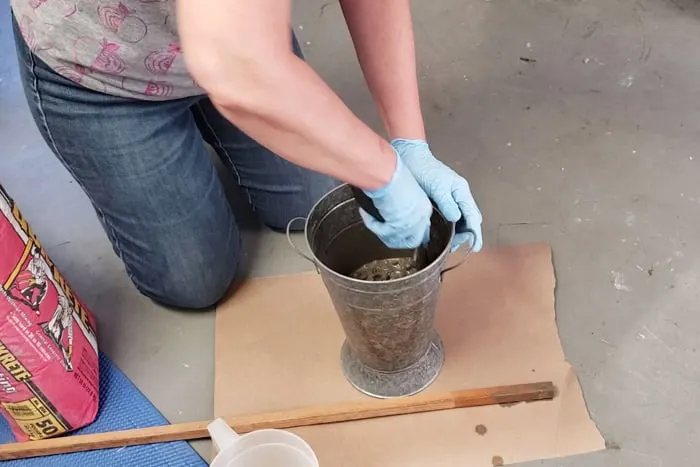 Step 5: Insert the garden stake.
Don't wait, especially if you get quick set. Insert the garden stake and wiggle it down in. Use the hand shovel if needed to work it down in.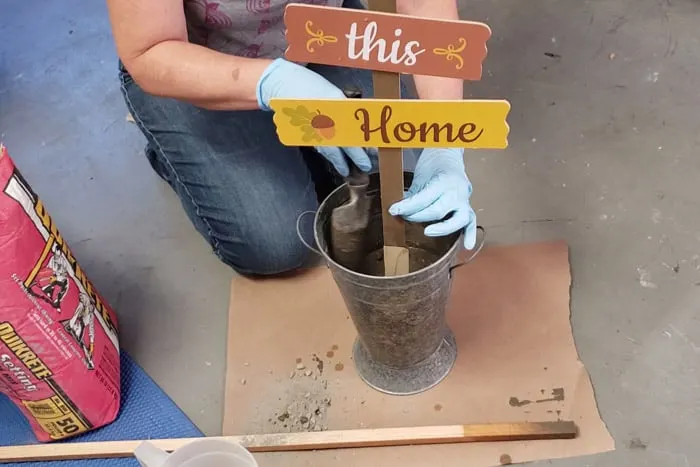 Step 6: Add flowers to your fall flower bucket.
Start adding your fall flowers in any order or pattern you like. Bend the bottom of the stem up a bit if they won't go far enough.
Before the mortar sets be sure you check that your garden stake is straight.
Set it aside to dry.
Finishing touches on the fall flower bucket.
Then pop in a few faux pumpkins and tie on gingham ribbon and it's ready for the porch.
Oh my gosh I'm thrilled with how great this turned out. Honestly, next time I'd use florist foam so I can reuse the bucket for something else. But oh well, it's been sitting in the garage unused for a few years and now it has new life.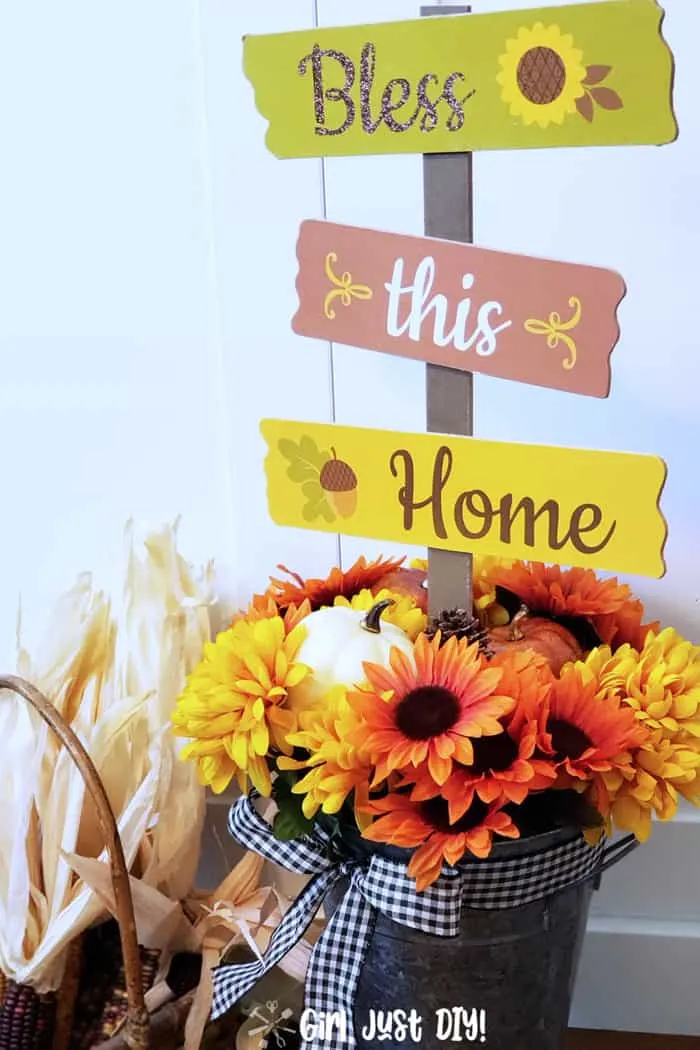 PIN IT FOR LATER!!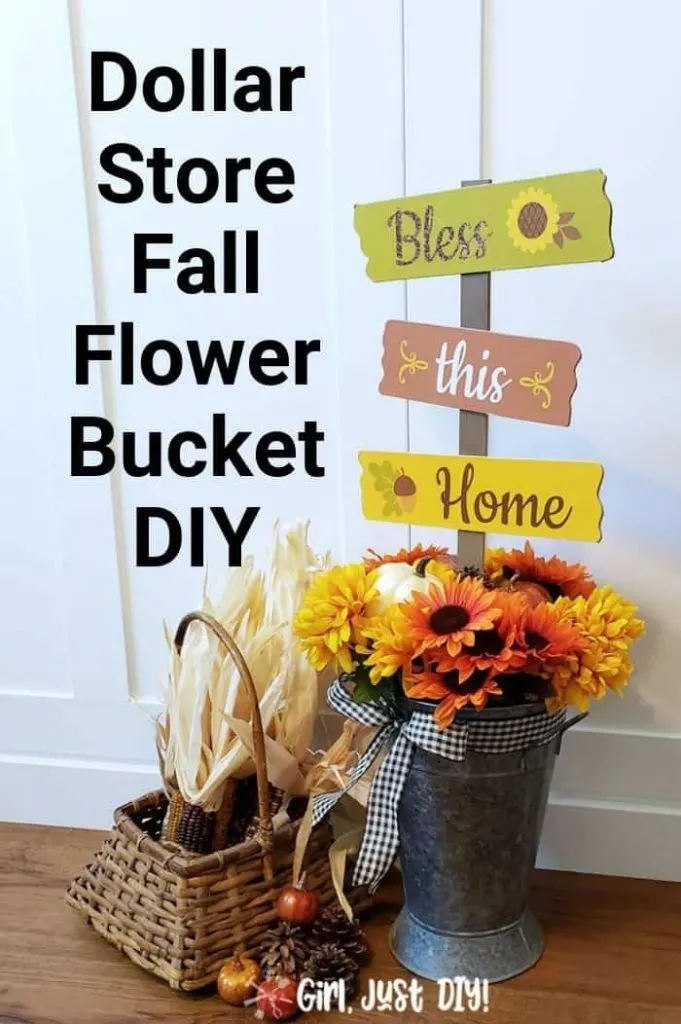 As promised here are some creative projects by my friends and co-hosts for this Dollar Store Decor blog hop:
Because we all love crafting, we'll be back the 3rd Friday of the month with a themed Dollar Store blog hop.
Click the links below to see the other fall inspired DIY's for amazing fall Dollar Store DIY's!
Michelle from Our Crafty Mom – Faux Dollar Store Concrete Pumpkins
Beverly from Across The Boulevard – Dollar Store Pedestals With Pumpkins
Michelle from Michelle James Designs – Dollar Store Fall Throw Pillow Cover
Heather from Daily DIY Life – Affordable Fall Decor
Shirley from Intelligent Domestications – Fall Centerpiece
Toni from Girl, Just DIY – Dollar Store Fall Flower Bucket DIY