Friends, have I told you I love color? Well I do, just ask my husband. Normally my Christmas decor leans toward traditional colors like red, silver, white. Oh I've had colorful bulbs on our tree but it's the decor around the house that needs a major overhaul. I'm really beginning to embrace it after seeing all the colorful wood Christmas decor in week 2 of the Deck the Home blog hop I'm in. Some still lean a bit traditional but I love them so I had to share them with you too.
This post contains links to products, if you purchase something after clicking on my link I may
earn a small commission (at no extra cost to you).
There's so much goodness to share with you today. Be sure to click on the link above the picture to head straight to the project to check it out closer. The come right back and keep browsing. If you want to pin a specific project to Pinterest please pin the image from their website; or you can pin the long collage at the very bottom to your favorite Christmas Board.
Let's get started!
First up is this awesome Christmas Tree Platform by 1905 Farmhouse is just what she needed to get her tree off the ground. You could personalize this in so many ways to make it really pop until it's surrounded by all those gifts 🙂
I have yet to do a wood slice project, but if I did I'd want to copy my friend at Anika's DIY Life cute and glittery tree. It's so creative and adding colorful glitter on the bark looks fabulous.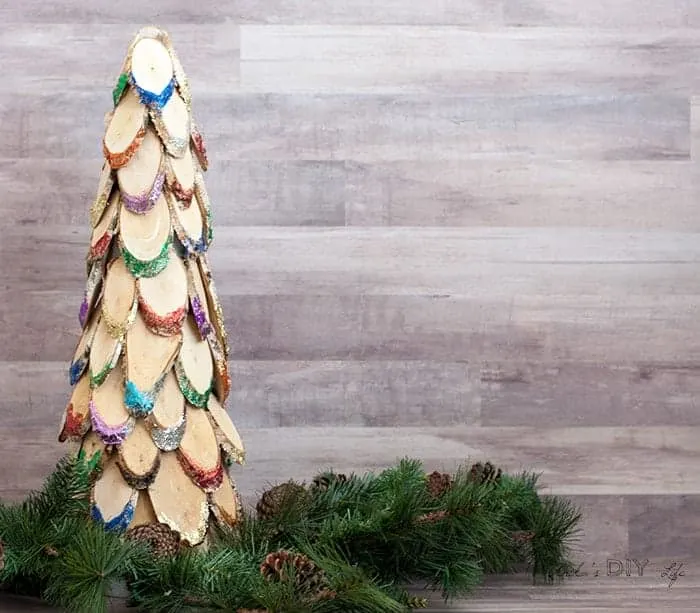 Creative Ramblings mixed up her colors this year too in the unexpected blue trees on her homemade sign. What a cute pop of color! And she shows you how to make the sign frame too. Win/win!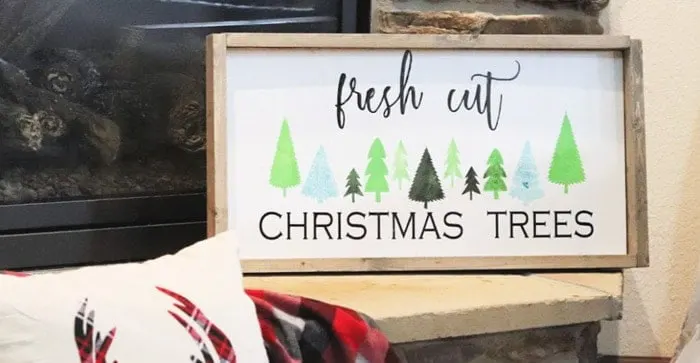 At first glance I thought these were ornaments, They're not (but they could be if you wanted). Gross to Grandiose made them for a memory game to play with her daughter, and she drew and colored these free hand!!
Happily Ever After stenciled an old wooden tray with this beautiful and colorful swirly stencil and now she's ready to serve hot cocoa all through winter.
Are you a lover of buffalo plaid? Just Measuring Up will show you how to build this cute interlocking wood Christmas Tree and how to paint your own buffalo plaid pattern.
Oh my, how cute is this little Nativity? The little peg people Baby Jesus, Mary, and Joseph was made by Little Bits of Home is awesome; and I want one in my home too. What a fun way to celebrate Jesus' birth this year ❤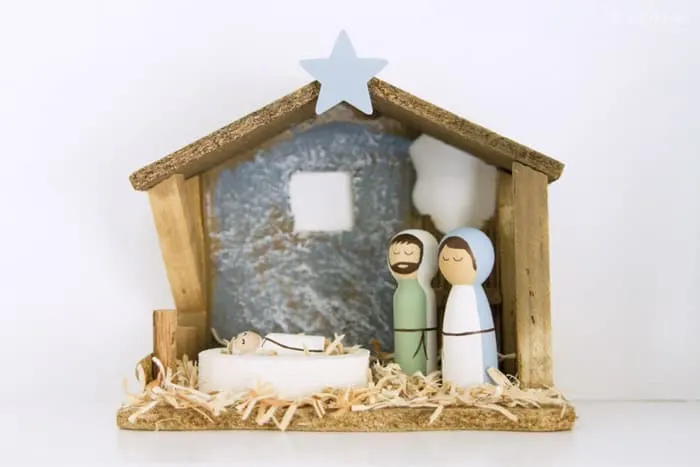 Even More Colorful Wood Christmas Decor
Keep going, you're not done yet. There's more awesomeness to inspire you 😀
GRINCH!! Seriously such a cute idea and I love the lime green colors that Michelle James Designs included in her decor around the sign. This brings back such good memories of my childhood watching all the Christmas cartoons in the dark on the floor 2′ from the TV 🙂
This awesomely big sign built by Mom Envy will make your heart sing the song that makes up the tree every time you see it. It looks so simple to make your own to create some huge art for your home.
Oh my gosh, this little ornament!! Adorable is an understatement. And you won't believe what Red Cottage Chronicles used to cut out the little manger trough. I had to add it for all it's cuteness factor.
I'm such a sucker for blue these days and the white nativity on That Sweet Tea Life's blue board just pops against the blue night sky. She used a reverse stencil effect that's brilliant!
I love lighted signs but I've yet to make one myself. This tutorial by Two Feet First will give me all the tips I need. And the bright red letters are awesome against the pine board background. It's a traditional color in a non-traditional style, love it!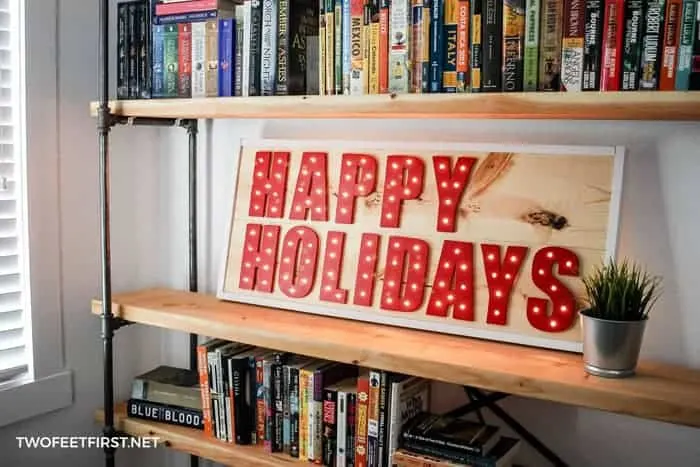 And lastly is my very own Colorful Christmas Tree, I had fun making this cutie out of paint stir sticks. Like I said I'm doing some different colors this year and this goes with the Button Ornaments I just made too.
– More Christmas Projects from Girl, Just DIY! –
Wood Christmas Tree – Red Christmas Decor – Rudolph Gift Tags
Well, that's my roundup of 13 Colorful Wood Christmas Decor projects to inspire you to get creative with your colors, and your project ideas. Please leave a comment and let me know which is your favorite.
PIN IT FOR LATER!!