Hello and welcome to my newly rebranded website!! I'm so excited you're here 🙂 Seriously, this is a huge day for me and one I've been working on for a few months. If you were expecting to find Small Home Soul and are a bit confused, don't worry, you're in the right place 🙂 I promise. I've been working hard recently DIY-ing a new name and a new look for my blog.
Seriously, I'm so excited!!
I even went into the backyard with a selfie stick to take a new picture t
o celebrate my new blog name. OK, I took 124 pictures to be exact, it's kind of hard making yourself smile naturally when no one else is around. The dog, and I'm sure the neighbors, thought I was nuts. But I managed to have a little fun with it ??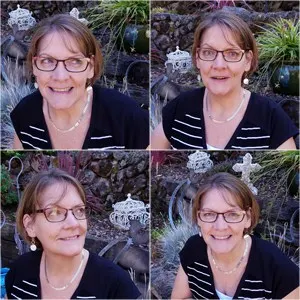 And to celebrate and keep the fun going I have a little surprise to share with you in a second.
My blog was pretty quiet this summer, I know you love seeing fresh new ideas regularly, me too. I got really busy working on fun projects for my daughter's wedding. It was so AWESOME, and I'll be blogging about some of those projects in the coming months. Right after the wedding was over I decided to rebrand my blog.
I'm sort of an all or nothing kind of girl so I threw myself into creating my newly updated blog. And in the process didn't create or share anything new with you guys. But not to worry I have some cool projects in the works.
I've been wanting to change my name for a long time. I hadn't planned on doing it right now, but when motivation strikes sometimes you just have to move with it.
This post contains links to products, if you purchase something after
clicking on my link I may earn
a small commission (at no extra cost to you).
What is a Rebrand?
A rebrand is when you decide to change the name of your website/blog from one name to another. And you still want to have all your content (posts and projects) on your new website. Basically www.smallhomesoul.com became www.girljustdiy.com and you'll still find all my original projects right here.
Sometimes website owners also want a new look. I wanted both.
I've been jotting down new names for a long time but nothing really seemed right. Then a few months ago, while I was drying my hair, a name just popped into my brain,"Girl, Just DIY!" Maybe because I'd just started reading "Gi
rl, wash your face." Awesome book by the way 🙂
That's usually where God likes to whisper things to me, standing in front of the mirror drying my hair or putting on makeup. No, it wasn't a big booming voice I heard audibly, just a tiny whisper on my heart. I knew it was perfect! ❤
Girl, Just DIY is born
As soon as the name popped in my head I ran to the desk to write it down so I wouldn't forget. Thankfully it was available in all the places I needed it to be (of course, right? insert happy dance).
You might have noticed that I already changed the name on my social media accounts a few months back. When I saw they were available I switch immediately; I wasn't taking a chance that someone else could get them first.
If you aren't yet, go ahead and click over and follow me on Facebook, Instagram, Twitter, and Pinterest.
Like a lot of things I do, the rebrand took me longer that expected because I DIY'd all of it. Well almost all of it. I could have paid someone to do all the nitty gritty stuff like change and update the look. But in addition to being a DIY girl, I'm also kind of cheap thrifty 🙂 I've been doing all my own blog stuff since the very beginning. Learning the hard way sometimes but and I knew I could do most of it myself.
And I may or may not have some control issues 🙂
My friend Anika from Anika's DIY Life, rebranded a few years ago so she shared the name of the book she used as her guide, "The Blogger's Guide to Rebranding" By Cori George. It was a life saver with a lengthy checklist that covers most tasks. And there are a LOT of little tasks.
Creating the perfect look
The single thing that took me the longest was creating my new Logo. I wanted something fun and colorful and more girlie than my old logo. There are lots of designers and I could have paid someone several hundred dollar$ to create one, but I really didn't know what I wanted until I started playing around. I really love what I ended up with.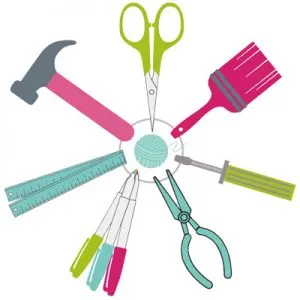 I'm no graphic designer and while I use Photoshop Elements for editing and resizing my photos, that's as far as I've learned so far. Canva.com is an awesome online tool with a free version and lots of free images and fonts. I use it to make all the pinnable images for my posts, like the collage I made for the 2×4 Side Table, or the 4th of July Wreath Roundup.
I just started playing around and ended up with a fun and colorful logo and new blog colors that fits this color-lovin' girl so much better than my old logo and colors ever did.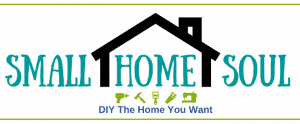 So much better, and I love the font and the little wheel of tools.
Surprise Time – A Giveaway!!
UPDATE- this giveaway has ended.
Thank you to everyone who entered and for all the positive and wonderful feedback on my rebrand.
To help me celebrate and thank you all for supporting me on this crazy blogging journey I'm giving away a cool prize.
If you've always wanted to dive into DIY, or you're an active DIY Girl like me, a Gift Card from Home Depot would be a great start for your first or next project.
The single-prize giveaway ran from 12am 10/13/18 to 12am 11/1/18 and was open to U.S. and Canada residents 18 yrs and older.
The winner was notified by email on 11/1/18 and the prize claimed the same day. Thank you to all who entered, you blessed me with all your lovely comments!
SIGN up for my newsletter