Do you have a stash of wine corks? Then you have all you need to make this DIY Wine Cork Board. Perfect for notes, a calendar, or your favorite family photos.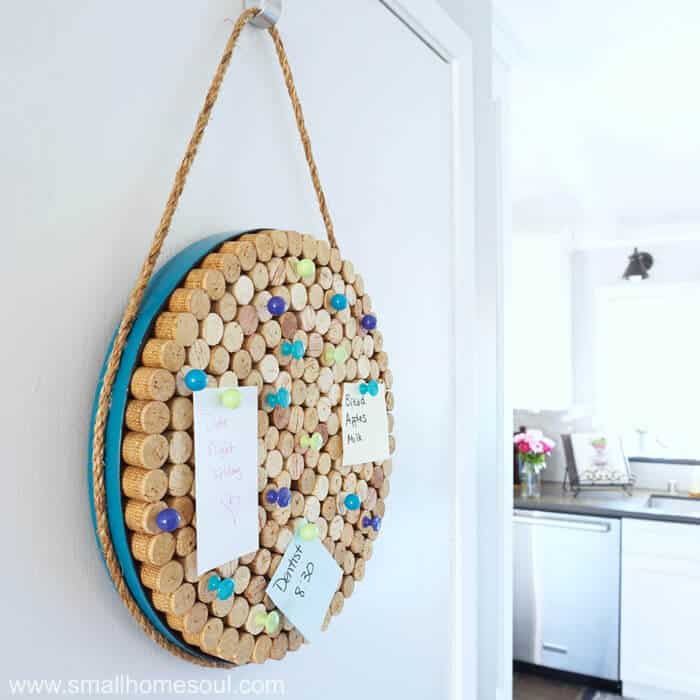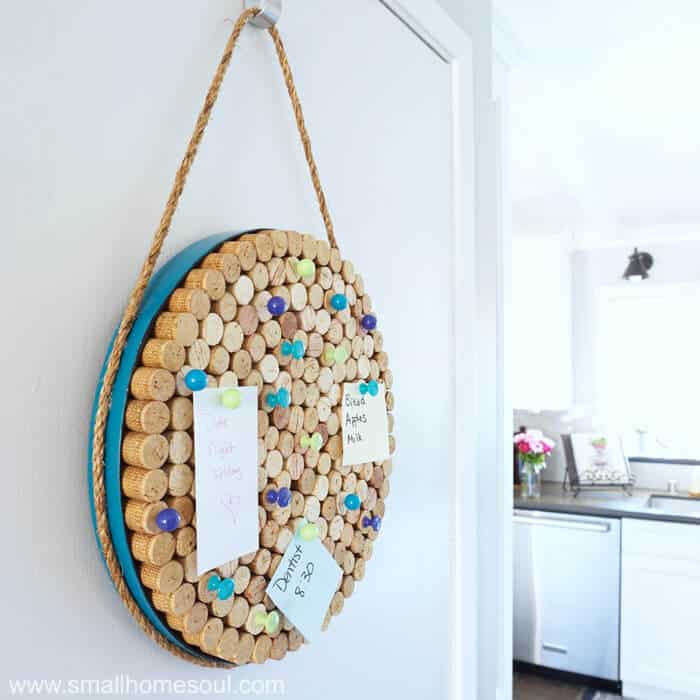 There are so many uses for old wine corks but what better project than to use them to make a beautiful Wine Cork Board to stay organized.  By themselves they're kind of plain but mix them with some beautiful color and awesome pushpins and they become gorgeous.
My daughter's bosses own a small winery nearby and regularly host wine tasting events.  They collect a lot (I mean a lot) of wine corks, and they're always happy to share.  Of course my generous girl loves to share with her momma 🙂
Mine have been in a bag in the garage for way too long.  I'd been planning for over a year to make a Wine Cork Board with them.  So today I want to show you how creative you can get to put some of your wine corks to good use.
I wasn't sure what to use as my frame.  My plan was to use an old dresser drawer, but they are heavy.  And that's been done so many time before.  Just search Pinterest and you'll see what I mean.  I didn't want to do what everyone else has already done.
This project first appeared at Pastels and Macarons where I was invited to post as a Guest Blogger.  I've updated and republished my original post to give my readers the full details for your DIY inspiration 🙂
This post contains links to products, if you purchase something after clicking on my link I may earn
a small commission (at no extra cost to you).
HANDY CRAFT SUPPLIES:


After searching through my garage for the perfect frame I decided to use part of a very outdated hat box I bought at a thrift store for $1.  It was so ugly and I can't believe I brought it home.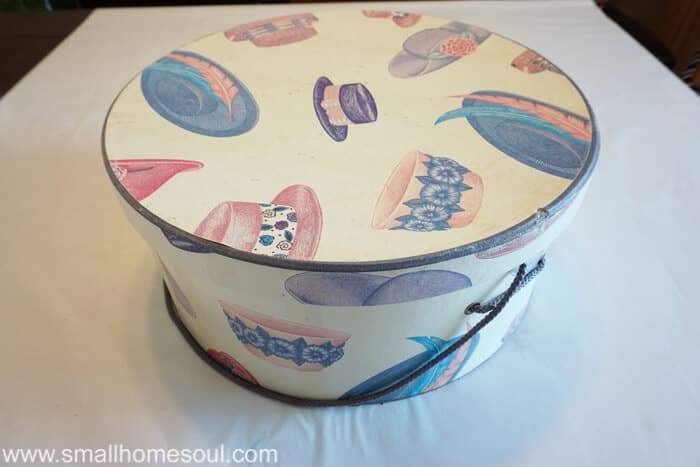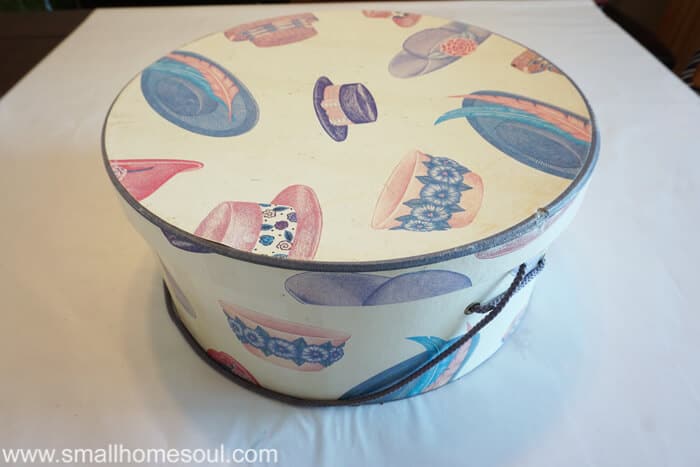 I only used the lid for the wine cork board.  I was going to use the bottom for another project but it was warped when so I tossed it.  Since I planned to stand the corks on end I knew there would be some gaps in between.
To minimize the appearance of the gaps the inside of the lid was painted with black craft paint.  It didn't have to be perfect because it won't really show.  The edge got painted too as well as a little on the side.  The outside will be a different color but I wanted the edge black for a good contrast.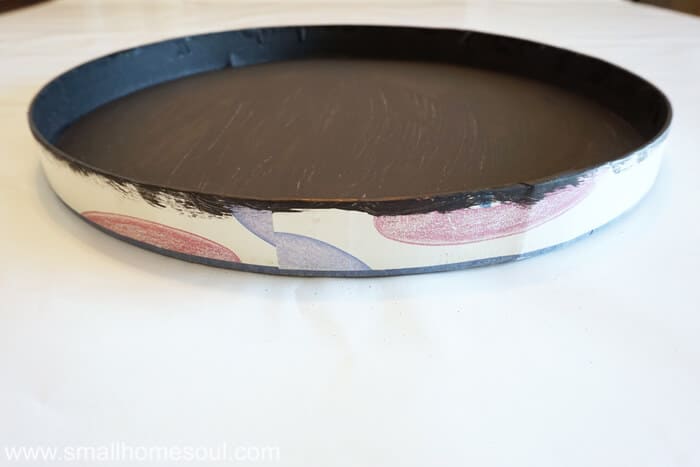 After the black paint dried I took the lid into the garage.  If you haven't bought one of these small spray shelters you need one, like now.  They save so much overspray from going where you don't want it.
The box lid was elevated on a cardboard box making it easier to rotate when giving it a few light coats of spray paint.  I love Rustoleums beautiful shade of Lagoon.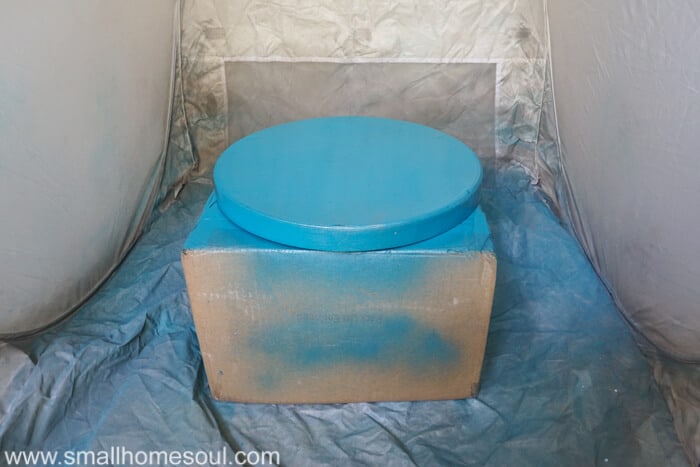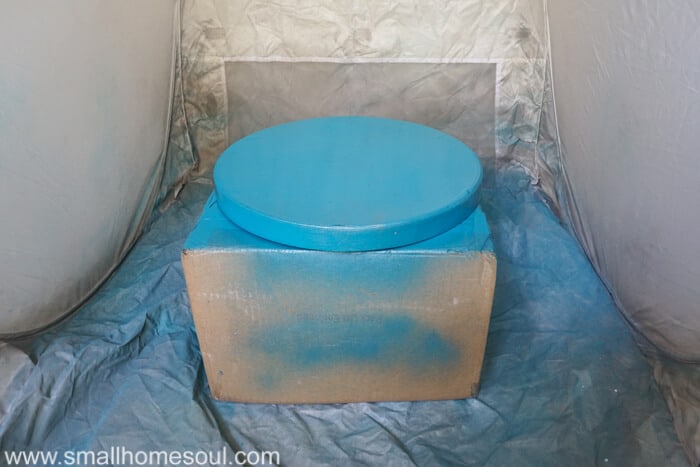 When the paint was dry it was time for the glue gun action to glue the corks and create the Wine Cork Board.  I took the time to do a dry run inserting the wine corks into the lid without glue to be certain they'd fit how I wanted.  This isn't a necessary step but if you're a perfectionist… 🙂
Starting with the outer edge first I worked my way from one side to the other.  It might also work to glue each circle from the outside toward the center.  Just a thought when you're making yours.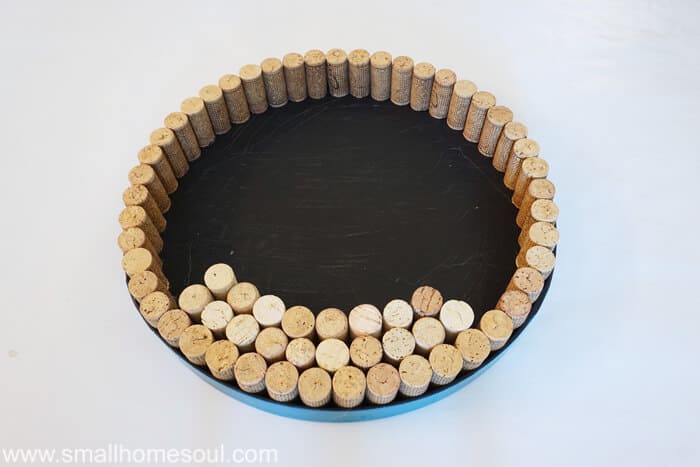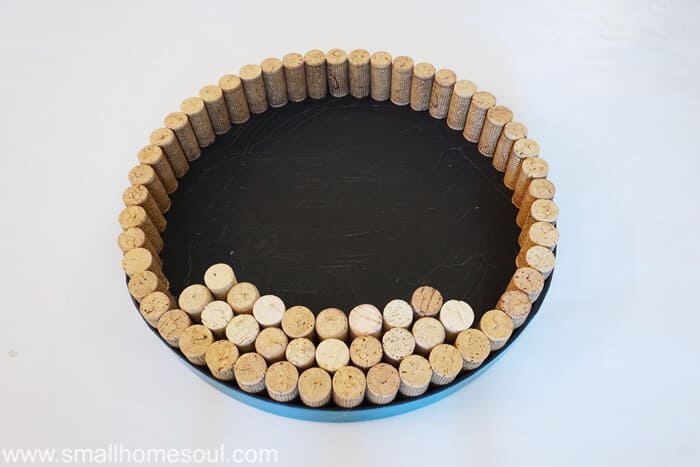 I used a high heat glue gun for this project because I wanted a little longer drying time so I could move and squish the corks as needed.
I only glued the bottom of the corks onto the lid.  By gluing the bottoms only I was able to squeezing a few corks into larger gaps.  For a few of the really large gaps I used a very sharp knife (or you could use a utility knife) to whittle and narrow a few wine corks.  You'd have to look really hard to find them 🙂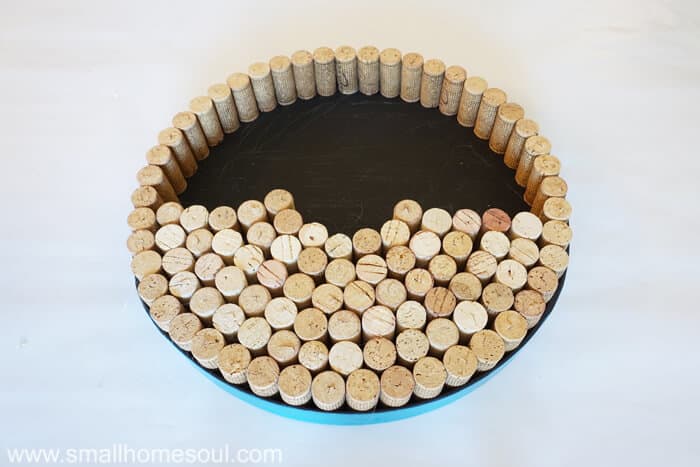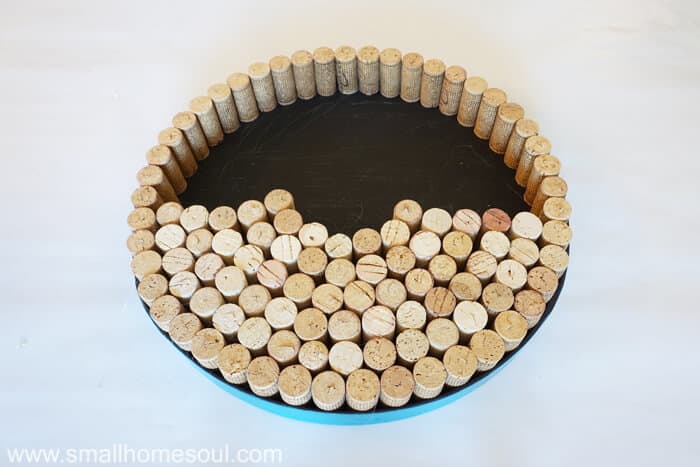 To make a handle I used a length of Manila Rope I had left over from making a Planter Basket from a Trashcan.  After cutting it to length I attached the two ends on the bottom of the wine cork board frame.  Each side was then glued about 1/3 of the way up the outer rim of the lid.  I stopped gluing where the rope handle would naturally part from the lid.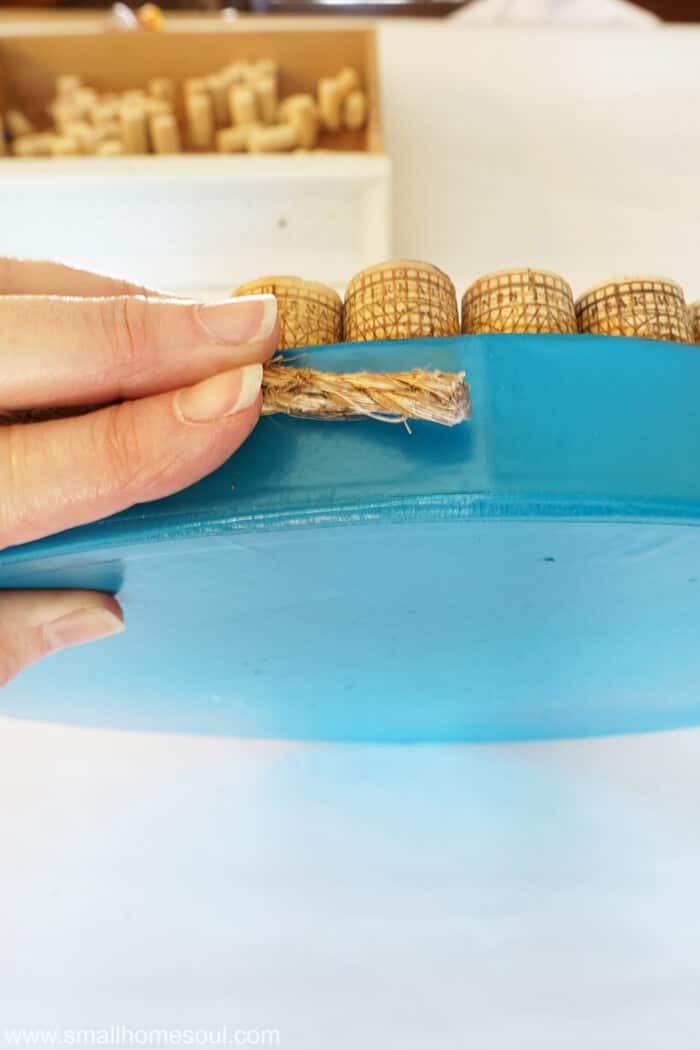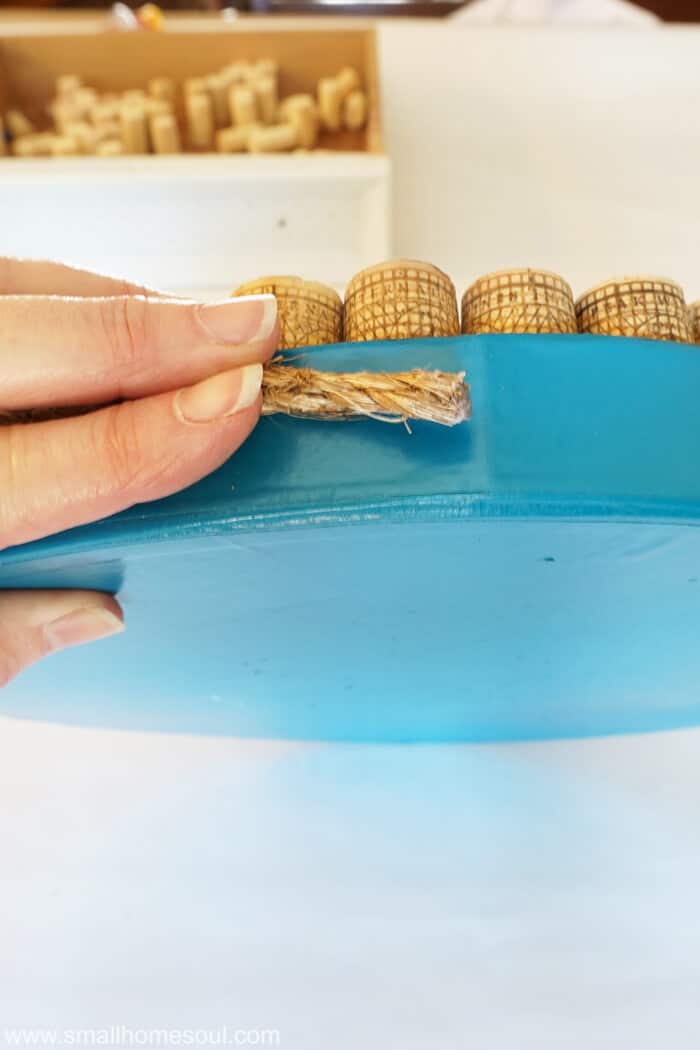 Perfect Hanging spot for your Wine Cork Board
Once it was finished I needed to find the perfect spot so I could start using it to organize all my notes.  The door to the utility closet in the kitchen has been blank since we finished our Kitchen Renovation.  My hubby's been asking to have his calendar back there but I like the Wine Cork Board idea better.  We can still hang a mini calendar and have room for notes and even pictures.
The door is heavy but not solid and I didn't want to risk the screw stripping and making a huge hole.  So a Command Hook is the perfect solution.
Holding the hook in my hand I hung the wine cork board from the hook and moved it around until I found the perfect height.  Marking the spot lightly with a pencil at the bottom of the hook worked best.  Using a tape measure to find the center of the door I affixed the adhesive back on the hook to the door.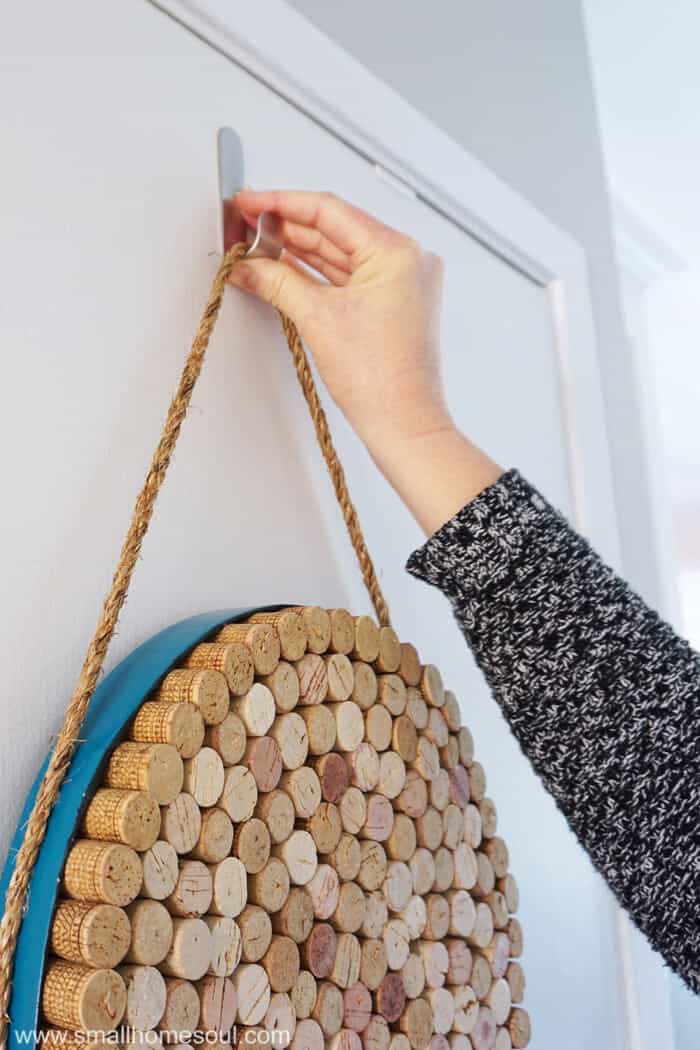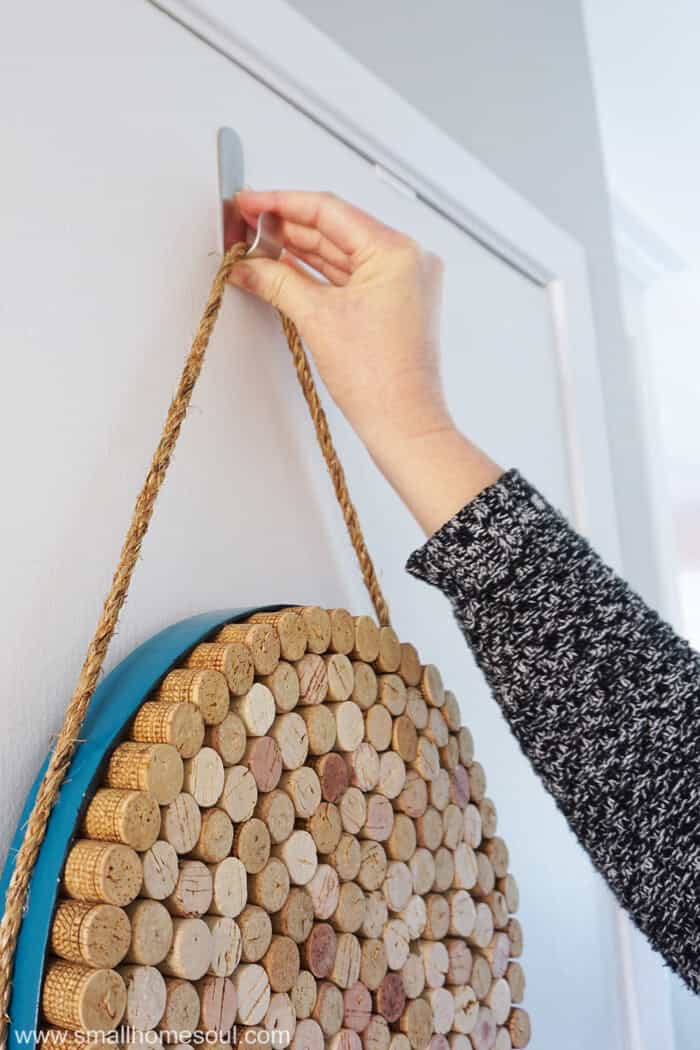 Now it's ready to use and stay organized.  I still need to get one of those mini calendars for my hubby.
Hanging our new cork board in the doorway to the kitchen is perfect.  Reminder notes no longer get lost and there's space for some pictures too.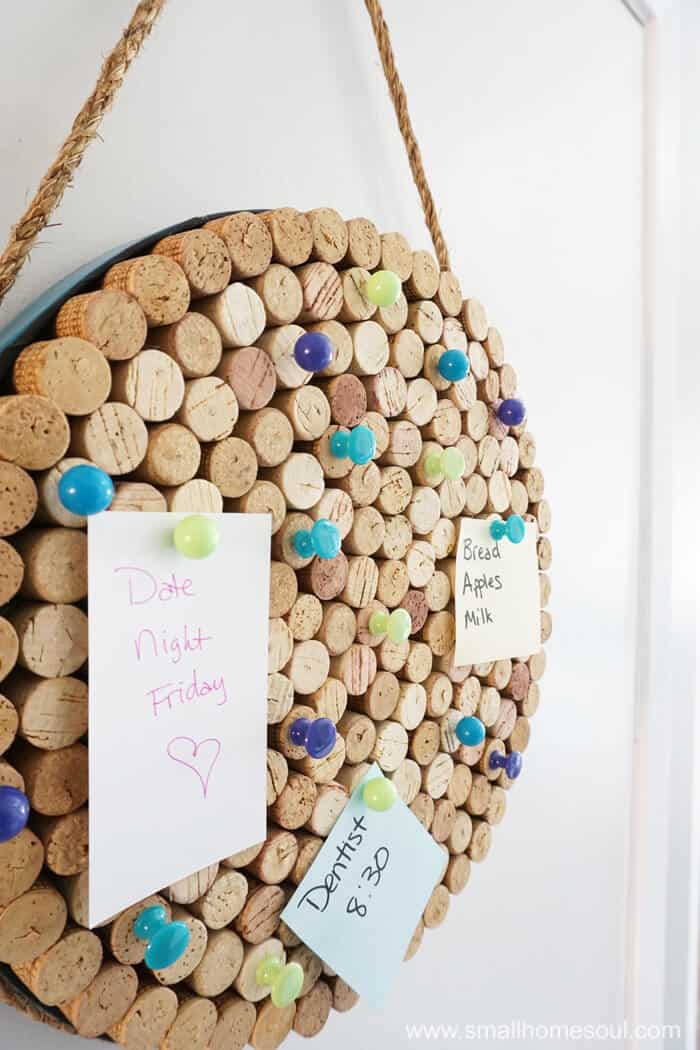 I'm so glad I had enough of these intricately designed corks to rim the cork board completely.  It's such a nice visual detail and really elevates the look.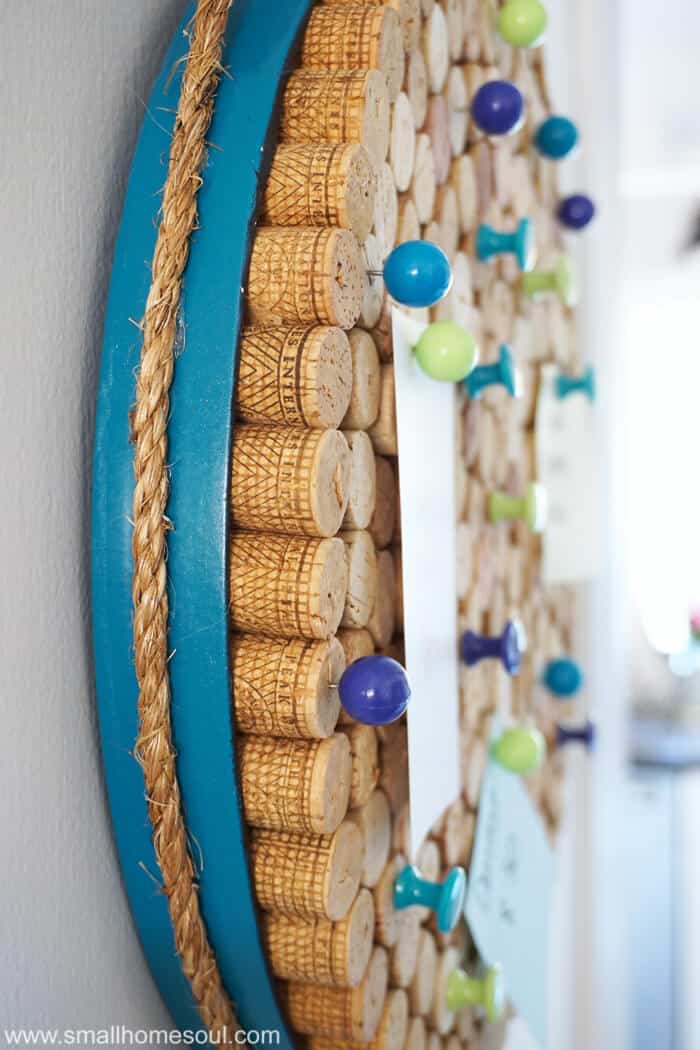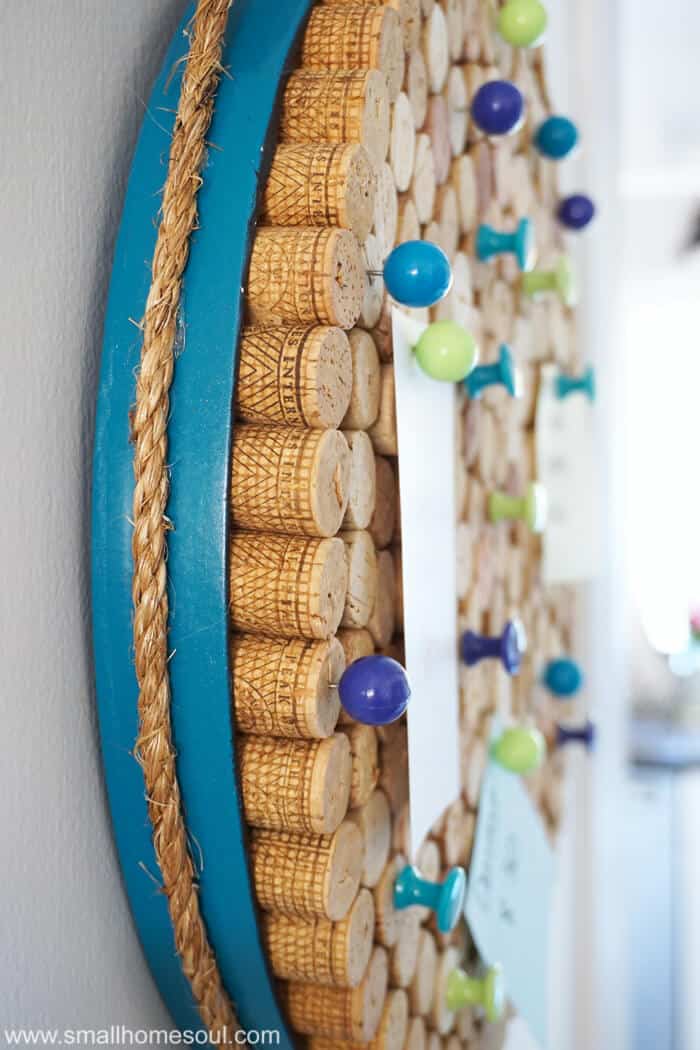 Check out the full process in this short video…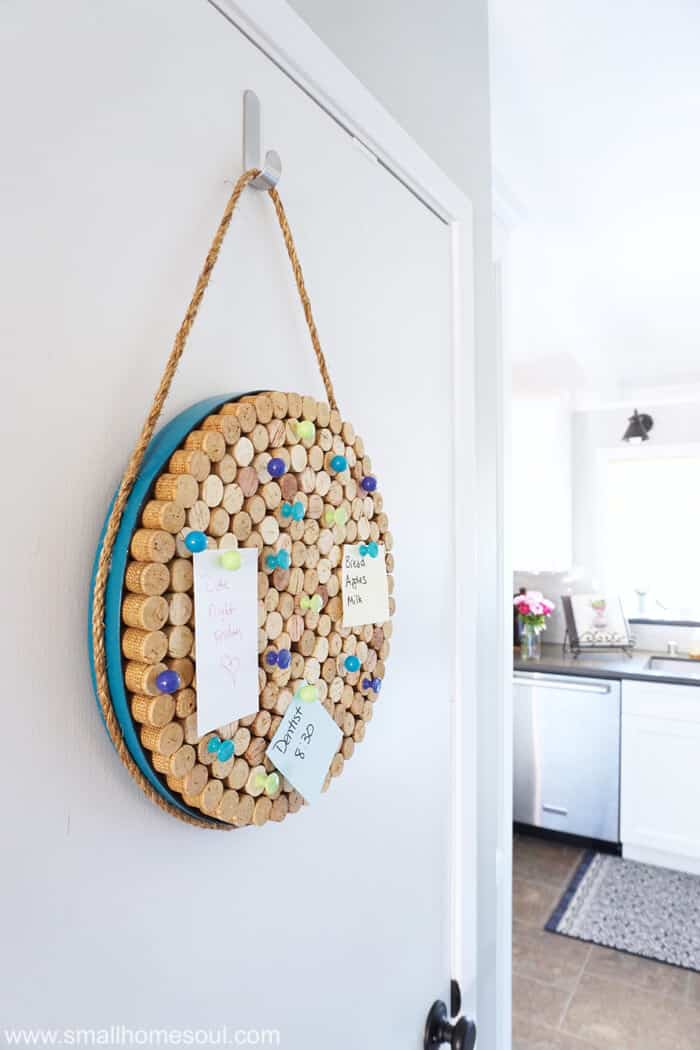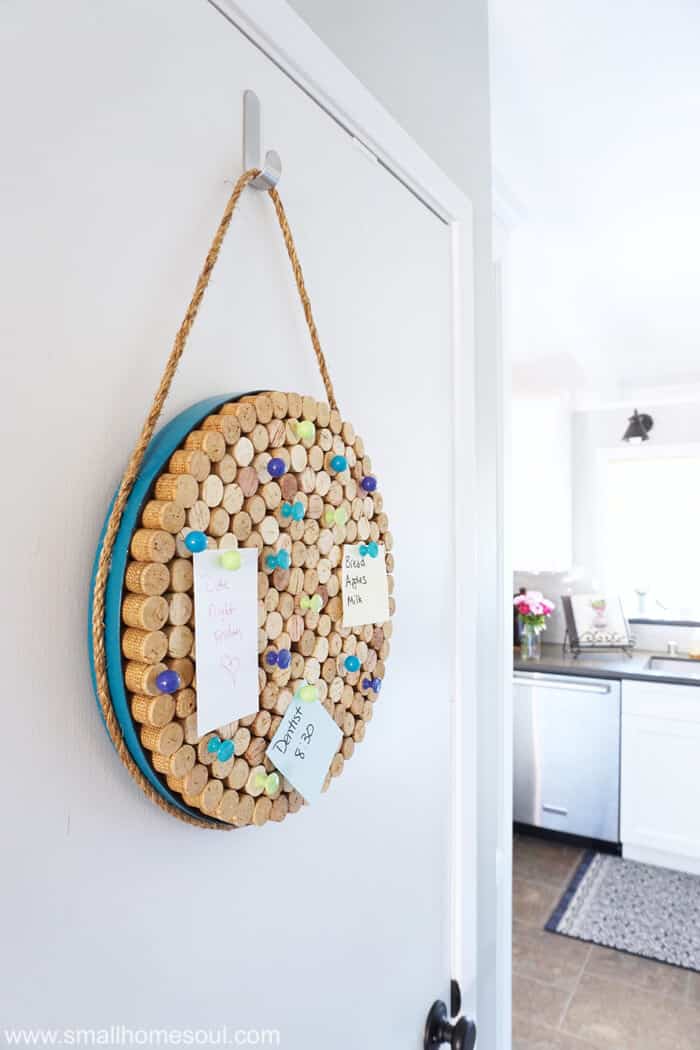 Do you think a colorful wine cork board will help you stay beautifully organized?
Love it but don't want to make your own? 


If you want to make your own wine cork board you should Pin it so you can find it easily once you've gathered enough corks for your own project.