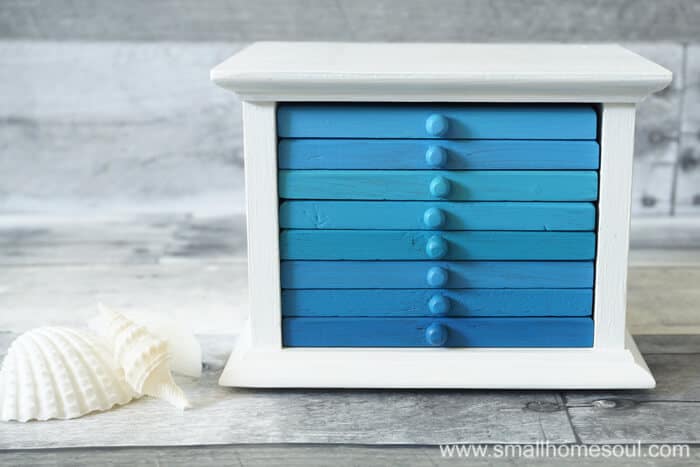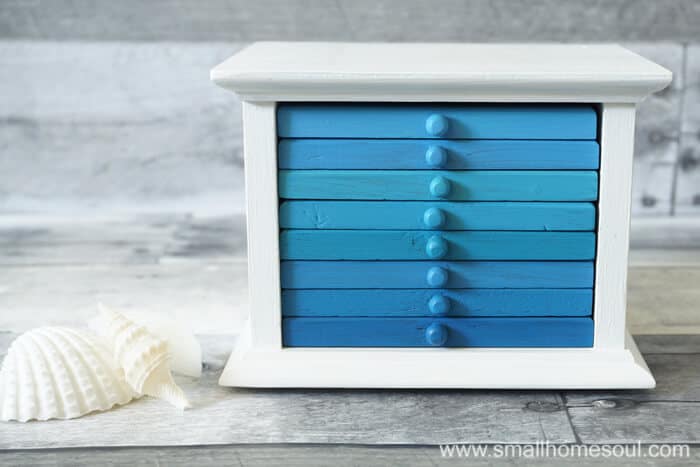 Everyone loves a good deal, and when it's another 50% off that's even better. But when it's outdated you know you'll have a little work to do before it really shines. When I saw these at the Hospice Thrift Store I knew I had to have them. I might be dating myself just a little but we had a set of these in the 70's when I was a teenager. I'm not sure whatever happened to ours but this set is getting a Coastal Drink Coaster Makeover.
If you're too young to remember these, here's what they looked like before I started. I got this set for a whopping $1.50…Score 😀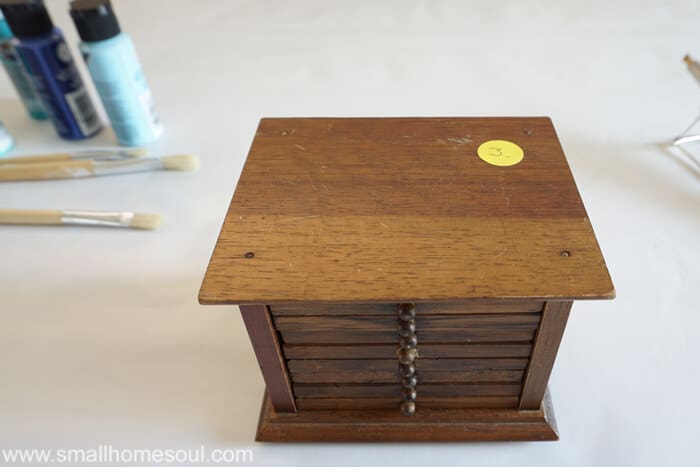 I already mentioned I bought these from a Thrift Store so I decided to use them for the monthly Thrift Store Decor Upcycle Challenge I participate in with a bunch of other talented bloggers. Make sure you visit their projects that appear at the bottom of this post.
The Rules:
Upcycle an item(s) from a thrift store, resale store, or garage sale into a new piece of decor.
There's no monthly theme.
There's no budget to stick to.
Meet the Hosts
Amanda | The Kolb Corner Kim | Made in a Day
Maureen | Red Cottage Chronicles Pili | Sweet Things
Debra | Shoppe No. 5 Jeanie | Create & Babble
Kimm | Reinvented Kathleen | Our Hopeful Home
Shirley | Intelligent Domestications Angela | Simply Beautiful by Angela
Michelle | Our Crafty Mom Ali | Home Crafts by Ali
Michelle | Michelle James Designs Kimberly | Farmhouse Made
Molly | Just a Little Creativity Lora | Craftivity Designs
Colleen | Life on Kaydeross Creek Toni | Girl, Just DIY
Make sure you follow our board on Pinterest for more upcycled decor inspiration!
---
This post contains affiliate links for your convenience. If you purchase an item after clicking on my link I may make a
small commission, at no extra cost to you.
Supplies for a Drink Coaster Makeover Project
I don't have much coastal decor decor in my house but I've done a few projects, besides this one, that have a coastal vibe. It was really easy to give thrift store waste basket a nautical vibe with a new purpose. Did you know you can paint a rug, in coastal colors? Recently I joined a group of bloggers to share 13 creative ideas for coastal decor. If you love coastal it's a must see.
Project Starters
To give this retro set a coastal vibe I started by sanding them all down to get the years of crud off and to rough up the finish so it would take the paint better. Sanding without taking off all the finish is called "giving it tooth." I'm not sure where that expression came from, maybe it helps the paint bite the wood? Who knows 🙂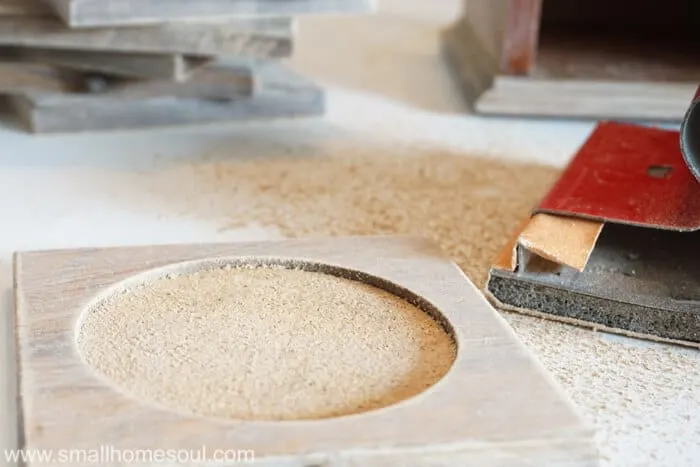 The sander you see in this picture I got at the same store for $0.25 (half off, remember). Sometimes you just need a handy little sander that doesn't bend. I wanted to try it out and I like it much better than wrapping the sandpaper around a block of wood.
Once they're all sanded wipe them down with a damp cloth and let them dry before painting. I carefully sanded around the knobs so they'd take the paint well also.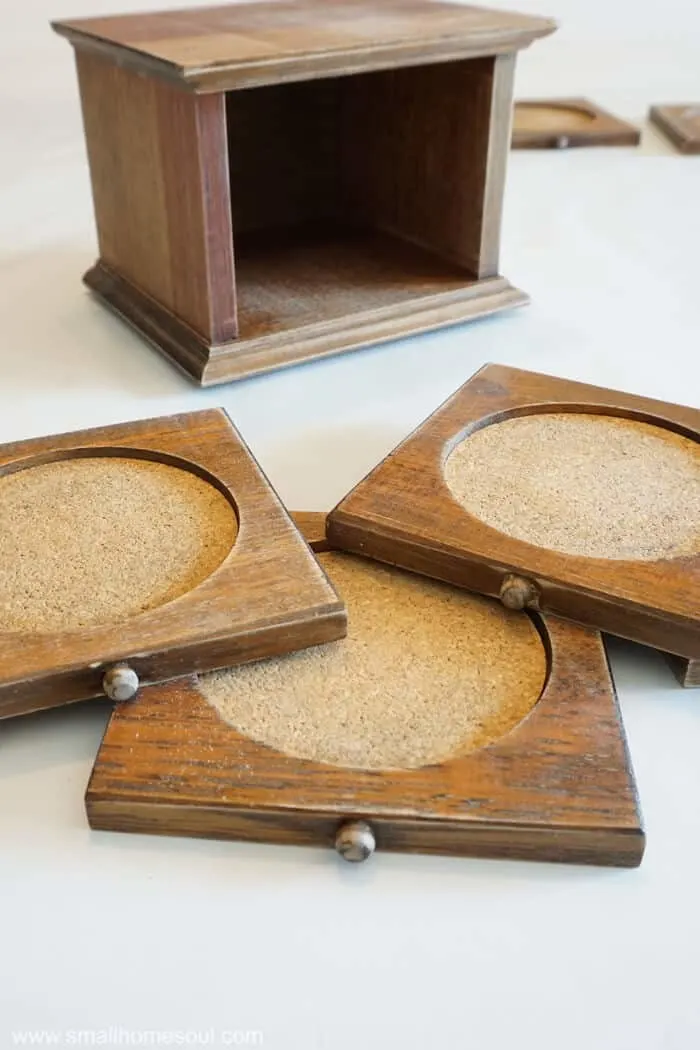 Prepping for Paint
Before you start painting use a thin length of painter's tape to protect the cork. Mine were dark around the edges from years of use and I was pleased that when I pulled off the tape it also removed some of that dirt? grime? soda? not sure but I'm glad it's gone.
First I painted the body because I knew that would take at least two coats of white. Actually I think I ended up doing 3.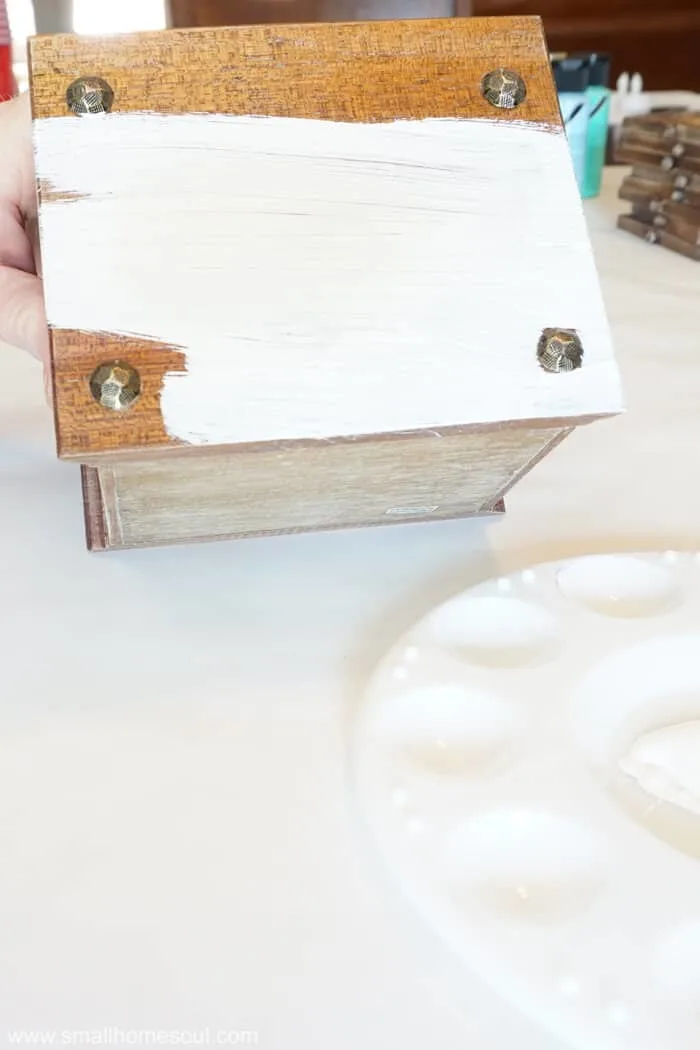 Painting the inside was kind of difficult and it didn't have to be perfect. I wanted to make sure the inside was white so it all looked beautiful when some of the coasters were in use.
Getting Creative with Color
Here is where you can get creative. I wish I could tell you what shades I used for each but I got to mixing and lightening so I had a good variety. I wasn't going for ombre, just variety in a pleasing pallet,
Each coaster got two coats of color while I was working on them. I painted the bottom first and then the top. Then I blew on them to get them dry enough for another coat. I set them on parchment paper to dry.
To protect them I used Hemp Oil. I learned about that trick from my friend Lisa at The Purple Hydrangea and that's what I used when I painted the Mid-Century Modern Nightstand. You just need a little and it goes a really long way. Rub on just a little and then after 24 hours buff it to remove any remaining. You can see how it changed the sheen on the paint below.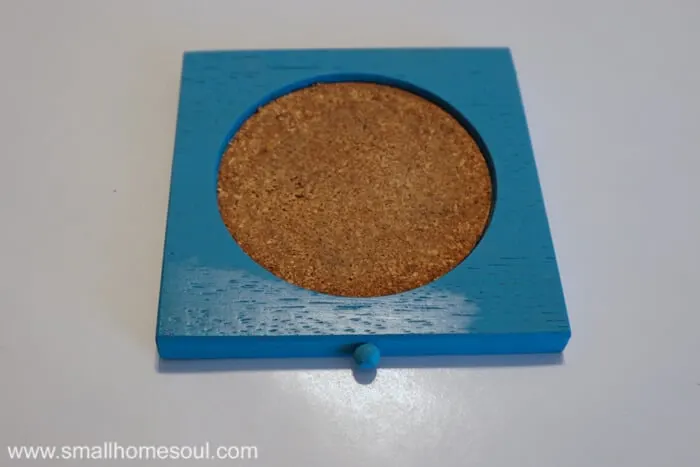 Once it's all dry it's time to stack them back into the holder and enjoy them with a nice glass of lemonade or tea. Or your beverage of choice 😉
This is how I used to stack them up when I was a teen, like a tiny staircase. Some things never change I guess, I'm still a kid at heart.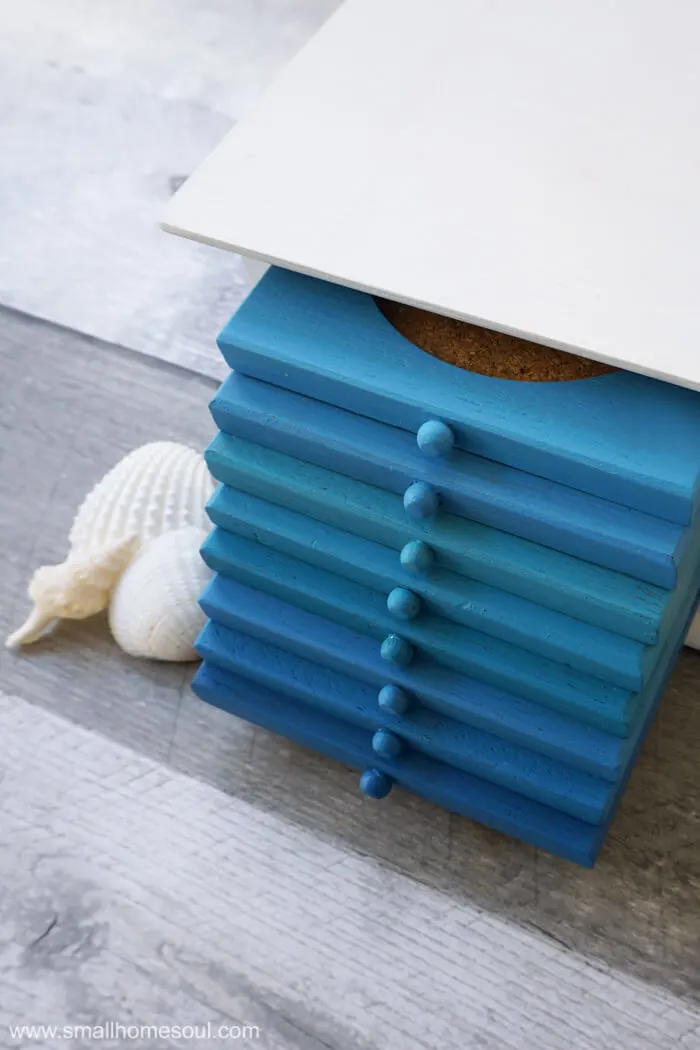 The only thing I wish I could change is that the little knobs are not even (OCD in the house). That was bugging me while I worked on this drink coaster makeover but now that I'm not looking at it all the time I can live with it.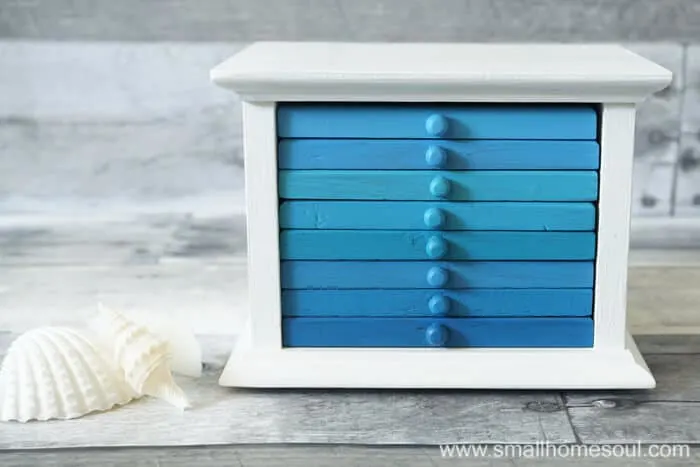 These turned out awesome, and I bet on next thrift store trip you'll be looking for some of these to do your own drink coaster makeover. Am I right? Not a coastal fan…..what colors would you choose?
Pin It for Later!
---
And now for more thrifty goodness!
Check out what my fellow upcyclers created below!