Today I'm sharing an easy craft that you can reproduce with any type of wood tray or board. This July 4th Star Tray can be adapted and changed to your liking or even to your country.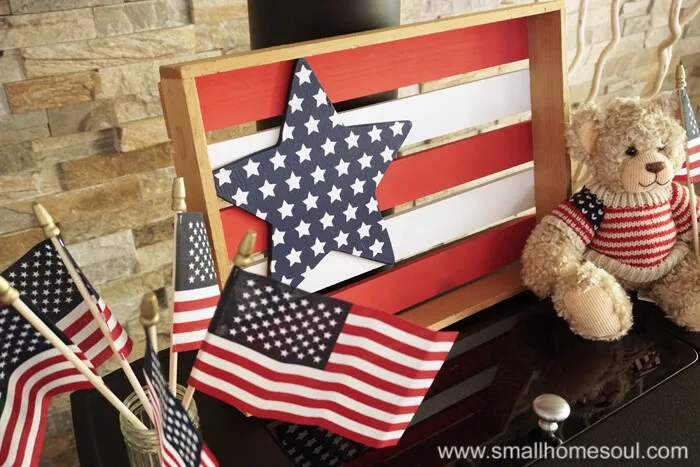 If you're American then you know how special the 4th of July is to every American. If you live in another part of the world then I expect your national independence holiday is just as special to you.
National Pride is something you have in common with your fellow citizens, and it's something to cherish!
I love celebrating with family and friends each year!
Now, onto the project.
This open slat tray I bought at a thrift store for maybe $0.50. I think it might have been the base of a gift basket or something similar. I wasn't sure exactly what I'd do with it so it sat in the garage for a long time.
This post contains links to products, if you purchase something after clicking on a link I may earn a small commission (at no extra cost to you).
July 4th Star Tray Supplies
Wooden Tray
10″ square of 1/4″ thick plywood or other thin wood
Wood Burner to cut stencil, I have this one
Thin plastic for the stencil
Once I figured out what I was going to make I grabbed my craft paints and got busy. I taped the sides because I wasn't sure if I was going to paint the entire tray.
You don't have to be too particular when applying the paint. I just wanted it to cover and I carefully painted the edges of the slats too.
Figuring out where to incorporate the blue gave me some trouble. Digging around in the garage I found some 1/4″ thick plywood scraps and decided to make one giant raised star.
Cutting out a Wooden Star
After finding a shape I liked I just traced the star for my July 4th Star Tray onto the plywood and get out the Jigsaw.
More Jigsaw Projects
Outdoor Plant Stand – DIY Tiffany Mirror – DIY Yarn Bowl
Make sure you're using the right blade for the material you're cutting. The more teeth per inch the finer and cleaner the cut.
The edges and top of the star were sanded to smooth them. I gave it a coat of a deep blue and while that dried I got busy making my stencil.
More Patriotic Projects
July 4th Wreath – Patriotic Mason Jar Centerpieces – Wreath Roundup
Steps to make your own stencil
I don't have a picture of cutting the actual stencil but here's the process if you want to make your own star stencil:
Find a star you like and using a Word document paste enough stars evenly on one row to cover the width desired.
Print the stars onto white paper.
Cover with a clear piece of plastic (I used an old clear file folder sleeve) tape it in place and started cutting.
I used the Stencil Cutting Tip on the

Wood Burning Kit

and carefully cut out all the stars in just one row.
The process went really well. Since I used the wood burning tool which has a knife attachment, I didn't have to press too hard into the plastic. You can see below where I cut into the paper below. Some were a bit wonky but no one will really see it.
After I tested it out with the stencil pouncer on a paint stick and found my new stencil worked well I was ready for action.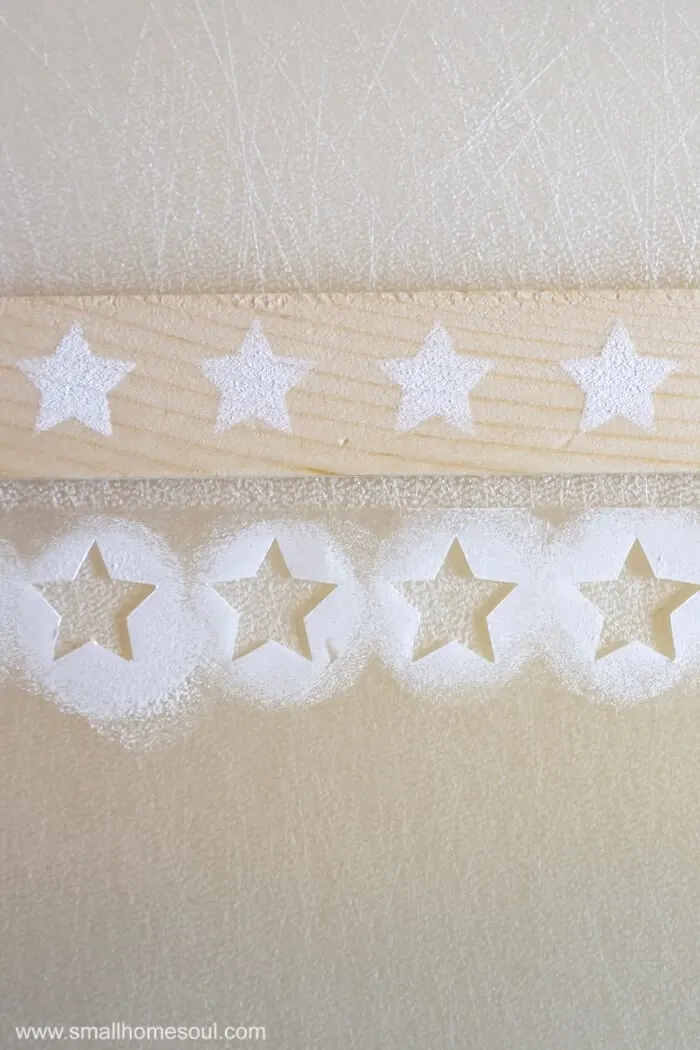 Take a few minutes to plan for the best spacing before you begin to stencil. Starting at the top I moved the stencil so the stars looked like those on our US Flag. (good grief, nice paint under the fingernails 🙂 )
Originally I thought about placing the star right in the center but decided my July 4th Star Tray would look better with the giant it in the corner similar to our Flag.
After attaching it with a glue gun I only needed to find a good spot to display it. We don't have a mantel so when we're not using the pellet stove to heat the house I like to put some cute decor stuff on there.
I think this little patriotic vignette looks great for the 4th of July to celebrate our Independence Day.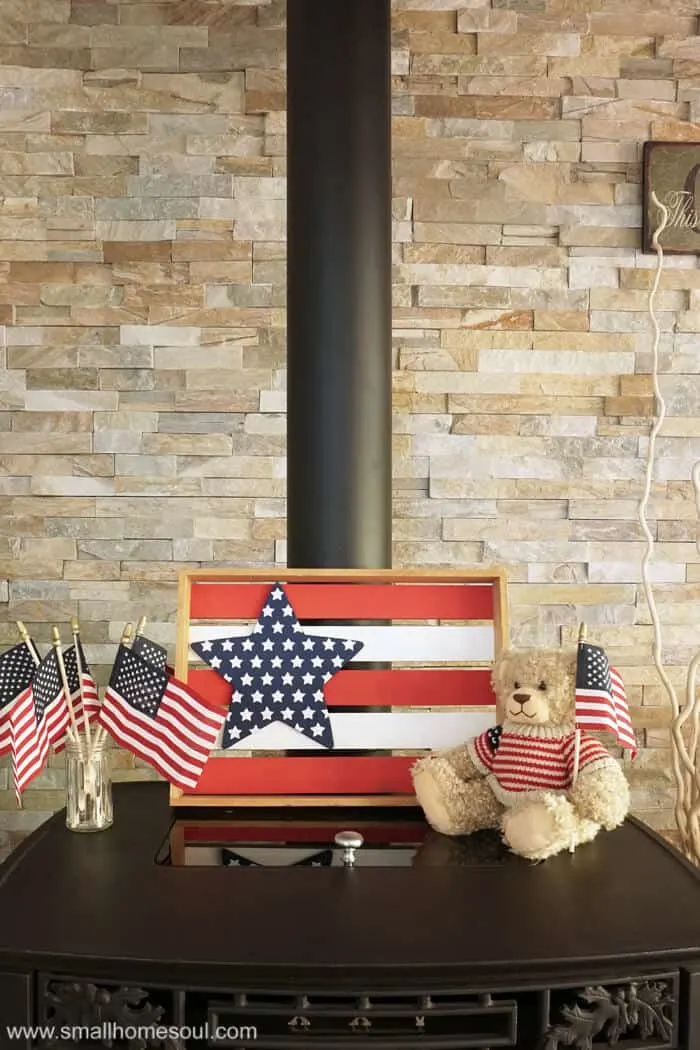 This little bear I've had since my corporate work days. The company mascot was the California Grizzley so we all had some sort of bears at our desks. I love this patriotic little guy 🙂
You can never have too many little flags for the 4th. These look really great in my grandma's antique sugar shaker jar.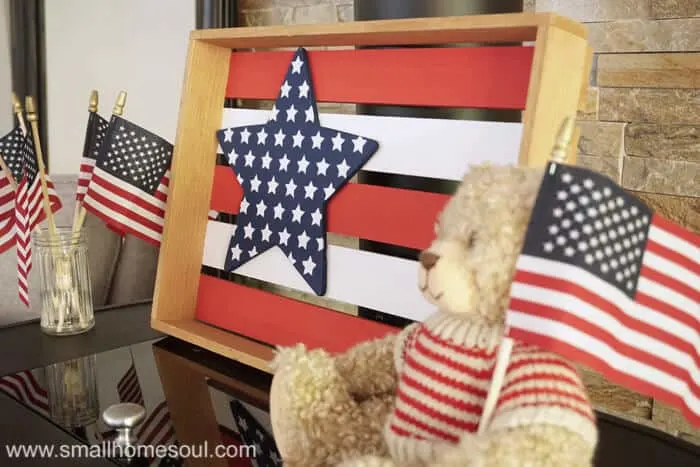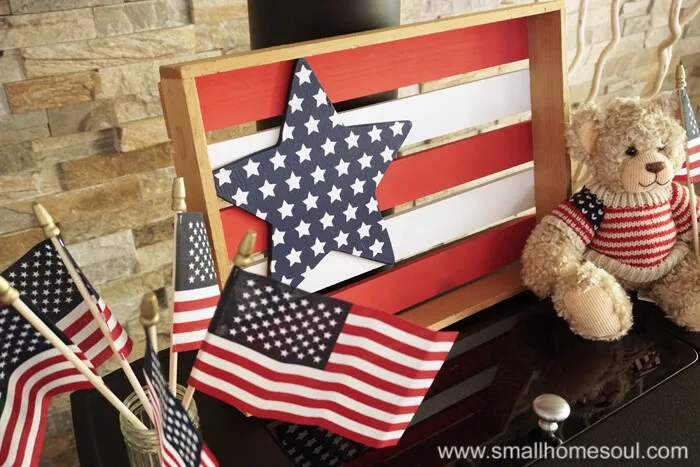 Love it? Pin It!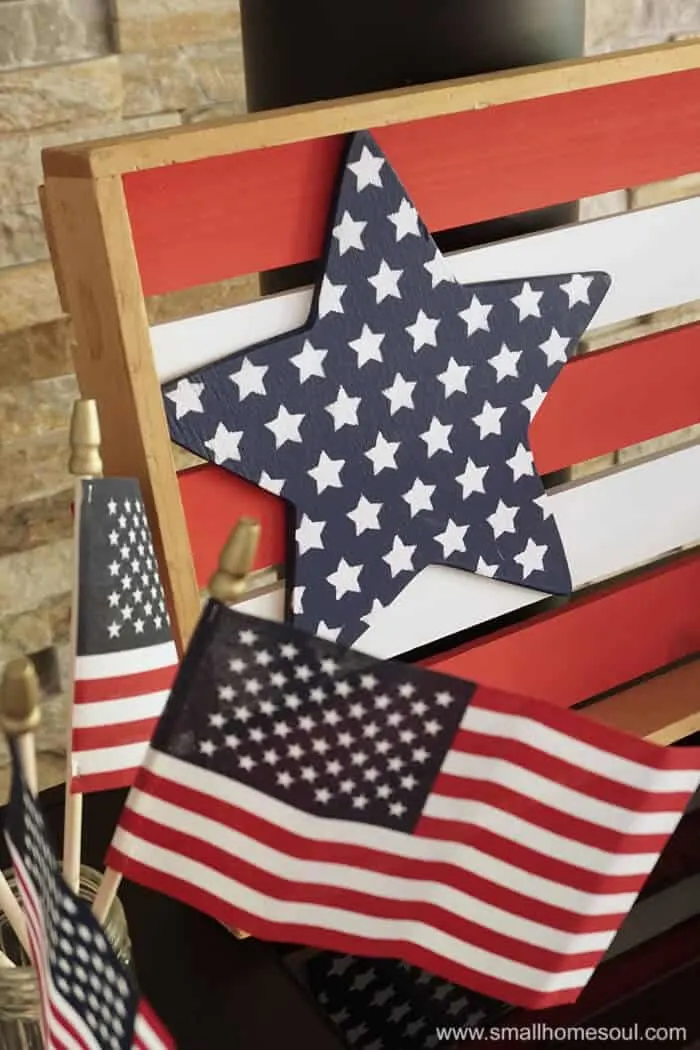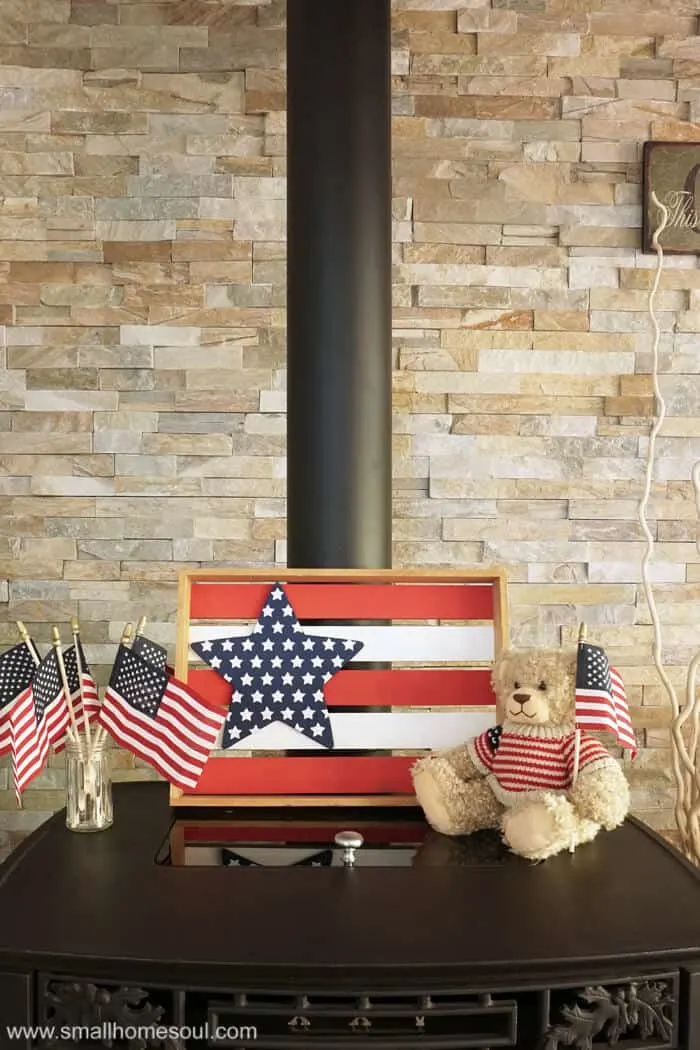 I hope this project has inspired you to get your crafty on and create a beautiful and Patriotic project to celebrate our Independence Day!