Oh my gosh I'm so excited for this week's Deck the Home Challenge! Our theme this week is DIY Outdoor Decor. Guys, I was stressing because I had nothing, nada, no good ideas. Then I got Pinterest Inspired to make this Santa Stop Here Sign, let me show you how.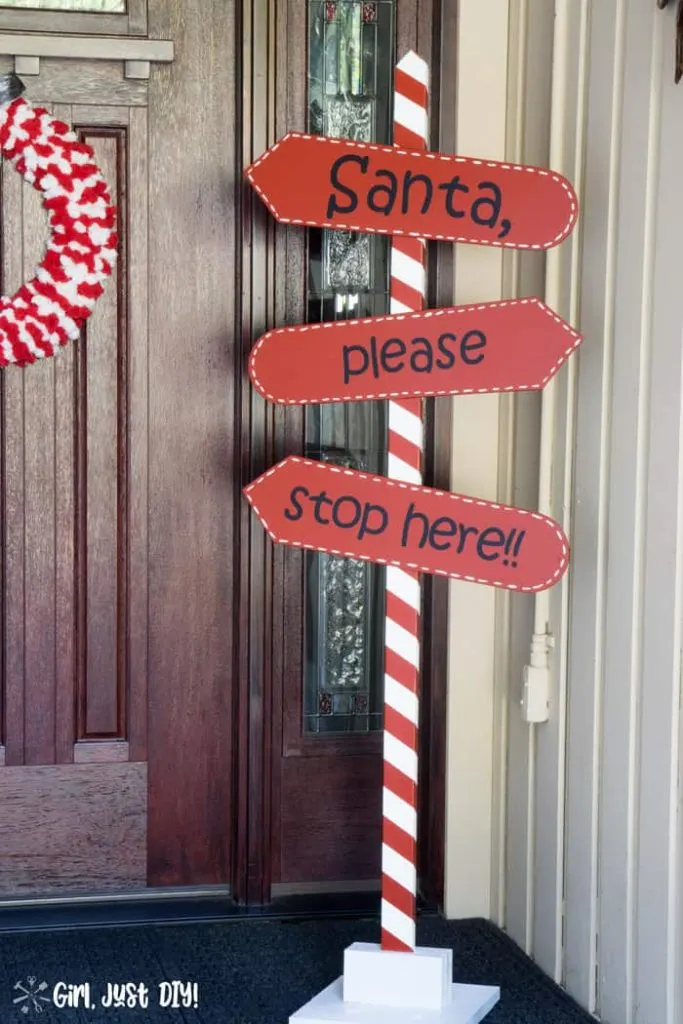 It's like a cute little DIY welcome sign for Santa! The best part is this project can be made with all scrap wood, like I did. Or you can purchase inexpensive pine boards to make yours with simple tools.
I also made mine with some old ceiling fan blades so it's a great repurpose project if you have some of those laying around. Last summer I made some DIY Garden signs with them.
This page contains links to products, if you purchase something after clicking on my link I may earn a small commission (at no extra cost to you). You can read about affiliate links here.
Supplies for Santa Stop Here Sign
3 Ceiling Fan Blades (or three (3) 1″ x 6″ x 20″ pine boards)
One 1″ x 2″ x 60″ Pine Board
Scrap wood to make a stand (or use a bucket with rocks)
Miter saw or miter box
White and Red outdoor paint
Paint Brush
Cricut Cutting Machine (or letter stencils)
Sanding Sponge
Drill bits
Screws
Epoxy Glue – I love this brand
Hammer and Nail Setter
Prepping your Santa Stop Here Sign
Gather your supplies and get ready to have fun creating this cute sign. It is so cute and will look great on my porch this Christmas!
Step 1: Cut the wood pieces
If you're using fan blades for yours like I did use a jigsaw or miter saw to cut the fluted end into a point.
If you're using 1×4 boards cut them to 20″ lengths and use a miter saw to cut a point on one end (optional).
Using a pull saw or miter saw cut the 1×2 for the pole to 60″ tall.
Use a pull saw or miter saw to make a point on the top of the pole.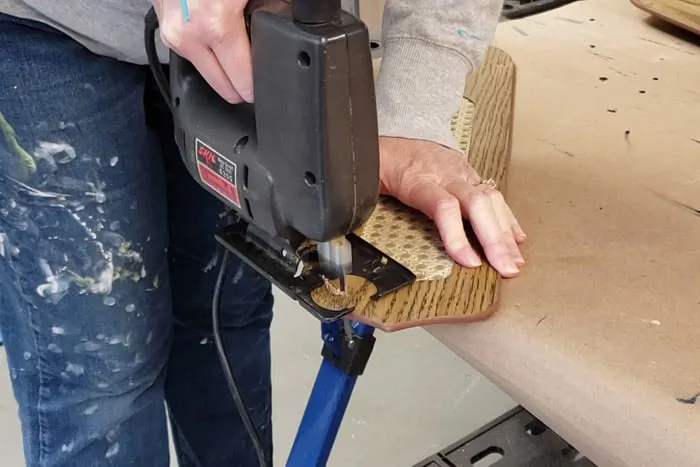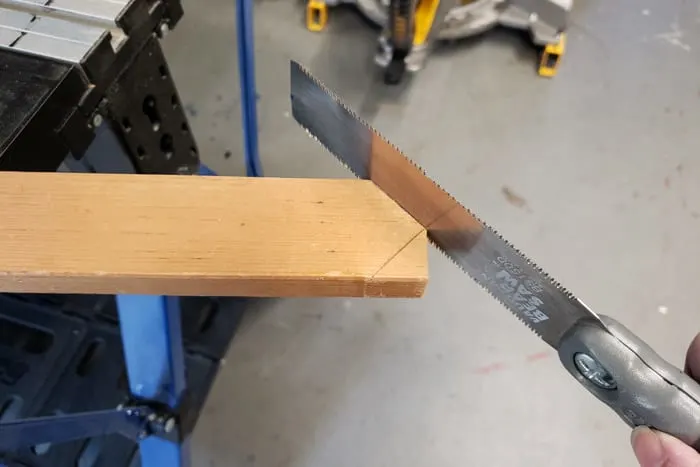 Give all your boards a light sanding. This is important if you used fan blades because you need to scuff up the surface so the paint adheres.
Step 2: Paint the wood pieces
I decided on a red and white theme for my Santa Stop Here sign but you can paint yours in whatever color scheme you love best.
Paint the fan blades red. Use exterior paint if your sign will be exposed to the elements.
Paint the entire pole with white paint. I used semi-gloss for all parts of my santa sign.
Use a blow dryer to speed up the drying process if your garage is freezing like mine is, or if you're impatient (also like me).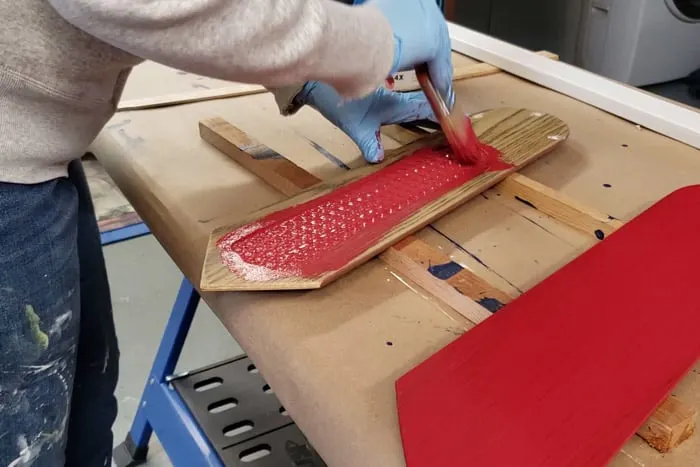 Step 3: Add Candy Cane Stripes
To really make this Santa Stop Here sign fun you want to add some candy cane strips to it.
Using the Painter's Tape start at the bottom at an angle and spin the pole while wrapping the tape and pressing down.
You might have to try this a few times to get the right angle. Luckily I got the spacing I wanted on the 2nd try.
Press the edges down with your fingers.
Using a semi-dry brush paint the white areas.
Prop the pole on some scrap wood and try to keep it resting on areas covered with tape. Also keep the same side facing down so if you do mess up the paint you only have one side that needs touch up later.
Use the blow dryer again to dry the paint quickly so that you can do a second and possibly third coat. Using the blow dryer I was able to get all the stripes painted in about 30 minutes.
When the paint is dry to the touch remove the painter's tape being careful not to scuff the red painted areas on the table or scrap wood it's resting on.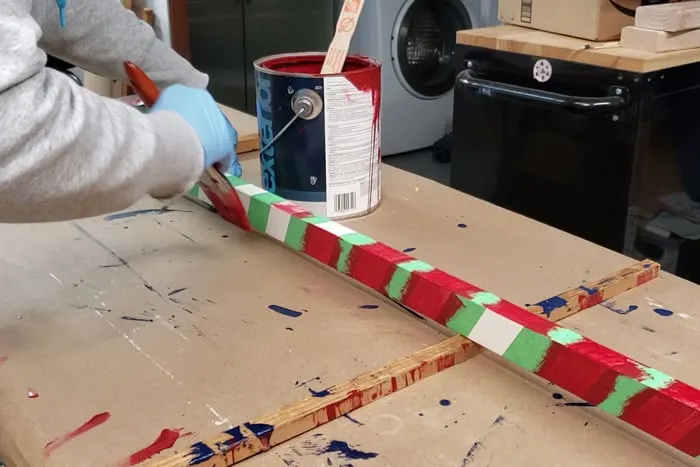 I can't believe I'd never used a hair dryer to speed up project time before. What a time saver trick!
Step 4: Create the Santa Stop Here design
I used my Cricut to create a design I liked for my sign. If you're good at free hand painting you might hand paint your lettering. I don't possess that skill LOL
Work within the measurements of your board to use a font size that works best. My fan blades are wider than a 1×4 so I could use a larger font.
When you're happy with your font, size and wording send it to the Cricut and use White or Black vinyl. I decided on Black for my words.
Weed your design and use transfer tape to transfer the words to your fan blades or 1×4 boards.
If you want to make this sign for yourself click below and grab the downloadable SVG file.
I love creating things with my Cricut!
Click here to check out the Cricut Sale Page.
You can always find great deals!
How to cut oversized words on a Cricut
With the boards 20″ wide your words will likely be wider than the 12″ cutting mats. To cut out longer words you can do the following:
With all your words at the sizes you want select them all using your mouse.
Use the rotate option on the menu bar and rotate them 90 degrees.
Line them up in the upper left corner so that they are all no more than 12″ wide
Highlight them all again and choose "Attach" from the bottom right.
Now select "Make It" in the upper right.
Place the vinyl on your 12×24″ mat and process the cutout as you would any other design.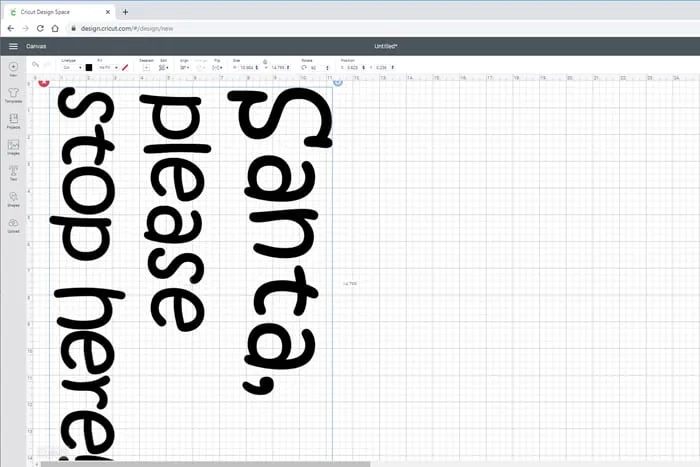 Step 5: Attach the boards to the Santa Stop Here pole
Find the angle(s) you want the parts of your sign to sit at and then connect them as follows:
Add a dab of epoxy glue behind the top and bottom of your fan blade.
Press down to distribute the glue and attach with a brad nailer. I put in two brads at the top and bottom of each sign.
If yours don't go all the way in use a hammer and a nail setter.
If you're using 1×4 boards you can also use screws to attach your boards to the pole. You can fill and paint over the screws.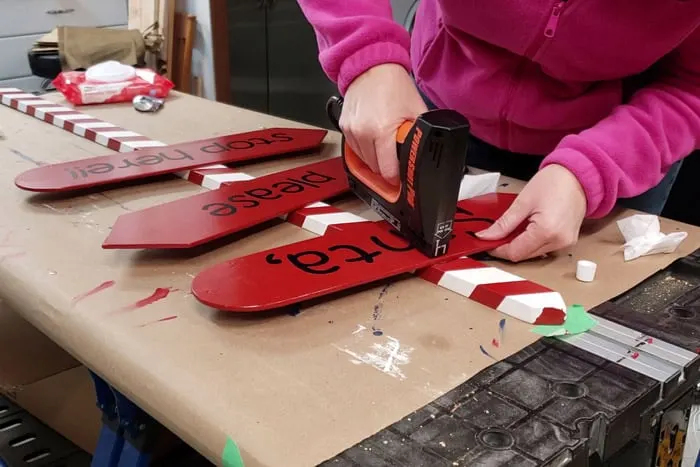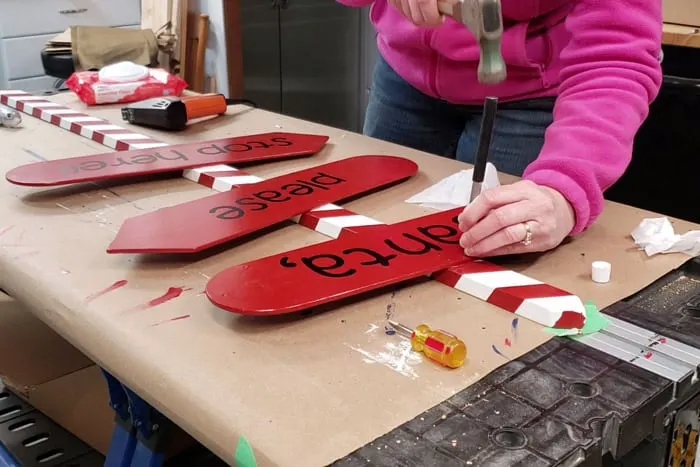 MORE WOOD CHRISTMAS PROJECTS
Small Christmas Signs – Wooden Christmas Tree
Christmas Tree Word Art – String Art Christmas Tree
How to make a temporary stand
Step 6: Build a stand
I didn't take detailed pictures of how I built my stand but I wanted my Santa Stop Here welcome sign to come apart for easier storage.
There are a few different ways you can make a stand, or you can use a bucket with some rocks to prop it up. Here's the basic instructions for how I built mine.
Cut two pieces of 1×4″ board triple the width of the pole. These will be used on the outside of the stand.
Cut two more pieces of 1×4″ slightly narrower than width of the pole. These will be sandwiched between the other two boards.
Glue and screw or brad nail the two small pieces to one of the wider pieces as shown below.
Add two small pieces of wood shims or similar between the two smaller pieces and the second wide piece. This will ensure that the pole for the Santa sign can easily slip into the base.
Attach the base you just made to a 1x10x10 board with L-brackets and paint.
As you can see I painted my stand black, originally. It didn't look right so I repainted it white and it looks much better.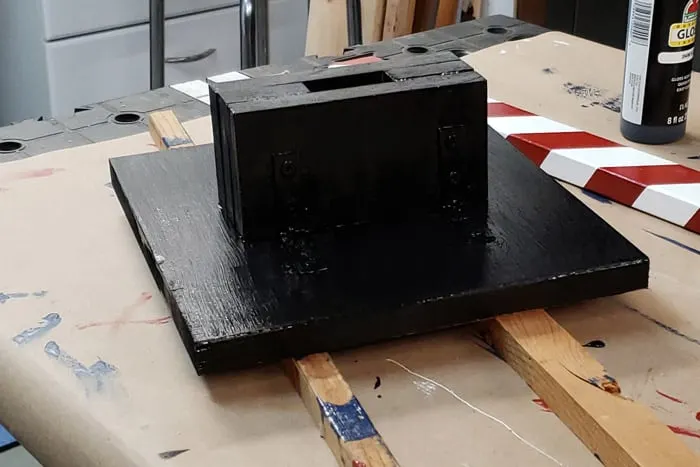 You can add a little embellishing to the fan blades. A friend suggested adding some fake snow, which might have worked but over time in and out of storage it might start to look ragged so I skipped it.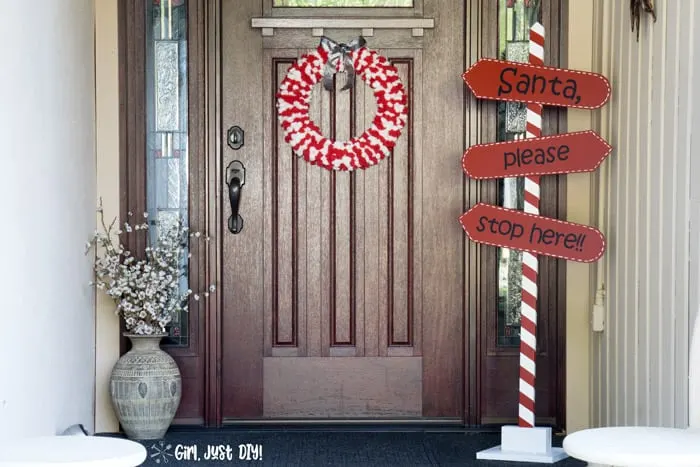 Instead I added some simple white dashes with craft paint around the edges and it was just the finishing touch it needed.
Pardon me while I share all the pictures of this cute project, I just love how my Santa Stop Here sign turned out.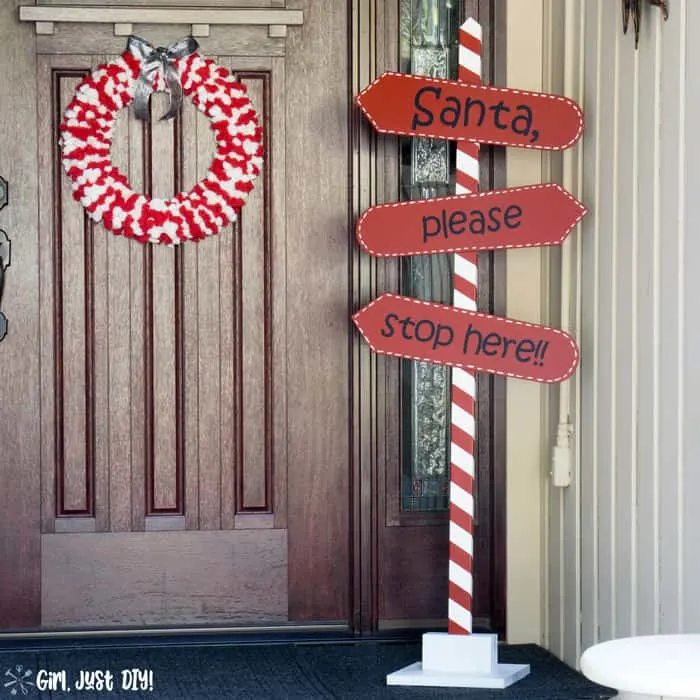 I hope I've inspired you to make your own Santa Stop Here Sign. You can do so many different things and paint schemes to make yours unique. After you make yours reach out on Social media or send me a picture by email (see my about me page for my email address).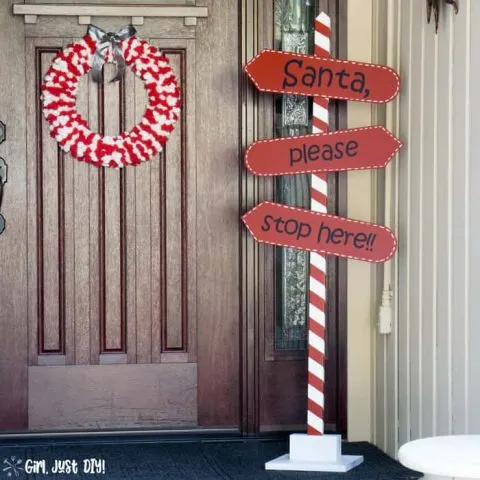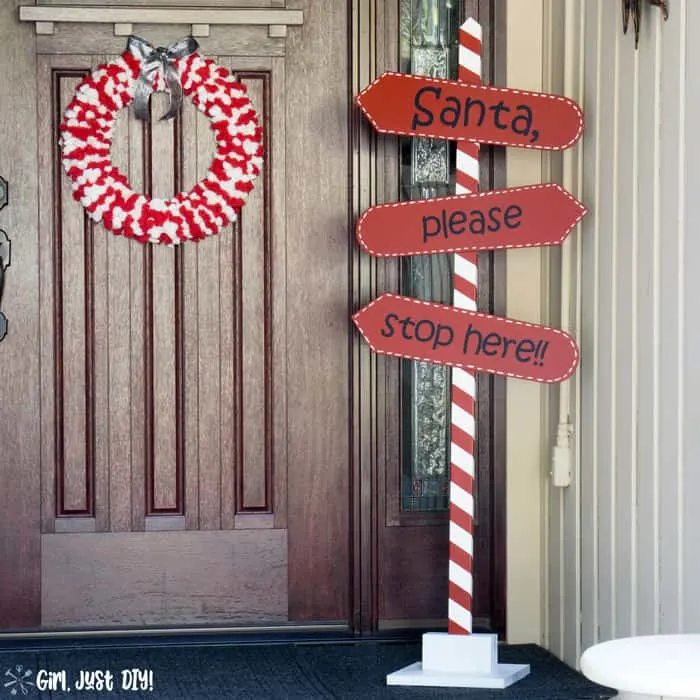 How to make a Santa Stop Here Welcome Sign
Let me show you how easy it is to make this cute Santa Stop Here Welcome Sign for your porch. This is a great upcycle project for those old ceiling fan blades. But don't worry you can also make it with pine boards.
Materials
Ceiling Fan Blades (or three (3) 1″ x 6″ x 20″ pine boards)
One 1″ x 2″ x 60″ Pine Board
Scrap wood to make a stand (or use a bucket with rocks)
White and Red outdoor paint
Epoxy Glue – I love this brand
Tools
Brad Nailer
Drill bits
Screws
Paint Brush
Sanding Sponge
Instructions
This is going to be a such a cute and perfect addition to your Christmas decorations. Your kids will love it. Heck, the big kid in you will love it too!

How to make a Santa Stop Here Sign
CUT THE WOOD PIECES from the fan blades or the 1x6 boards use the jigsaw to cut a point on one end. Sand them smooth all over. Next cut a 1x3" board to 5' length and sand.
PAINT THE WOOD PIECES Paint the fan blades with two coats of red exterior paint. The post will be painted white with two coats. Speed the dry time by using a hair dryer between coats and after the final coat.
ADD CANDY CANE STRIPES to make candy cane stripes wrap the white post with 1.88" painter's tape. Paint two coats of red exterior paint. When dry to the touch carefully remove the tape and set aside to dry fully.
CREATE THE SANTA STOP HERE DESIGN Download the SVG and cut the words for the Santa welcome sign with your Cricut or Silhouette machine. Attach to the fully dry fan blades.
ATTACH THE BOARDS TO THE SANTA STOP HERE POLE with epoxy glue and a brad nailer attach the fan blades to the pole in a whimsical manner.
BUILD A STAND if you don't want to use a small bucket and some rocks you can build a simple stand with scraps of wood. Sandwich two smaller pieces of wood, slightly more narrow than the pole, between two larger pieces of wood. Affix that to a 10"x10" board with L brackets. The pole will now slide into and out of the stand.
Now place the Santa Stop Here welcome sign on your front porch and wait for Santa to arrive. Don't forget to download the FREE SVG FILE.
See even more Christmas Outdoor Decor Ideas