Has it been too long since you did anything different with your wall decor? Me too! I'm so bad about hangin some pictures or "artwork" and then not changing them for a long long time. Let me show you how easy it is to update your artwork.
Updating your artwork is one of the quickest ways to update our homes and beautify your walls. So when Photowall reached out to me about doing a sponsored post for them I jumped at the chance.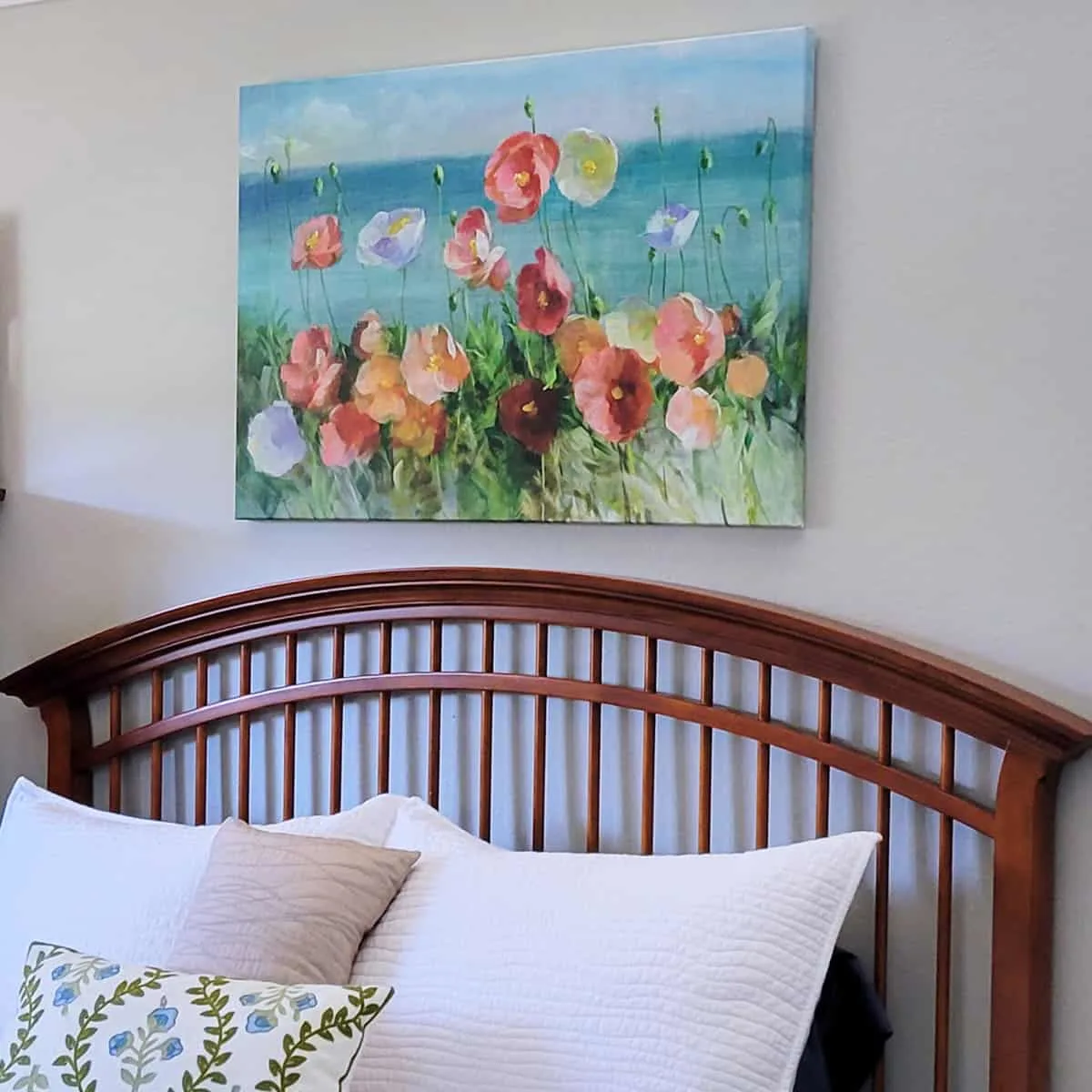 The best part is Photowall is giving my readers a special discount. Simply click to go to their website link here Photowall and enter the code "girljustdiy20" before you checkout and the discount will be applied. (Discount code is good for 30 days and expires 10/9/23).
This page contains links to products, if you purchase something after clicking on my link I may earn a small commission (at no extra cost to you). You can read about affiliate links here.
Keep reading because as we go I'm sharing some tips for installation and a stress-free order process.
Selecting Artwork
The most difficult part of this process was actually picking from literally thousands of options they have. And then deciding if you want wallpaper (they have a lovely selection), wall mural, canvas, or poster.
I really wanted to use one of their beautiful wall murals. But we had a trip planned and I couldn't make that happen because all the walls in my house are gray so I'd also need to paint.
Instead I selected some really beautiful canvases to use around my home in different rooms.
Photowall Shipping
Shipping was so fast that it arrived while we were still on vacation. Thankfully a neighbor came and secured it all for us. Everything was well packaged and arrived damage free. They even add an extra bit of cardboard behind the packing tape so you don't accidentally cut your prints.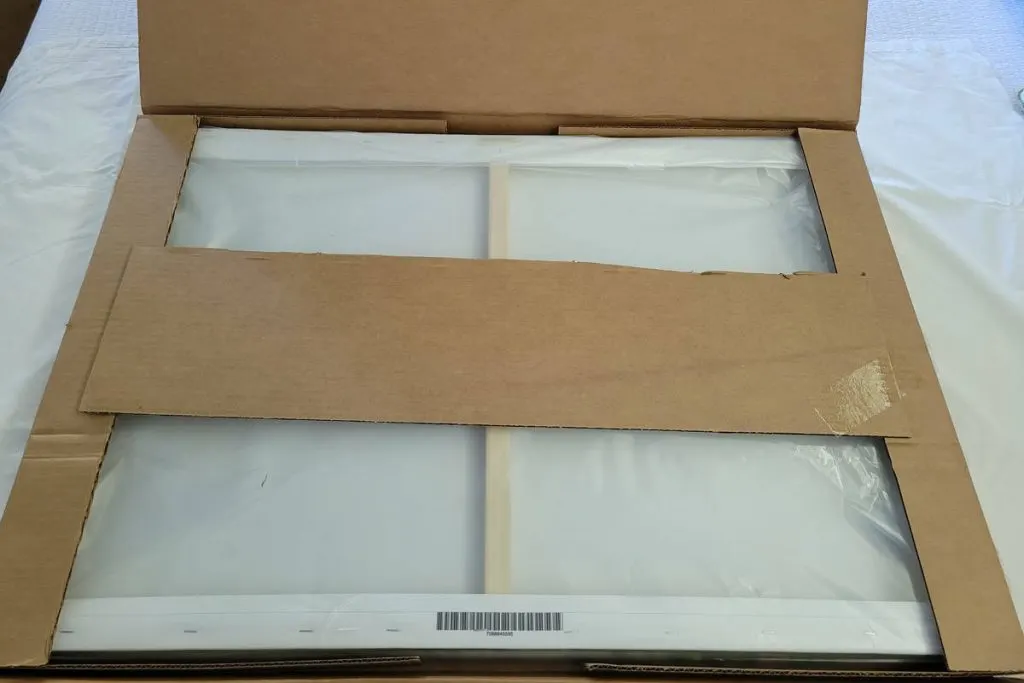 Their canvases also come with hanging hardware already attached.
It's wonderful that shipping is free. You can choose to pay for faster than their free 5-7 days delivery.
My Bedroom Art
I'm no interior designer, I freely admit that. I'm crafty and do woodworking. While I've done a good job over the years creating a warm and pleasing home for us, my bedroom needs attention.
I've neglected it for too long and I'm ready to make changes. Until today I had a picture of my husband and me from several years ago hanging above our bed. I loved it, but the print was done at a big box store and it wasn't the best quality.
The blue water and colorful flowers stopped me dead while scrolling when I found this canvas called Coastal Poppies!
I love it so much, the blues of the water reminds me of the caribbean and it brings beautiful colors into our bedroom that really brightens it.
You can search on specific words like "Poppies" or "roses" or any word you can think of to see all the many options to fit your taste. Or you can use their filters to choose style, color, etc to narrow down your choices.
Once you click on an image you'll see display examples of the picture in several room settings. Scroll down to see the list of available sizes to fit your space.
In addition to Coastal Poppies I wanted some new artwork flanking my dresser. The prior pictures had been there 6 or 7 years and they were behind glass so there was was almost always a glare on them.
I really love succulents and these two "Festive Succulent" canvases were an immediate yes for me!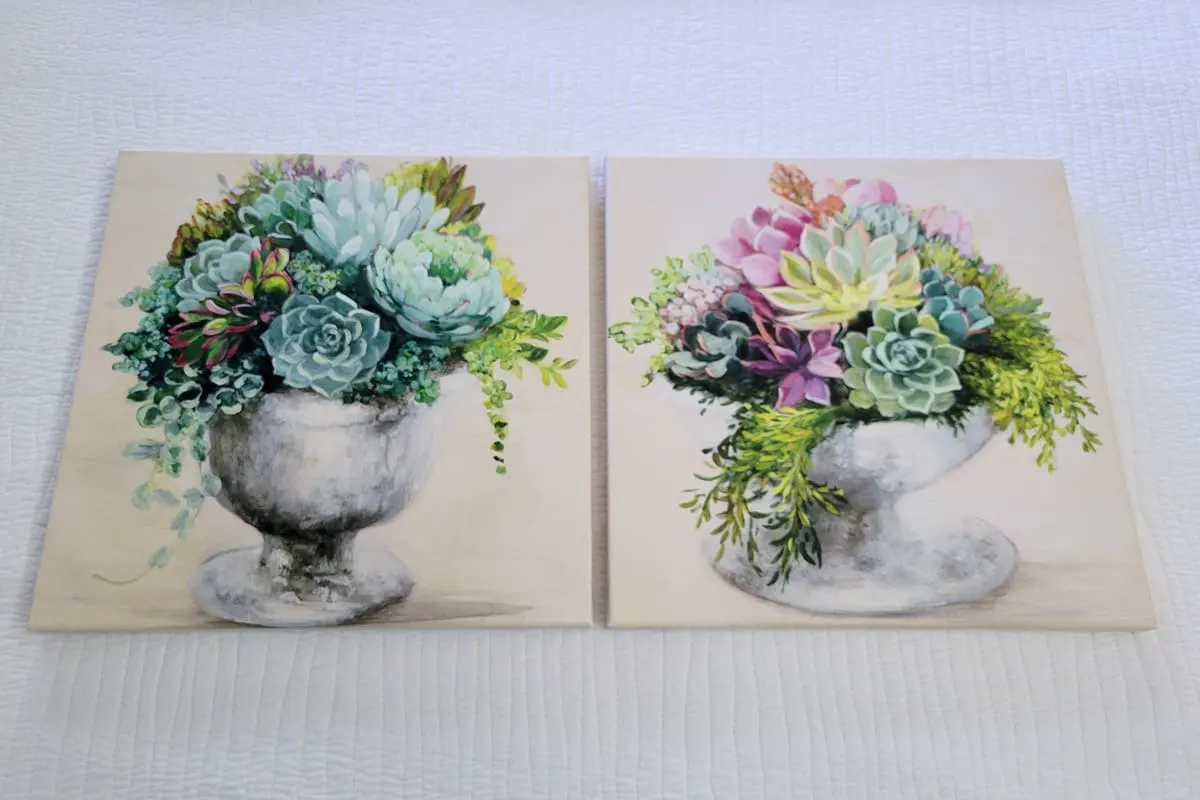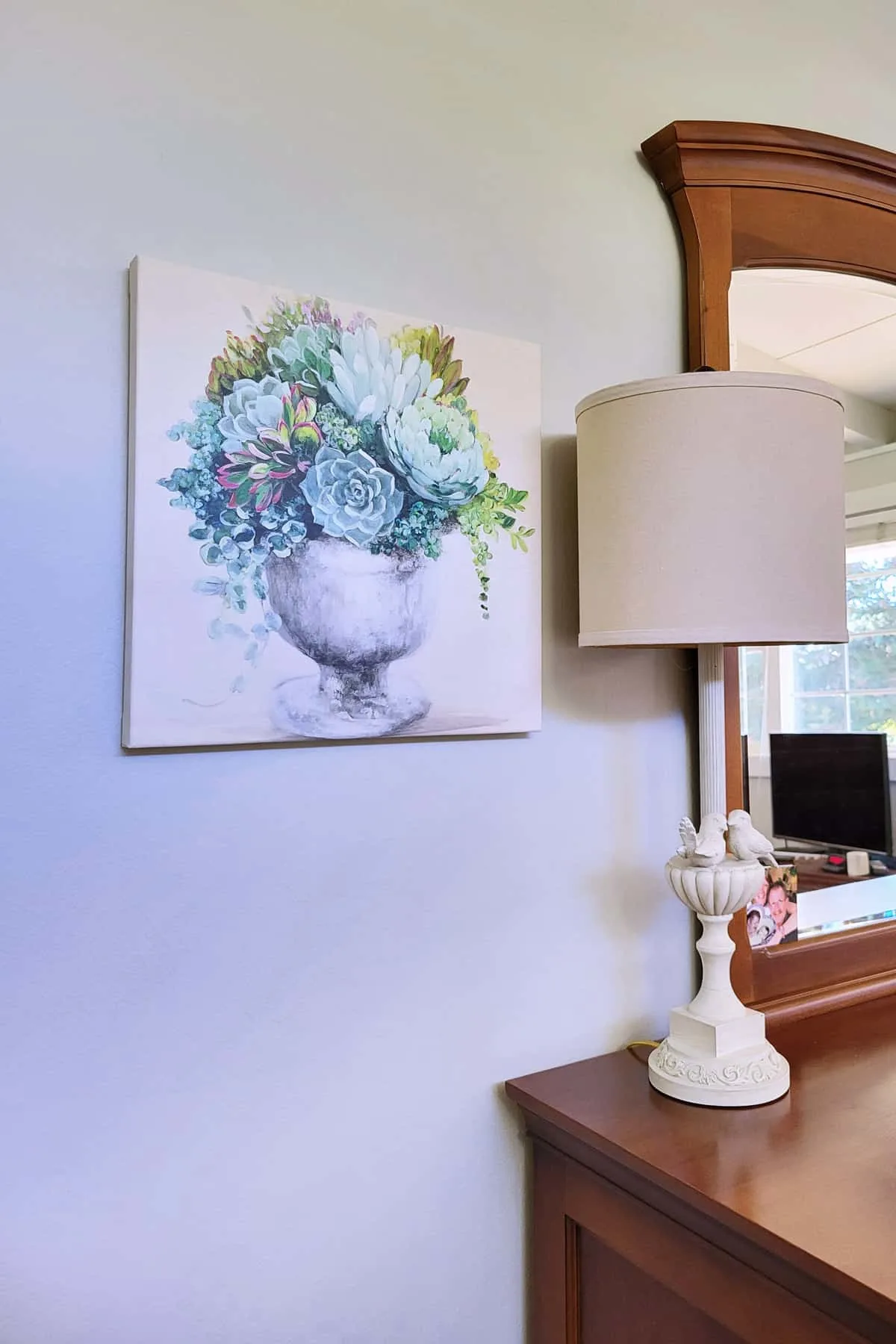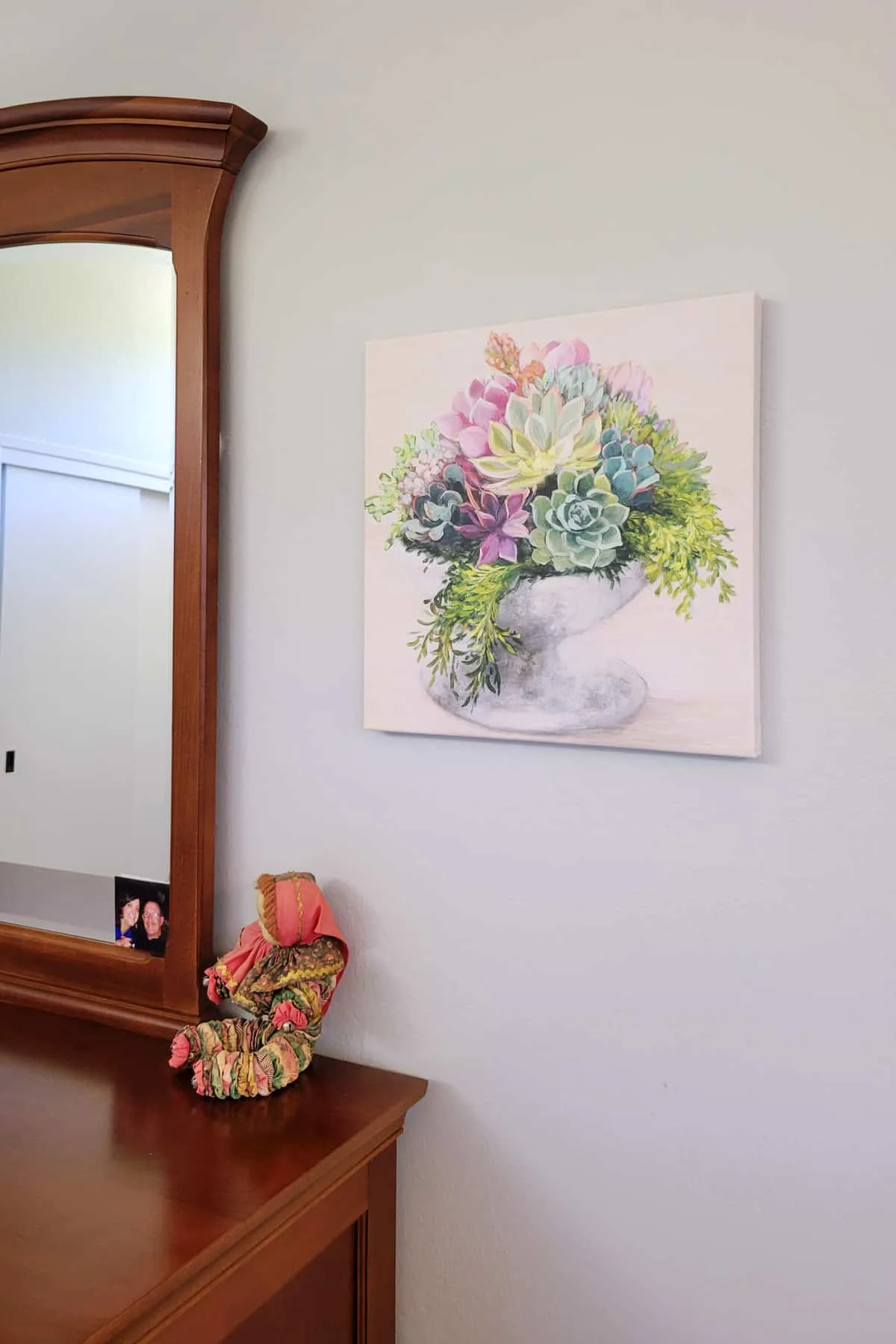 I love them so much that I want some more for my guest bathroom.
Dining Room Art Update
In my dining room area I wanted something bright and fun because it's visible from the living room. For the last 7 years I've had a few DIY projects above the buffet.
First was a DIY Map Art project I did as a creative challenge with some blogging friends. And after that and until this canvas was a DIY Coatrack Shelf. I used it display some pictures and faux plants and often hung my Hydrangea wreath from the hooks.
Time to change it up!
This beautiful canvas is called "Gentle Arrangement."
This canvas finally brings some much needed color into my dining room.
Kitchen Decor Ideas
Lastly is my Kitchen. I don't have much wall space for hanging things in my kitchen, but I still wanted some fun stuff in there too. The door to our utility closet is the one space where I can hang anything large. It is perfect for a poster.
Many designs on Photowall's website are available either as a Canvas or a Poster. When you order posters you can add poster hangers in varying finishes, a frame, and you can choose to add a white border.
Since I love coffee I looked at all their coffee themed posters and chose this one.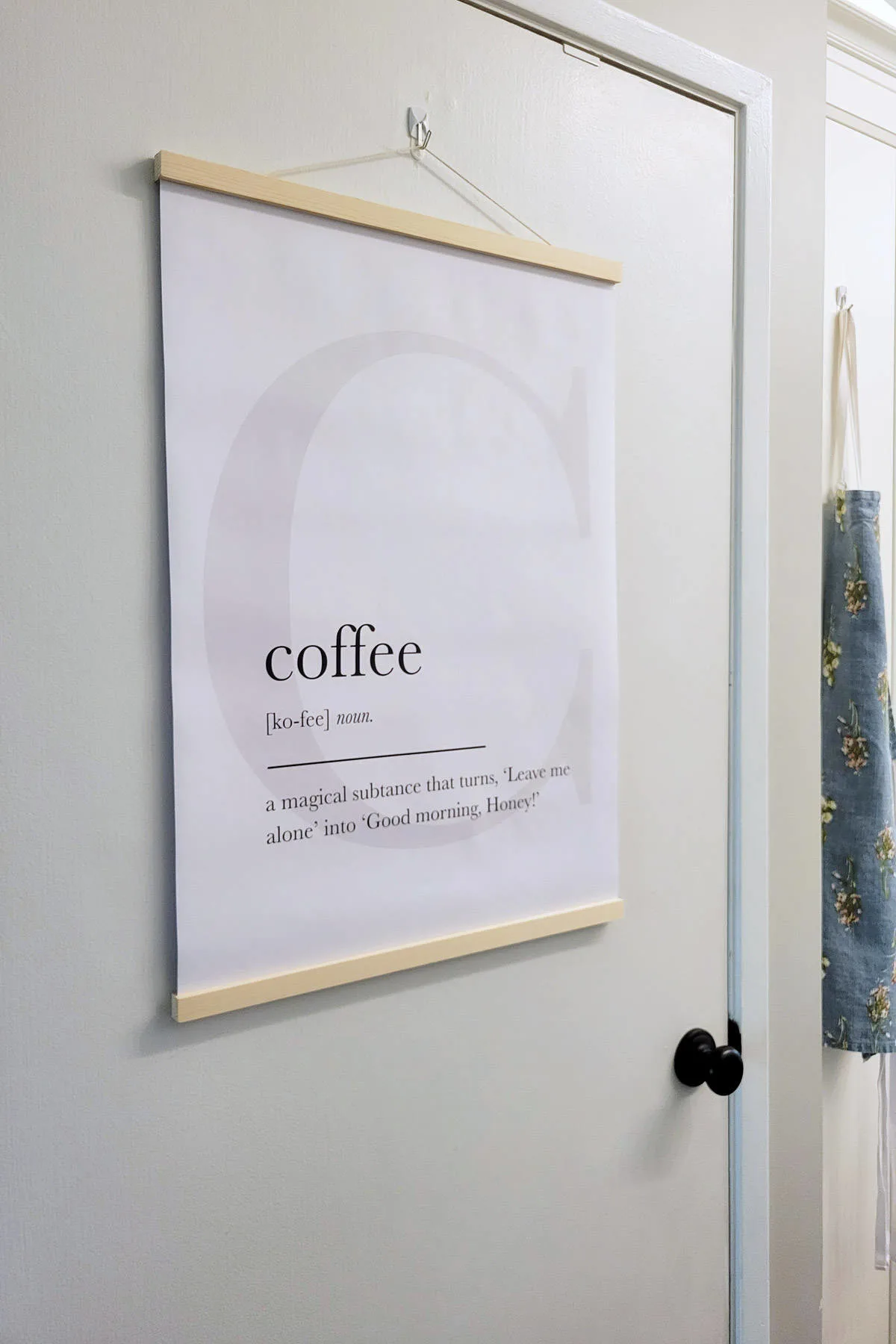 When you order the poster hangers they come with a little hook that pushes right into the drywall. I couldn't use their hanger on my door so instead I used a command hook. I used a heavy duty command hook when Round Wine Cork Board used to hang in the same spot.
What if your poster won't unroll?
These are really high quality posters on thick paper stock. I was having a hard time getting mine to unroll enough to get the poster hanger on it and hung up.
I think maybe it was because they were in my hot garage for a week in the shipping package and really baked in the rolled up curves. Here's how I fixed my poster that wouldn't unroll fully.
Being super careful I decided to try my hairdryer to heat the paper and see if that would help. It helped, but only enough to get it hung up. I could still see the rolls lines in the poster, and it didn't hang flat against the door.
After leaving it to hang for a week it wasn't much better so I decided to try my travel steamer. I went gentle at first and made certain to not actually get the poster wet. Here's what I did to unroll my poster.
Easily flatten your poster
Lay the poster face down on a large surface, such as a kitchen counter or island (don't try this on wood floors).
Working at one end slowly wave the tip of the steamer (pointing slightly down) about 6″ above the poster.
You should instantly see the paper start to relax.
You may feel some dampness on the poster but it will dry quickly. Be careful not to get the poster wet.
Gently smooth the poster out with your other hand while it cools.
Repeat as needed until desired results.
If you have the space you can also unroll and lay books on top for a bit until it flattens out.
I chose one more Coffee poster to hang near my coffee pot. In this tiny space next to my fridge I had to use some command velcro strips to hang the poster.
Did I tell you already that I love coffee?
Artwork for Children's Rooms
I also ordered some canvases for my grandaughter (and her soon to arrive sibling). They won't be hung up until their home remodel is completed. Here are the cute ones I ordered for them still safely in the plastic wrap.
They are so cute, and Photowall has the most amazing wall murals for kids rooms. Maybe one day I can do a wall mural in their bedrooms.
Ordering Tips
I want to share some tips that might save you some frustration. Overall it was easy and a great experience, but I had a hiccup that might save you a problem.
If you're ordering multiple pieces:
Save what you love to a Favorites list by clicking on the heart.
Measure your space and make a note of the size you want for each item before you start adding to your cart.
I didn't finish my order one evening before going to bed and the next day when I went to continue, my shopping cart empty. boo. But my favorite list still had everything I'd added so that saved me.
Because I'm sometimes unorganized and do things late at night, the same thing happened the next night. Luckily I'd taken screen shots of everything in my cart along with the sizes and accessories. So it was easy to replicate and complete my order.
This might've been a fluke but just in case I'd try to get all your items added to your cart and complete your purchase in the same day.
Photowall Customer Support
You'll receive emails regarding your order and shipping info which will reference the items included in that tracking number. Once you place your order, however, there's no way to look up your order number on their website. Take a screenshot or two of your cart in case you want to refer back to your items.
Their Customer Service Chat agents are very helpful. They were able to look up my order number and provide a tracking number for one item that wasn't in the boxes I received. That shipper in the US hadn't sent me an email tracking number and was being held at the post office because of our vacation mail hold.
Happy endings all around! I received all my items fast and in great condition. Now I have some beautiful new artwork in my home. Best of all I've discovered a great company when I'm ready for the next update.
Next time I want to try their Custom option where you can order wallpaper, canvases, or posters with your own pictures.
We'll always need to display new grandbaby pictures ❤