Are you sad when the Christmas decorations come down? And you still want some of that winter decorating magic, right? Make this Fun and Fluffy Winter Wreath which is sure to keep your decor happy until Spring.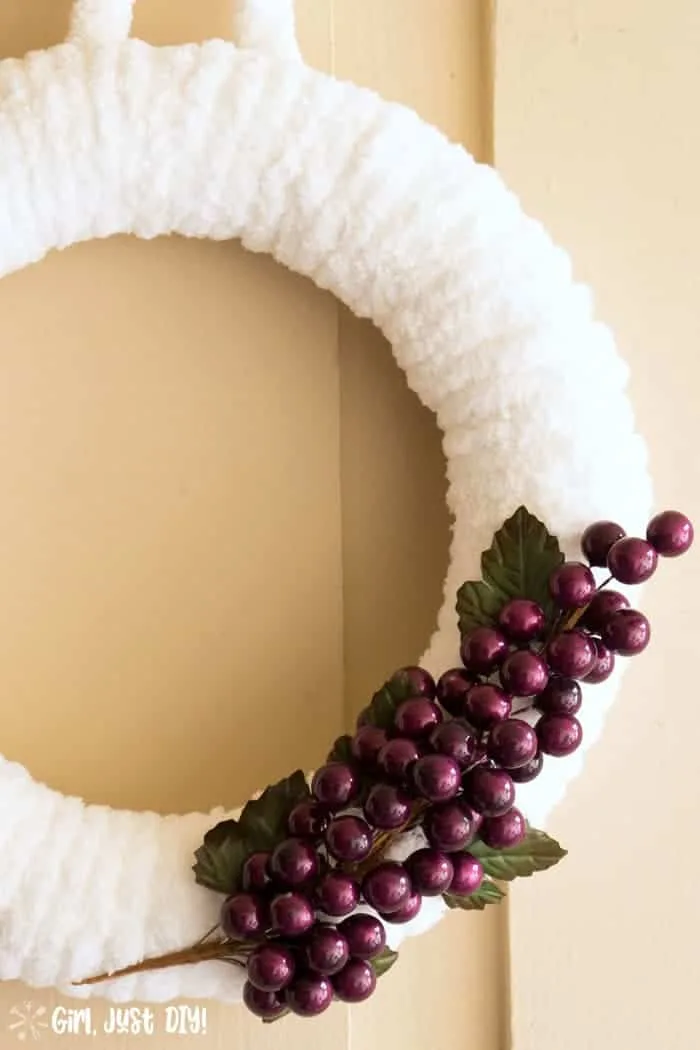 This is a fast DIY that you can make in 30 minutes or less. Aren't those the best kind of crafts?
Mine hangs on our porch but this beauty will look great hanging on a mirror, interior door, or even propped on the mantle or bookshelf.
Full disclosure… I've never been a big seasonal decorator, except for some fun Spring, Thanksgiving, or 4th of July wreaths. But I'm expanding my horizons.
When I was cruising around Walmart looking for some yarn to put in my DIY Yarn Bowl I discovered some awesome fuzzy yarn. I wasn't sure what I was going to do with it, maybe some arm knitting?
Ever the craft supply buyer I threw three skeins into my cart.
Let's get started and you'll see how easy this is to make.
This post contains links to products, if you purchase something after clicking on my link I may earn a small commission (at no extra cost to you).
Supplies to DIY a Fluffy Winter Wreath
Crafting a Fluffy Winter Wreath
This craft is going to go pretty fast, you'll be hanging you new fluffy winter wreath on your front door before you know it.
Step 1: Gather all your supplies
Start by pulling out several feet of yarn from the skein.
You could also roll a bunch of the yarn it into a ball if you like.
Heat up your glue gun and grab your scissors.
Step 2: Get started wrapping the wreath
Run about a 1″ bead of glue on the wreath form.
Place the end of the chenille yarn over the bead of glue.
Press and hold until the yarn is set.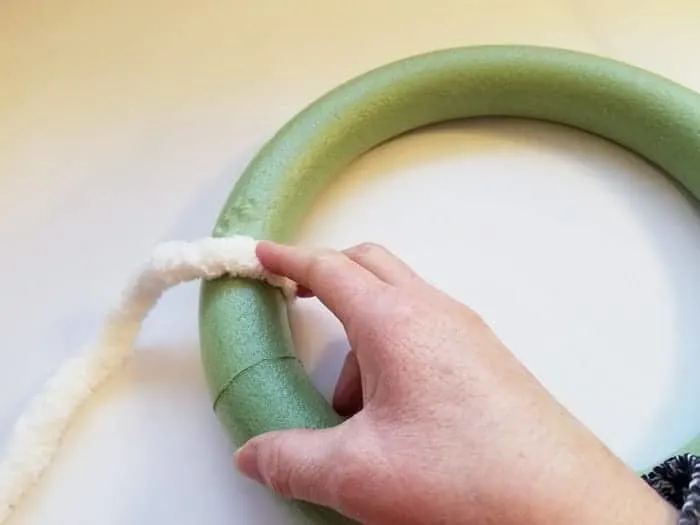 Now the fun and very easy part begins.
Loop the yarn around the wreath form several times.
Stop occasionally to tighten and bunch it together.
Every dozen or so loops make sure the yarn is tight and bunched nicely.
Apply another bead of hot glue to the wreath form at the end of the bunched section.
Press the yarn in and wait until it's set.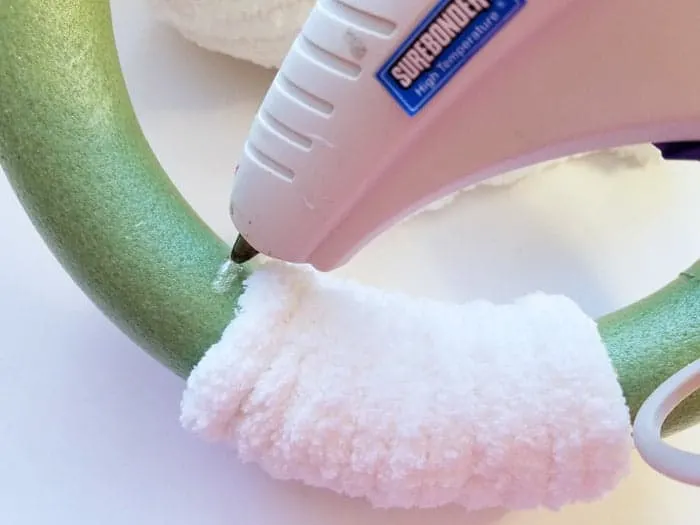 Resume the looping and bunching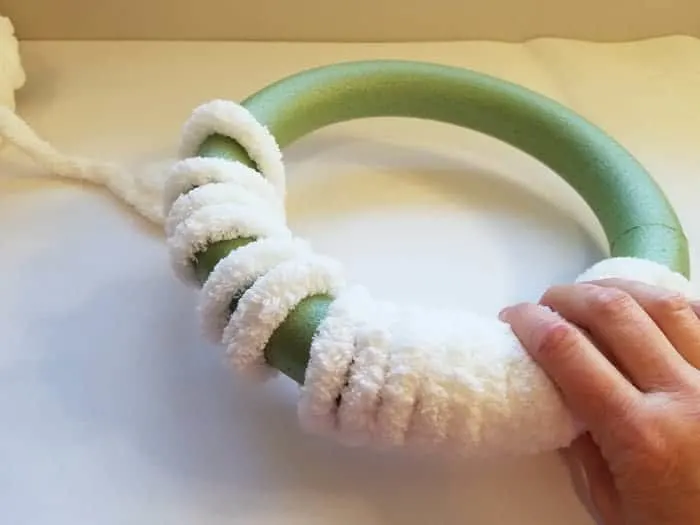 More Fluffy Wreaths
Fluffy Wreath for Valentines Day – DIY Pompom Wreath
Fluffy Red and White Wreath – DIY Spring Wreath
Fluffy Winter Wreath DIY
Step 2a: Keep wrapping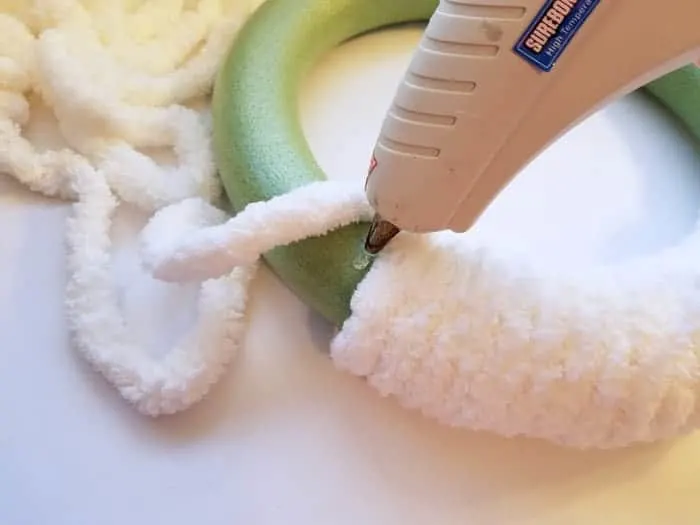 Keep at it stopping to glue every 10 loops or so. When you get close to the end you'll want to squeeze in an extra loop or two if you can.
Pull back tightly on the sections you're still looping to get those extra rows in.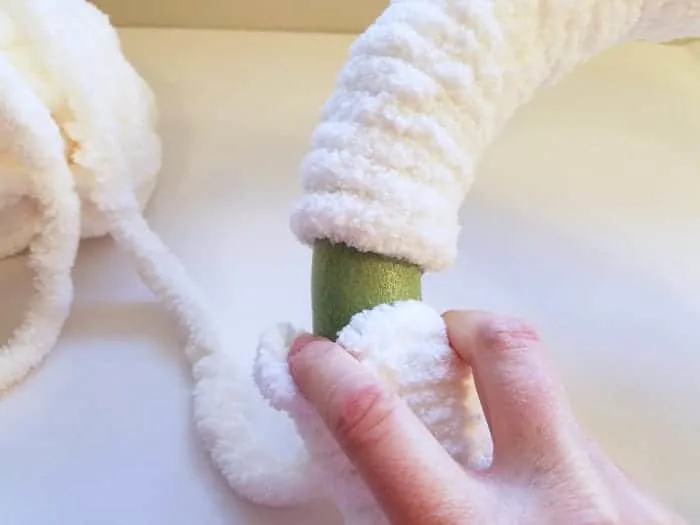 Step 3: Finish off the loops
The last loop of yarn should stop on the same side you started. That way they'll both be hidden at the back. Honestly you'll have a hard time finding them later.
Estimate where to cut your yarn.
Separate the loops and apply a bead of hot glue.
Press and hold the end piece in place.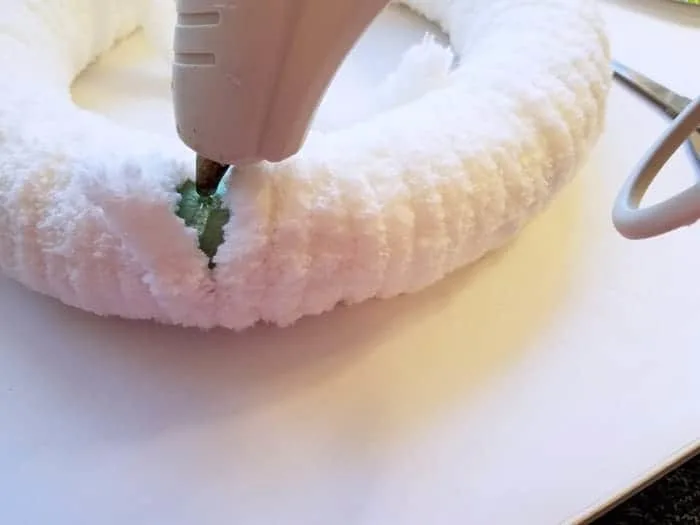 If you're using a green wreath form versus a white wreath form make sure none of the green is showing before you glue each section.
Step 4: Create a hanger
You can use some pretty ribbon if you want or you can do like I did. Make your hanger out of the same yarn and glue it in place between a few loops.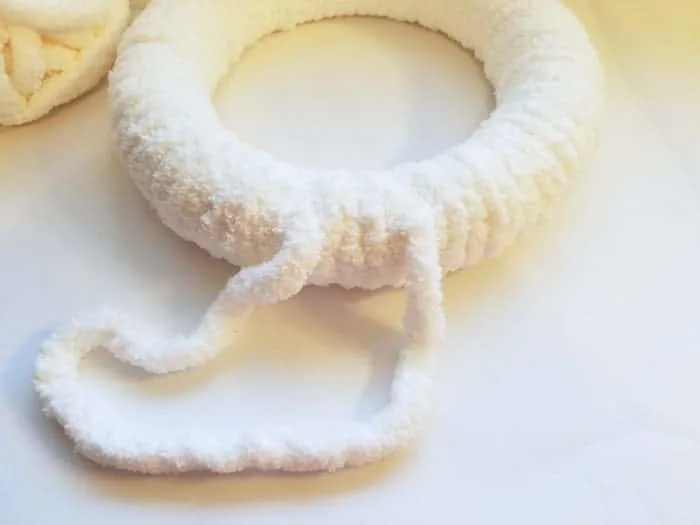 Add a pretty Wintery Touch
There are so many ways you could finish off your fluffy winter wreath. I chose some grape cluster picks I took from my Christmas stash. Or you could also use some sparkly winter picks.
Or you could add pine cones, winter greenery, or anything that says winter to you. I think these grape cluster picks look perfect on my winter wreath.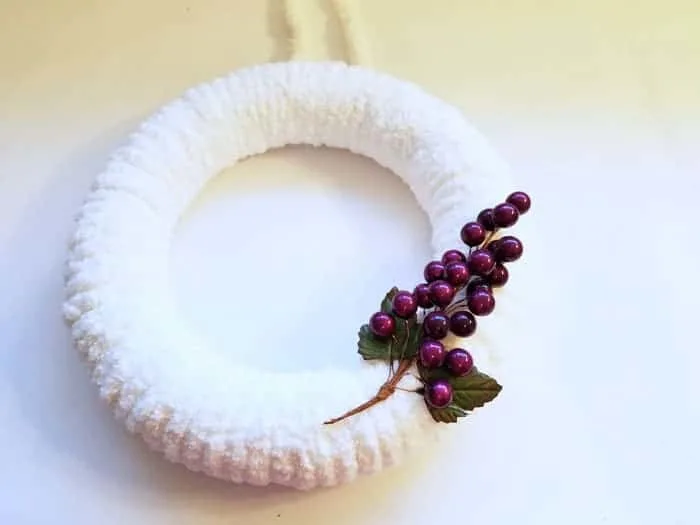 I added two grape clusters to my finished winter wreath. It looks beautiful with one or two clusters. Or put whatever wintery pick or doodad you prefer.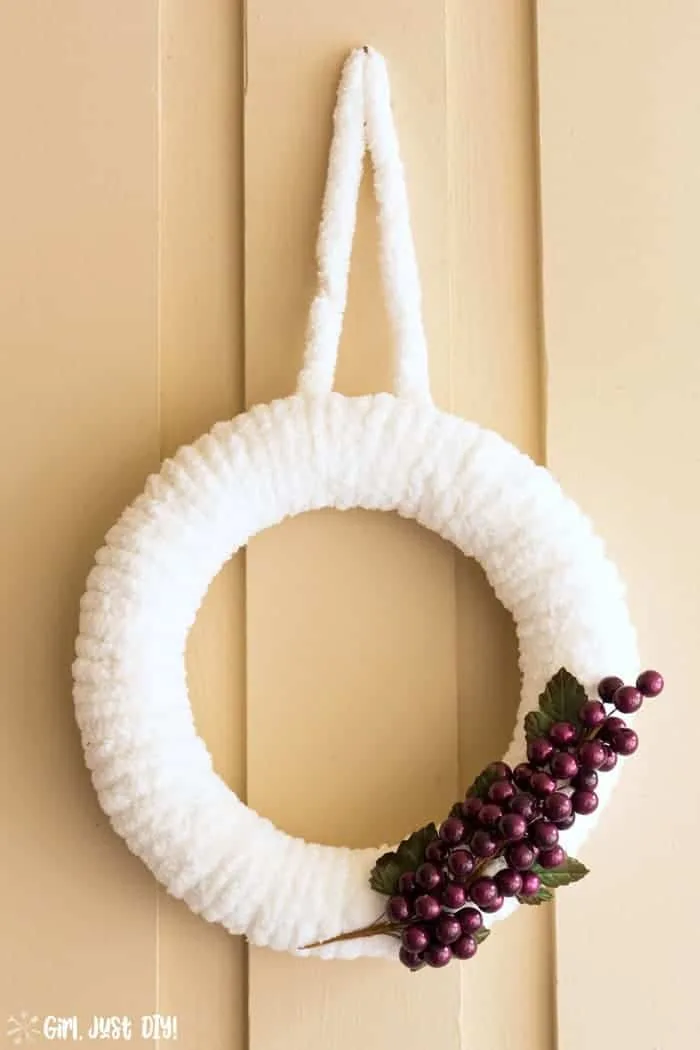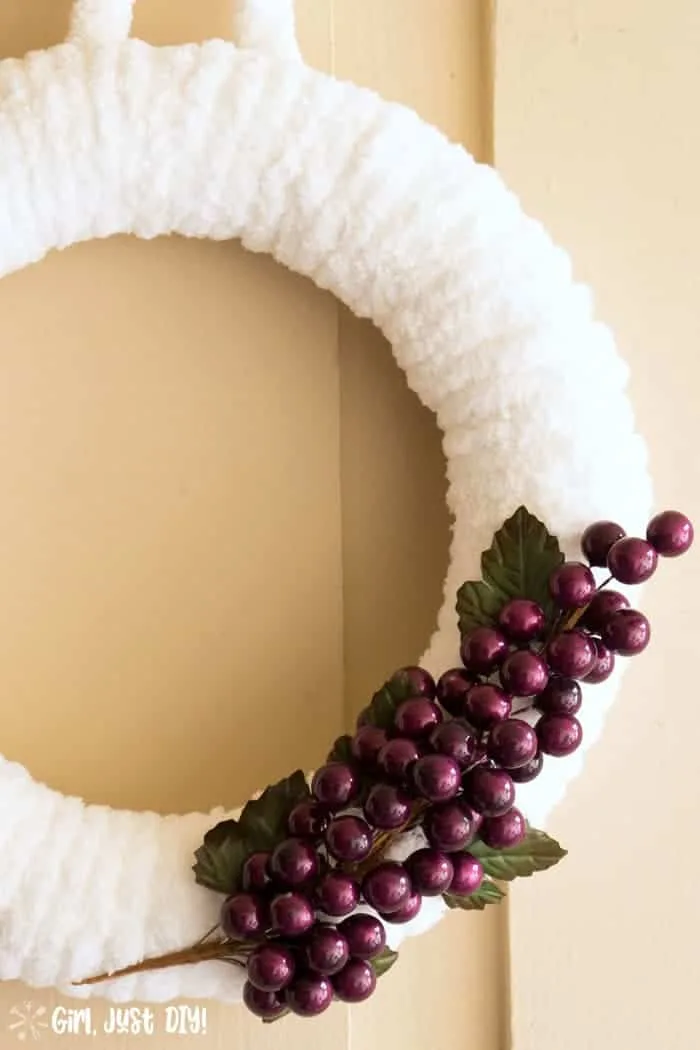 I really like the shiny contrast of the grapes against the fluffy and muted wreath. Whatever wintery adornments you add to yours it will be a lovely addition to your winter decor, inside or out.
Pin it for later!
Are you a winter-time decorator? What are your favorite things to decorate with after your Christmas decorations come down?
After you make your own fluffy winter wreath I'd love to see it; please send me a picture by EMAIL.
Now, what to do with the rest of that skein of yarn? 🙂