I've been baking since I was about 12 years old. In a house with 11 people (yep, I'm the youngest of 9 kids) we did a lot of baking in our house. The bakers in your life will love everything in this Baker's Gift Guide.
With all my years of home baking experience I thought I'd put together this Gift Guide of the essentials (and some nice to haves) for the baker(s) in your life.
This page contains links to products, if you purchase something after clicking on my link I may earn a small commission (at no extra cost to you). You can read about affiliate links here.
Baker's Gift Guide – Electric Mixers
Have you ever mixed anything by hand, other than pancake mix or eggs? It is possible to mix cookies or cake by hand, I've done it but who wants to?
I have a Kitchenaid Mixer and love it! I wish they had glass bowls when I got mine because then you know all the ingredients are mixed properly. It comes in 14 different colors but I decided to show you the one in Plumberry because purple's my favorite color 🙂
For smaller jobs I love this KitchenAid Hand Mixer. I've had one for as long as I've been married and they are work horses. Since they don't sit on the counter top you can choose any one of 13 fun colors like this one in Tangerine.
When you're baking and mixing you also need a good set of Silicone Spatulas. These are great for cooking as well since they're heat resistant.
Mixing Bowls
If you're into baking you need good mixing bowls. I love any bowl set that nests for how much space they save. This set of OXO Mixing Bowls has easy grip handles and no slip bottoms. Perfect to ensure no spills.
Measuring Spoons & Cups
When you're a baker you can never have too many sets of measuring spoons or cups.
This set by 1 Easy Life includes two additional measuring spoons and one additional measuring cup not normally included in other sets.
It includes both US and Metric measurements and a handy conversion chart. Definitely a must have for bakers who love to find international recipes through Pinterest searches.
This 11-piece set by Accmore also includes the extra cup and spoons but it's a bit easier on the wallet. Like I said, it's really great to have two sets when you're baking so you're not cleaning and drying between ingredients.
This Mason Jar Measuring Set is so cute I would leave it on the counter between baking sweet treats. And it includes the spoon rest I have on my wish list for this year.
Measurement of a different kind comes when you want to roll out pie or cookie dough. But how do you really know when you've reached 1/8″ thick? It's a real problem, believe me, I know.
I was excited when I found this Adjustable Rolling Pin to solve that problem with the easy removable ring system.
Dough Rolling Accessories
Storage for your Baking Ingredients
Of course a baker has to have great storage for their ingredients. I love this Stainless Steel set by Tramontina. They have glass lids and silicone seals, and they come with a bonus set of measuring cups. I love the storage sizes and they have a lifetime warranty.
See through storage ideas
There's nothing worse than wanting to bake and your butter is frozen or too cold to use. This Butter Bell Crock solves that problem and comes in 4 colors.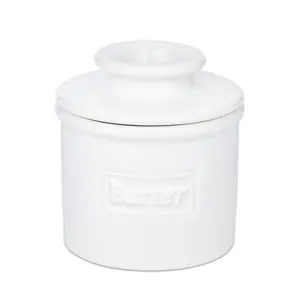 Baking and Presentation
What Baker's Gift Guide would be complete without talking about perfect baking and Presentation?
Cookie bakers are in love with SilPat Baking Sheets and rightly so. I got mine for Christmas from my daughter last year and love love love it! No more cookies stuck to the cookie sheet.
Best Baking Pans & Sheets
After you've baked a cake it's time to display all your hard work on this beautiful Tin Cake Stand, and I love the fun Aqua color.
Cupcakes are great for portion control and they're fun to display on this Wilton Cupcake Stand. They are available in different designs and the easy to assemble cardboard construction won't break the bank for parties or celebrations.
We can't forget the cookies so I saved this adorable Mason Jar Cookie Jar to round out the list of awesome gifts for Bakers.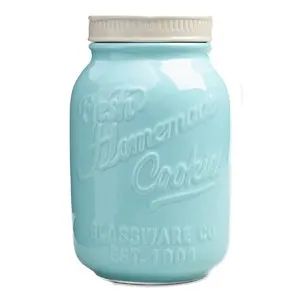 More Cookie Jars
I hope this Baker's Gift Guide inspires you to buy the perfect gift for the baker(s) in your life 🙂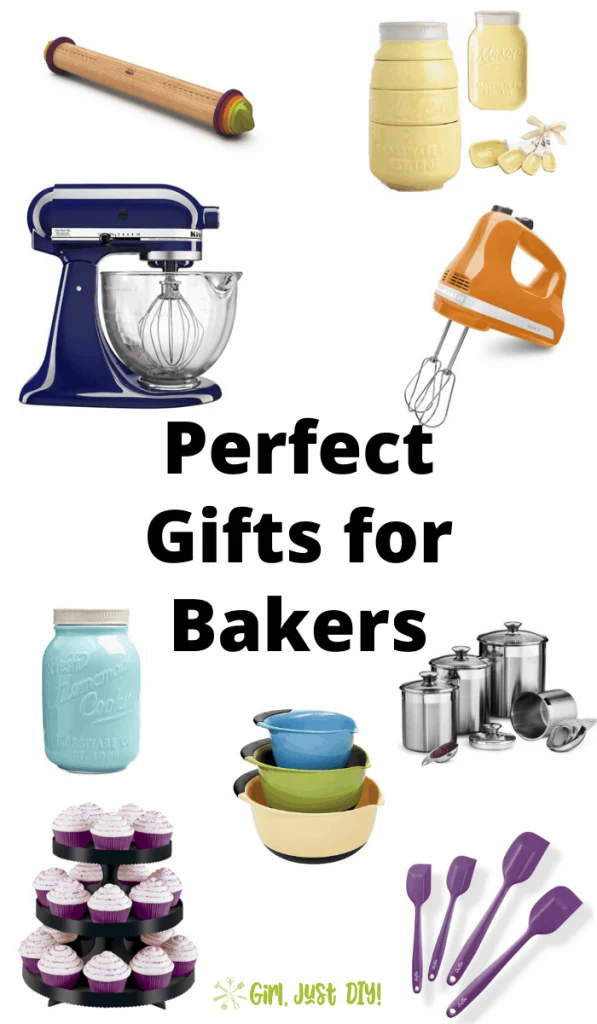 Even More Gift Guides: