Friends, have I got a treat for you! Actually we, as in my blogging friends and I, have a treat for you. We've all seen the big elaborate holiday home tours where the homes are filled to the brim with every kind of Christmas decoration. Mantles, windows, shelves, dining rooms, kitchens, bathrooms, stairways and porches. I'm calling this tour my Simple Christmas Decor Home Tour.
We're not saying there's anything wrong with elaborate Christmas decor if that's what you love, you've got the home, the time, and the money for it. That's just not how I decorate for Christmas. And honestly in our small house we don't have the space to store that many decorations we use only a few weeks each year. My husband already asks me every year to purge and condense 🙂
I'm glad I'm not alone because my blogging friends also have simpler Christmas decor. So we decided our readers might have the same mindset as all of us. And maybe you'd like to see how we decorate our homes for the holidays. We decided to name our tour the "Super Simple Christmas Holiday Tour." So please check out the links to all their tours at the bottom of this post to be inspired by their creativity too
If you haven't been around here long I am 51 years old which means I've been decorating my own home for nearly 30 years. Most years I never spend more than $20 on a new items, and some years I don't buy anything new at all. I've collected over the years but I don't decorate in all rooms of our house. I stick to the Family room mostly and a little bit in the dining room since that's where we spend the majority of our time.
Let's get started with the simple christmas decor tour, shall we? There are lots of pretty pictures to look at and I'll share with you what I love, where I got it, and how long I've had it (if I can remember).
Recently I shared the post about installing these shelves and since we don't have a mantle I sort of treated the shelves as my mantle. I might do something different next year but for now I tucked my Santas and other little Christmas decor knick knacks in and amongst the items already on the shelves. And I love that this year I have a place to hang our stockings on the front of our TV console. Ove them flanking the TV is a tall glass Santa ornament we got as a gift from our friend's mom. She got it at TJ Maxx so it was a steal. And on the right is a Nut Cracker I bought at a drug store over 20 years ago for $5.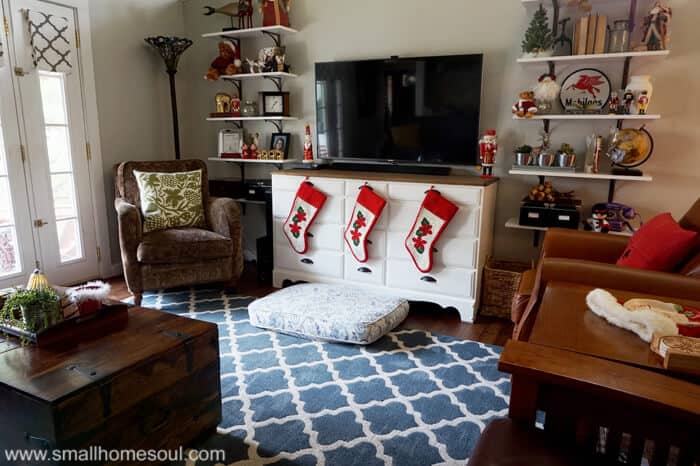 Let's take a closer look at some of my favorites on the shelves. I love the red beautiful reindeer I bought at Home Goods a few years ago for $10. The sleekness of the reindeer contrasts nicely with the rustic stuffed Santa I picked up a few years ago. He was about $10 also. I don't remember where I got the stuffed Santa bear, he used to keep me company during Christmas at my old job.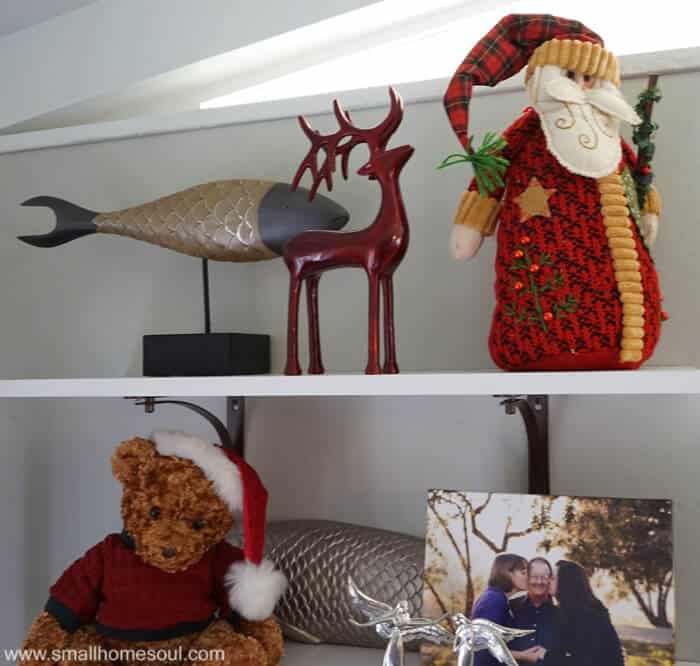 Ah, my cute little angel girls how I love them. I was a single momma until my daughter (that's her on the right) was 9 years old. They're hand made and I bought them from a customer at the bank where I worked for $5 each when she was 4 or 5 years old. The blond is me and the brunette is her. That was a lot of money for a single mom to spend 27 years ago but it was a good investment since I still love them 🙂 Those cute Pottery Barn reindeer placecard holders on the right I scored this year at the Salvation Army thrift Store on Black Friday for $1.99. Did you know that some thrift stores are 50% off the entire store on Black Friday? Now you know; you're welcome 🙂
My mom has always been super crafty. I remember her making and selling candles at Christmas time along with other cute crafts. She made this adorable little tree for me and one of my sisters many years ago. It's lost some of the little roses on the tips and the pearl garland needs reset but I love setting it up each year. That awesome Santa on the right was another gift from my mom. She didn't make that one, but she could have if she wanted. She's that talented!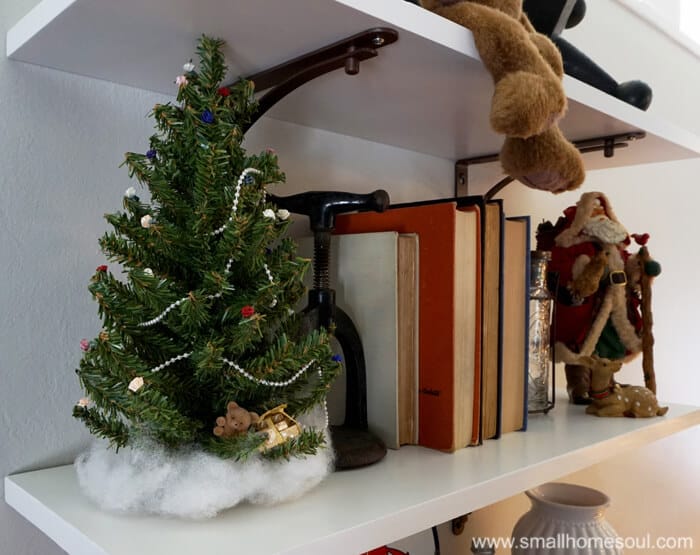 I don't recall where I got that little stuffed bear Santa, it might have been my daughters once upon a time. But that awesome Santa hanging from the shelf above I received in an ornament exchange at a job a very long time ago. He still looks fabulous as the day I pulled him out of the box!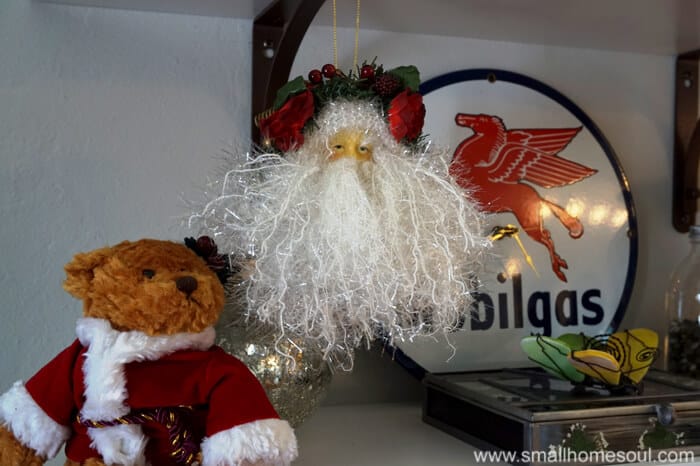 Behind the sofa in our sitting area by the pellet stove is this cute Santa centerpiece my mom made many years ago. She worked her butt off one year and made about 30 centerpieces, wreaths, and garlands for her kids and older grandkids that live nearby. We were all fighting over who got what. I got a wreath and this cute guy 🙂



This isn't the best picture (please forgive me) but I was battling the sun coming in through the window for the longest time. I just couldn't do this simple Christmas decor tour without showing you one of my most favorite things. This Rudolph was made for me by my daughter 27 years ago and he's so precious to me, taped antlers and curling feet and all. Maybe this is why I have a little obsession with reindeer. Have you seen the Rudolph Gift Tags I made?
Christmas decor and decorating as a Christian wouldn't be complete without a Nativity scene. Christmas day might not be His actual birthday (it's estimated He was actually born in October) but I don't care, it's when we celebrate it and a Nativity is a great reminder of that special time. I really love this Willow Tree Nativity because they are simple, just like my Jesus was those many years ago when He was born in a manger. I've never added to my collection but I should probably make a DIY creche for it one of these days.



You may have already seen the Pinecone Swag I made and shared a few weeks ago. I love hanging it on the mirror for double the impact.
So a few decades or more ago there were these home parties called Christmas Around the World. They had stuff from, well, all around the world. I bought this little wreath while at a friend's party because it was one of the cheapest things in the book. Now that I'm typing this I remember I also bought some sleigh bell garland. I still have the tarnished bells but finally cut it off the strings a few years ago. The wreath still looks as good as the day I bought it. I added that little red velvet bow to it for extra color when I used to hang it in my office at work.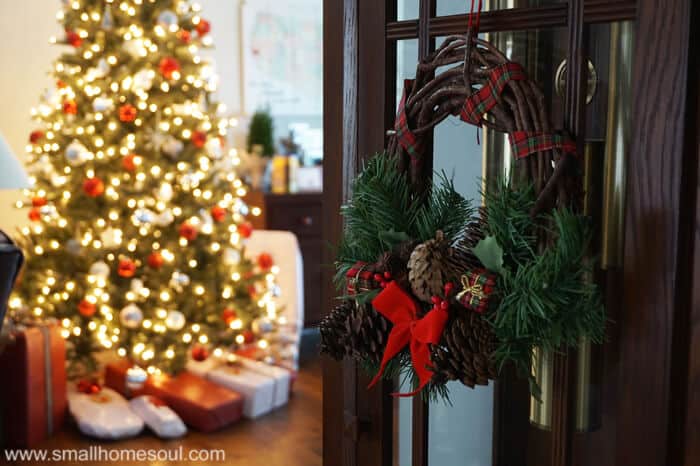 Decorating your home beautifully for Christmas doesn't have to break the bank. It's very doable if you buy and collect things you love over time and stay away from really trendy Christmas decor.
In the dining room I keep it pretty simple. I bought both the embroidered runner and the hurricane on a Facebook buy/sell site for under $8 for both. The hurricane looks so beautiful with the pinecones and ornaments stacked inside. Another beautiful contrast of shiny and rustic.
Ok, I gave you a few peeks of the tree already. Here's a view from the other side of the living room looking into the dining room. It's the only place we can make enough space for it. We bought this faux tree about 5 years ago and we figure with the price we paid and what they are charging for a real tree today it's already paid for itself. And we'll have it for many more years. If I had to advise you on a big purchase I'd say this is Christmas decor money well spent.
Here it is from the other side. You might be able to tell I struggle with the lighting in my house this time of year. In winter we don't get much direct light and what we do is filtered through oak trees. And then it blasts through the overhead windows. But I think the tree looks spectacular in this shot (no editing needed).
And here she is with all the presents tucked around. You can't see it buried under the presents but I have a beautiful cream-colored velvety Restoration Hardware Tree Skirt with covered buttons. No, of course I didn't buy that at full price. I got it at a garage sale for $1.50! The lady selling stuff for a friend thought it was a cape (how cute is that?)
I think this is my prettiest tree yet. I say that every year 🙂 don't you? Can you see my Rudolph gift tags 🙂 and the little rudolph doll on the top shelf? I'd love to show you the old fashioned tree topper we have but again, those windows were making it impossible to get the full tree in the shot and actually take a picture that wasn't washed out.



I hope you've enjoyed taking the little tour of my home all decorated for Christmas. I tried to give you a real life look. Bloggers homes are just like your homes; of course we always put our best foot forward, or try to anyway. But sometimes it's ok that the lamp is crooked, or you left a candle tucked behind a vase, or that the dog bed is where the dog bed always is. It's real life. I'll be honest though, I just couldn't bring myself to take and share a picture of the kitchen counter, which was covered by everything I moved off the dining table 😉
Before you check out all my friends' Super Simple Christmas Holiday Decor below, don't forget to Pin It so you can come visit again next year!
Now go on over and give some love to my friends, and know that you are wished a Very Merry Christmas to you and yours!
Super Simple Christmas Holiday Decor