Friends, as you know I participated again this year with a group of blogger friends bringing you all sorts of fun Holiday and Christmas inspiration. Today I'm sharing a roundup of my favorite Creative Christmas Signs to DIY.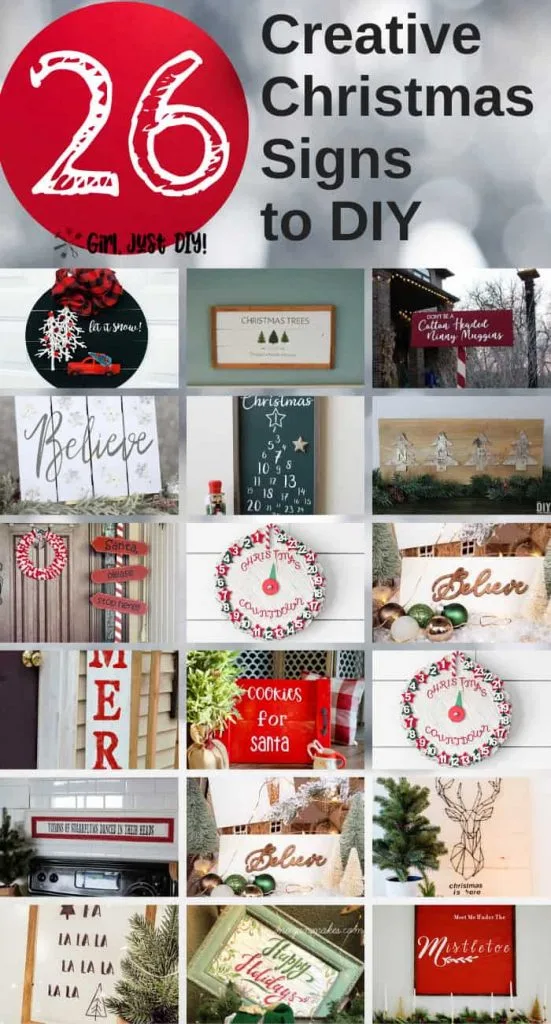 So many of these amazing signs can be created in under an hour. And all of them can easily be done in less than a day.
I tried to organize them into categories for you but that was hard because many belong to a few different groups.
So make sure you scroll through them all so you don't miss out on the inspiration you need to make your own Creative Christmas Sign.
This page contains links to products, if you purchase something after clicking on my link I may earn a small commission (at no extra cost to you). You can read about affiliate links here.
Christmas Countdown Signs
If you have kiddos they'll love these Christmas Countdown signs. Heck, even grown ups who love Christmas will want one.
Photo Credit: repurposeandupcycle.com
I love the colors on this cute countown sign, and the candy cane at the very top that represents Christmas day is sweet.
Photo Credit: www.hertoolbelt.com
How fun is this with the different size numbers. The star to mark off the days is perfect and you could switch out the magnets every year if you choose.
Creative Christmas Signs to DIY for your Porch
Creative DIY Signs to greet Santa for Christmas
DIY Signs inspired by Songs, Stories, and Movies
So many of the sayings we use this time of year come from songs, stories, and even movies. I love these cute DIY Christmas Signs.
Photo Credit: northernfeeling.com
I love it when Fa La La signs have all the La's.
Photo Credit: www.cookiescoffeeandcrafts.com
The buffalo plaid background in this Jingle All the Way sign is so pretty. And the way she made it you can easily switch out the background from year to year.
Photo Credit: www.redcottagechronicles.com
A cute Christmas sign for an often overlooked spot.
Add a little glitter to the border of your Christmas signs for a beautiful touch.
Photo Credit: www.designinsidethebox.com
One of these days I'll make something with a cute red truck at Christmas. Round Christmas signs seem to be a thing (a very cool one) this year.
Photo Credit: www.zucchinisisters.com
Oh my gosh, how cool is this idea?!
Photo Credit: hazelandgolddesigns.com
All the Elf fans are sure to love this sign. I might need to make one for my daughter next year since it's one of her favorite Christmas movies.
Creative Christmas Signs for your walls